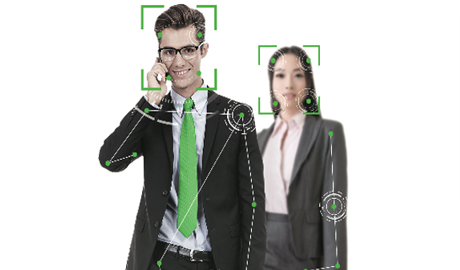 Facial and body behavior analytics can identify people "without interfering
with the pace of life"
Biometrics companies throughout the security marketplace are expanding the functionality of their systems for a variety of uses. This article will take a look at what several companies are up to.
SRI International's identity solutions seek to bring convenience, speed and security to existing workflows. SRI's Iris on the Move (IOM) biometric systems can add the value of knowing precisely "who" to an organisation's specific applications – from physical access control and workforce management to logical access to digital content – without altering typical user behaviour or existing workflows. The multimodal systems are deployed globally in a wide variety of environments, including government facilities, corporate and college campuses, construction sites, and mission-critical data centers.
SRI's IOM biometric solutions deliver the accuracy of iris recognition to many form factors. The systems meet the growing demand for seamless and convenient authentication in markets such as security, transportation and healthcare, according to the company.
Non-invasive biometric identification
FST Biometrics provides identity management solutions that deliver a high level of security "without interfering with the pace of life." FST Biometrics' In Motion Identification (IMID) technology uses a fusion of facial recognition and body behaviour analytics to deliver accurate, non-invasive biometric identification of authorised users to facilitate seamless access to entry points.
Implementing FST Biometrics' IMID system is not significantly more complicated than a card-based system, according to the company. Both types of systems require equipment to be installed and users to be registered. IMID says it is considerably more accurate than traditional systems, with a standard margin of error of three false accepts per 10,000 entries. The threshold can be adjusted to be more stringent depending on client needs.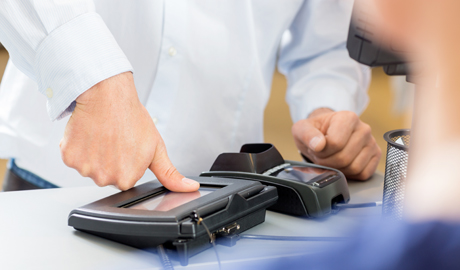 HID Global's biometric solutions are used in a variety of applications, including
accessing ATMs, securing access to controlled medicines and medical
records, and securing borders


HID Global's biometric authentication makes it possible to know with certainty who is performing a transaction. Biometrics is the only authentication factor that can be directly coupled with a person's unique physical identity and unequivocally validates it, according to the company. HID Biometrics offers this certainty along with greater security and convenience, and no additional complexity for the user. The company's solutions are used worldwide in a variety of applications, including accessing ATMs, securing access to controlled medicines and medical records, and securing borders. Solutions include sensors and modules that use the company's patented multispectral imaging technology that improves reliability, performance and security by using multiple sources and types of light. Advanced polarisation techniques extract additional, unique fingerprint characteristics from both the surface and subsurface of the skin. Solutions also feature liveness detection capabilities that ensure proof of presence by preventing the use of fake fingerprints or "spoofs."
Readers, panels and portable scanners
ZKTeco designs and manufactures a variety of biometric readers and panels, distributed through a global network of resellers. Complementing an RFID product line, ZKTeco's biometrics product lines consists of 1) stand-alone indoor and outdoor fingerprint readers; 2) access control panels that can store and match fingerprint templates on the panel itself; 3) non-intelligent slave fingerprint readers that merely forward fingerprints to the panel for subsequent matching and door-unlock decisions; and 4) two multi-biometric stand-alone readers— one recognises face and fingerprint, and the other recognises finger-vein and fingerprint. Most models can either be connected directly to a door lock (stand-alone) or they can be connected to a ZKTeco panel (or any third party access control panel) via Wiegand protocol.
Zwipe's core technology of a low-power, biometric algorithm enables the company to incorporate its product into several form factors, including credentials, credit cards and wearables. Zwipe has taken global leadership in creating unique, low-energy, biometric algorithms, powered by internal battery or by advanced radio frequency energy harvesting technology. Without the need of a battery on board, the product can be implemented in products that previously would not have been able to have a biometric element.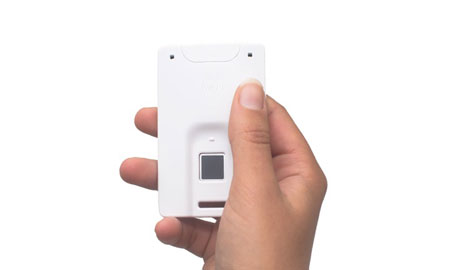 Zwipe's portable access control device provides the benefits of biometrics
without needing to change out existing door readers


Zwipe's access control product is essentially a small, portable biometric scanner that can fit in your pocket. The device provides the benefits of biometrics without needing to change out existing door readers, which saves the customer installation and integration cost that is usually more than the cost of the new reader. The only change is replacing the user's current credential with the Zwipe Access card.
Zwipe's ability to utilise the energy from the RF field, be it from POS terminals or any NFC/ISO14443 reader to conduct authentication directly on the batteryless device, has expanded its market reach. Plus, the biometric template data for that card owner only resides on the Zwipe device, not some external system database that can be hacked into or a wall-mounted reader that has hundreds of templates that can be stolen.
Higher "degrees of freedom", better biometrics
The accuracy of biometrics depends on each biometric's "degrees of freedom," says Hoyos Labs. For example, the voice has 5 degrees of freedom; the face provides 20 degrees of freedom, while one fingerprint can provide 30 degrees of freedom. At the higher end of the spectrum, an iris scan can provide 245 degrees of freedom, enabling identification of one person among 10 million. Combining biometrics measures adds to the scope of accuracy. Scanning two eyes provides an iris scan accuracy of more people than the population of the planet. Hoyos Labs has a system that scans four fingerprints to provide 150 degrees of freedom. "The higher the degrees of freedom, the better the biometric," says Hector Hoyos, CEO of Hoyos Labs, which provides software to enable every major biometric – face, iris, voice and fingerprint – to be captured with a smart phone and applied across a myriad of industries.
Download PDF version
Download PDF version