Honeywell Security CCTV Video Printers
(6)
Browse CCTV Video Printers
Video printer products updated recently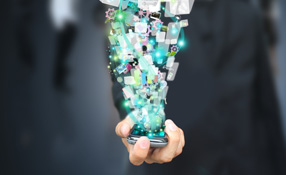 Redefining access control with NFC-enabled smartphones
Comprehensive and robust security programmes and policies are required for adequate data security Over the last decade, we have entered a new era of physical and logical access control. We are now living in an increasingly mobile world where our phones do more than just make a simple call – employees can now open doors and enter secure areas, as well as access computers, corporate data networks and associated information assets with just a single mobile device. Furthermore, the cloud, and access to cloud-based services is becoming almost a fundamental requirement for businesses. This, combined with advanced personal mobiles such as Near Field Communication (NFC)-enabled ones increasingly being used beyond conventional uses, is naturally driving a change in how organisations view, deliver and manage security, explains Alan Davies VP Sales – EMEA, Identity Assurance, HID Global. A big change pertaining to security management is that identity no longer needs to be restricted to a single plastic card or security token. We often think about identity solely in terms of the card or token that carries it; however with more and more companies placing accessible data in the cloud and allowing employees to use NFC-enabled smartphones for physical access purposes in the workplace, 'identity' is now taking many different shapes. For example, a smartphone being used as a 'digital key' to open doors and tag-in to work locations eliminates the need for employees to carry any other credentials. Of course, this raises questions about how to ensure that any assigned identities can be trusted. Fortunately, the issue of managing virtualised credentials in the business environment is achievable. Take mobile for example. This can be done by implementing a trusted identity framework that creates a secure boundary within communications between the devices, such as when a smartphone interacts with an NFC reader or NFC enabled end-point device. It acts as a secure vault, which delivers the agreed corporate security policy to the devices in use. If this is accepted, then it is deemed to be trusted and the user is allowed access. Another benefit is that NFC-enabled physical access control makes it easier to track who is entering and exiting monitored access points throughout the workplace. Employers can then be assured that all endpoints and all of the systems in between are valid before allowing entry into the building. Data protection and management in the cloud For organisations investing in the cloud, in order for them to unlock its true value, they need to address exactly where Security strategies should be customised to fit an organisations unique data protection needs sensitive data is stored and consider the user risk factor, including the way in which they wish to access the information. Though the rise of the cloud for enterprise data storage and application-hosting has changed the way IT professionals interact with their users, their networks and their data, the fundamentals of data protection remain the same. What many organisations fail to realise is that a one-size-fits-all approach to data protection is insufficient. Traditionally, enterprises have focused on securing the network perimeter, and relied on static passwords to authenticate users internally, within the firewall or externally via a virtual private network (VPN). However, taking into account the diverse nature of modern threats – from Advanced Persistent Threats (APTs) to ad hoc hacking and the internal risks that come with the mass adoption of BYOD– organisations are increasingly re-evaluating and re-assessing their IT security strategy to adapt to these changing needs. Two-factor authentication measures have typically been confined to physical devices like one-time password (OTP) tokens and display cards, but thanks to a variety of technological advancements these are being replaced by 'soft tokens' that can be held directly on the user device such as a mobile phone or tablet, or alternatively as browser-based tokens. Additionally, these mobile tokens can be combined with cloud app single-sign-on capabilities, not only fulfilling the same function of more classic two-factor authentication models but also providing convenient streamlined access to multiple cloud apps – all from one device. Merging management of logical and physical security infrastructure Ultimately, the security landscape is constantly evolving and mobile access control, as well as remote data access to cloud based applications, is growing in significance, making the right security investment a more important decision than ever before. It is critical for enterprises to have an extremely secure mobile and cloud identity environment so that transactions between the employee-owned phones or corporate-issued devices and the door they intend to unlock, or network they access, are conducted in a secure manner. Merging the management of both logical and physical security infrastructures, so that their operations are conducted via one platform, is integral to keeping pace with the paradigm shift that technological advancements such as NFC have made possible in the workplace. Furthermore, by deploying just one security device for both logical and physical access control , enterprises will not only realise cost savings, but will gain greater security control, as there will be a single point of revocation for all access rights. Building security systems that take into account the many routes to confidential data – whether it is at the physical door, on the network or in the cloud – is essential. Only by implementing comprehensive and robust and layered security programmes and policies that cover all three areas, while allowing for new technologies and applications, will organisations be confident that their data is adequately secure.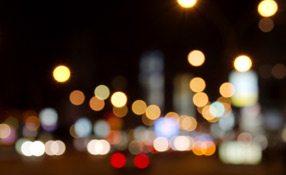 Why surveillance applications need high resolution images
Resolution quality must be considered when assessing surveillance effectiveness Surveillance cameras are becoming more and more commonplace, especially in busy metropolitan locales. Police and detectives hope to reduce crime rates by keeping a watchful eye on civilians but CCTV has only been helpful in solving a small percentage of crimes. Mike Lewis, Country Manager UK for CCTV manufacturer MOBOTIX AG, highlights key considerations for improving the efficiency of existing surveillance systems.In May of 2008, Detective Chief Inspector Mike Neville, head of Scotland Yard's Visual Images, Identifications and Detections Office (Viido) became the UK's first senior police officer to challenge the misconception around CCTV's role in reducing crime. Speaking at Security Document World Conference in London, the Chief Inspector said: "Billions of pounds have been spent on kit, but no thought has gone into how the police are going to use the images and how they will be used in court. It's been an utter fiasco." Neville also pointed out that only 3 per cent of London's street robberies had been solved using CCTV images. A low figure considering the capital is one of the most densely populated areas of CCTV coverage anywhere in the world. Identifying problems with existing CCTV surveillance systems Mike Lewis, UK Country Manager for CCTV manufacturer Mobotix AG believes that the problem stems from a fundamental issue of image quality. "For many organisations CCTV is treated as a 'check-box' item with little thought given to how a CCTV installation can help the police solve crimes. Criminals are not stupid and a deterrent is simply not enough; the technology has to be able to gather evidence to help the police secure convictions." Lewis points out that the majority of CCTV installations in the UK still use old analogue technology with barely a fifth of the resolution found in a basic camera phone. "If a CCTV system, say covering a street outside a jewellers', captures a car pulling up and three men brandishing shotguns marching into the shop - unless you have the resolution to capture the license plate, or some distinguishing features of each masked robber, or audio capture to get a voice print - the system is pretty worthless." Mandating changes in surveillance video resolution requirements The industry also is "less than opaque" when it comes to selling CCTV in his view. "Many vendors will play down high resolution as not necessary or too expensive to implement without actually explaining that it is exactly these high resolution images and audio capture that will help police make successful prosecution where a grainy image would simply be thrown out of court." "Billions of pounds have been spent on kit, but no thought has gone into how the police are going to use the images and how they will be used in court" Lewis points to the continent as an example of where UK CCTV market needs to learn from. In France for example, under anti-terrorism laws pioneered after the 7/7 tube bombings in London, all government building and high risk areas are legally required to have CCTV of a high resolution and retain data for up to 30 days. In Germany, all banks are required to deploy high resolution CCTV to monitor customers, staff and financial transactions in every branch. [It will be very useful to define what is classified as "high resolution" or the minimum resolutions that are acceptable in these countries] MOBOTIX, which only sells fully-digital high resolution CCTV camera systems believes that the potential of CCTV to reduce crime won't be fulfilled unless either the government, police or even third parties such as insurers, licensing boards or trade associations insist that end users deploy a better resolution capture, coverage and video storage and retrieval. "There will be another wave of CCTV installation heading up to the Olympics, so as a nation, we have a perfect opportunity to set a CCTV standard that meets the needs of police, local government and end users to help us reduce crime and secure more prosecution off the back of CCTV evidence,"comments Lewis. Lewis believes CCTV would be able to help solve more crimes if they had higher resolutions "The technology is not the barrier and newer CCTV systems with hemispheric (360 degree) fields of view will allow end users to actually deploy fewer security cameras while maintaining better resolution and wider coverage - the problem is still trying to persuade people that CCTV can catch criminals and not just scare them away." Optimising CCTV for solving and prevention of crime Lewis offers some constructive suggestions on how to improve CCTV's effectiveness as a crime prevention and evidence gathering tool. "There are an estimated 4 million CCTV cameras in the UK but where they all are, what they record and accessibility to these video archives is mostly unknown - having a register of CCTV for use by the police would help them to quickly gather post incident evidence." The idea of CCTV built into the environment was the theme of the 200 Secured by Design' (SBD) initiative that has been adopted by parts of the building industry to promote crime prevention measures like CCTV in development design. The initiative was endorsed by the Association of Chief Police Officers (ACPO), and has the backing of the Home Office Crime Reduction Unit. However, for police gathering information after an incident, there is no easy way to locate CCTV installations in any given area. The industry also is "less than transparent" when it comes to selling CCTV in his view Most CCTV systems installed in the UK use a centralised approach. Each surveillance camera is effectively dumb with the image processing, access to footage and storage taking place at a remote location. In smaller environments, this could be a DVR simply recording everything on a 24-hour loop. In larger campuses or city centres, this is often a dedicated control room monitored 24 hours a day. Instead Lewis argues that a decentralised approach that places more intelligence into the CCTV camera would allow greater accessibility by third parties such as the police and emergency services. "With a decentralised system, private companies could allow the police to quickly add their local cameras into a centrally managed grid." In this method, if an incident occurs, the police CCTV control centre could patch an instant video feed from the nearest available CCTV camera. With a decentralised approach, each CCTV camera becomes an access point on an IP network and can be shared by multiple agencies in a more cost effective approach. "This might sound a bit hi-tech, but it is technically possible," explains Lewis. To give an analogy, when the police receive a 999 call, the dispatcher is automatically informed of the location of the caller from the Caller Line Identification system which cross references a database of addresses of each of the 25 million public and private landlines installed in the UK. "A similar system where the police type in a post code and are presented with secure access to video feeds from all decentralised CCTV installations in an area would be a potentially society changing tool for fighting crime." High risk areas in France were legally required to have high resolution CCTV following London Tube bombings Considerations for realising CCTV's full security potential Lewis also believes: "All CCTV cameras should have a minimum mandated image quality with all information stored in a digital format for a minimum of 7 days that can be easily accessed by the police for evidence gathering." Many police forces around the country already have voluntary guidelines for business deploying CCTV and several have made CCTV installation a condition of alcohol or gaming licences. However this policy has successfully been challenged by landlords and upheld by Information Commissioner as potentially in conflict with the data protection act. Unfortunately, Lewis believes for any of these measures to work, there needs to be stronger backing from the government: "There is obviously a fear of creating an oppressive surveillance society but we have regulation for other areas like fire prevention, road safety, disabled access and a host of other health and safety issues - why CCTV, which has the potential to protect lives, is treated differently is a complete mystery to me." Mike LewisUK ManagerMobotix AG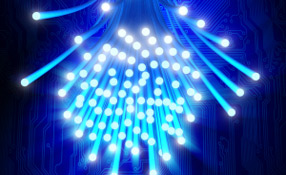 Estimating bandwidth requirements for modern surveillance systems
Bandwidth is an important consideration for CCTV systems to reach their full potential Most surveillance systems today transmit data over IP networks. As manufacturers continue to improve the capabilities of CCTV systems, the amount of traffic travelling on a network becomes increasingly large. Bandwidth is a key consideration in managing surveillance systems and ensuring their full potential is reached. In this article, Bosch discusses the importance of bandwidth and how to estimate the amount of bandwidth needed for a particular CCTV system. What is bandwidth and why is it important? Modern-day CCTV systems increasingly use IP networks to send video from one point to another (for example, from a camera to a Video Management System typically running on a PC). IP networks are an attractive medium for transporting video because one cable can carry the video from many cameras. These networks also serve a multi-functional purpose because the same cable can carry video as well as two-way audio, alarm signals, relay signals, PTZ commands, and serial data. With Power over Ethernet, the cable can even carry power to the camera. This greatly simplifies the multitude of cables usually required. However, the network is limited by the amount of traffic it can carry - known as bandwidth, which is measured in bits per second (bps). The table below shows the three kinds of star-topology Ethernet networks in common use today. Name Also known as Bandwidth 10Base-T Standard Ethernet 10 Mbps (Megabits per second) 100Base-T Fast Ethernet 100 Mbps 1000Base-T Gigabit Ethernet 1,000 Mbps or 1 Gbps Video over IP consumes a large amount of bandwidth. As a rough guide, one camera might consume between 100 kbps and 2 Mbps - compare this to audio, which typically consumes only 80 kbps. This explains the immediate success of Voice over IP. The factors that affect bandwidth consumption are described in the table below. Factor Description Examples Video compression method Typically temporal or spatial compression MPEG-4, M-JPEG, Wavelet, and MPEG-2 Frame rate Images per second 1-30 IPS Image resolution The number of horizontal and vertical pixels QCIF, CIF, 2CIF, 4CIF (also known as full D1) Scene activity level The amount of activity in the camera's field of view Low, medium, and high Quiet time The fraction of time where there is no movement (important for temporal compression algorithms like MPEG-4 because neglibible bandwidth is consumed during quiet time) 8:00 pm - 6:00 am Monday - Friday, all day Saturday and Sunday, equates to about 50% quiet time If you run out of bandwidth on your network, you will start to experience the following: Video artefacts (e.g., blocks in MPEG and M-JPEG, and increased fuzziness in Wavelet) Frames may get dropped, making the video appear choppy The video resolution may drop from 4CIF to 2 CIF or even CIF, making the picture less clear The video may freeze entirely and lose the connection temporarily What is the relationship between bandwidth and disk storage? A single IP network cable can carry video from many surveillance cameras and also carry out multiple functions They are directly related. If video is being transmitted at a certain bit-rate across a network to be stored, then it will consume disk space at exactly the same rate. For example, a 1 Mbps video stream will use 1 Mb (Megabit) of space in one second, or about 1/8 = 0.125 Megabytes per second, which equates to 0.125 x 3,600 = 450 Megabytes per hour (about 11 GB per day or 75 GB per week). How do I know how much bandwidth I need? This is an excellent question, particularly because it is unanswerable with any certainty. As explained earlier, it depends on so many factors that you can really only estimate your bandwidth and/or rate of disk-space consumption. This initial guess is based on your experience with previous projects and it is useful - but the best way to predict your needs is to run the actual test. For example, consider planning an IP-based CCTV system for a school. How much bandwidth will the network need to carry for approximately 16 cameras, and how much disk space is required for seven days of recording? View larger image Graph showing results gained by capping the bit rate Capping the bit rate You can 'cap' the bit rate of each IP camera or encoder so that it never uses more than that specified amount. Note that when capped, the actual bit-rate at any particular moment may be well below the 'cap' limit. Advantage: Once you know the available disk space, you are guaranteed to get a predictable number of days of video. This is especially important for regulated environments. It is also good news for IT departments who want to know how much you are going to stress the network. Disadvantage: To not exceed the allowed bit rate, the IP camera or encoder has to do something if it finds itself over-stretched. Normally it has the option to either drop some of the frames or reduce the video resolution of the frames - but this can be an issue when the video quality you need has to be degraded under any circumstances. Unlimited bit rate View larger imageGraph showing the results of unlimited bit rate You can let the IP camera or encoder help itself to whatever bandwidth it needs. Advantage: Image quality never deteriorates. Disadvantage: Under certain conditions, the peak load on the IP network may cause problems. This "help yourself" policy also may allow disk space to be consumed faster than you anticipated, so you may not have as many days of video as you expected. Summary With conventional VCRs, it is easy to predict the amount of disk space required for a specified number of days of recording time. With DVRs and IP-based CCTV, it can also be easy to predict (by capping) - as long as you are comfortable with the possibility that the video quality may degrade under certain circumstances. If you overestimate your bit rates, you will end up paying for more storage than you need. The best way to predict your real needs is to pilot a small IP surveillance system (perhaps just one camera). Run it for a short while, then review the video and make any necessary adjustments. This is the most reliable way to get what you need and plan your infrastructure accordingly. In addition to better estimating, it is also important to remember the enormous value of Recording at the Edge, which keeps video off the network for recording. In such a scenario, the network is only used for live streaming and playback.View the Bandwidth quick reference guide Bosch Security Systems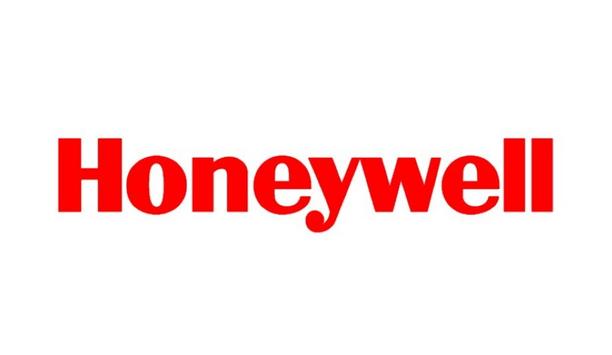 Honeywell expands its MAXPRO Cloud portfolio with addition of MPA1 and MPA2 access control panels
Honeywell announced the expansion of capabilities of its MAXPRO Cloud portfolio with the launch of MPA1 and MPA2 access control panels that offer cloud, web-based or on-premise hosting options. "Our technologies can be integrated into existing systems, helping our customers create and maintain flexible, bespoke solutions that are best suited to their needs, which is especially important for SMBs," said Rick Koscinski, North America General Manager, Honeywell Commercial Security. Rick adds, "Our new MPA1 and MPA2 control panels strengthens our MAXPRO Cloud offering by giving users cost-effective access control functionality and real-time security information from anywhere." MAXPRO Cloud security solution MAXPRO Cloud is a cloud-based security solution designed for multi-site small and medium-sized businesses, which provides effective and efficient security and safety, while minimising IT costs and future-proofing investments. The MAXPRO Cloud solution integrates access control and video into an integrated and easy to use platform The MAXPRO Cloud solution integrates access control and video into an integrated and easy-to-use platform, and is used to protect multi-site infrastructure, such as retail, franchises, multi-tenant commercial and residential properties, schools and churches. With features such as global credential management, automated reporting and remote management of doors and schedules, the cloud-based security system is not only a great security solution, but also a powerful business tool. MPA1 single door POE-powered controller MPA1, a single door POE-powered controller is easy to install, operate and maintain, thanks to its unique edge installation design and its dedicated Device Utility App for fast and easy commissioning. It can either be mounted in a U.S. single gang junction box or in a specially designed compact enclosure with Status LED diagnostics. In addition, the embedded web interface allows the MPA1 to operate in stand-alone mode in single and multi-panel solutions. Honeywell MPA1 control panels feature: Flexible capability: With its small design and sleek enclosure, it can be leveraged for diverse deployment across a variety of jobs. In standalone mode, MPA1 can control a single door or manage multiple networked controllers. Faster installation: Single door Power over Ethernet (PoE) powered edge controller is fast and easy to commission via the Device Utility App on an Android or iOS mobile phone. At-the-door mounting decreases cable runs and with the small edge design, the MPA1 fits in U.S. single gang junction box. Only Open Supervised Device Protocol (OSDP) support: The latest communication technology for card readers provides strong encryption, bi-directional communication and improved cyber security resilience. It gives users the option of forming a platform that can be expanded in the future. It also features SSL certificate security, safeguarding connections to the panel. MPA1 has been developed with a small installer-friendly design that easily adapts to existing IT infrastructure and methods, reducing installation and support costs and supports OSDP reader connections, ensuring end-to-end secure communication from smart card to the host. So, as a system grows, MPA1 grows as well. MPA2 cloud-based access control panel MPA2 is a cloud and standalone access control panel for two door access control. The MPA2 panel features enhanced security due to a 128-bit AES encrypted bi-directional Open Supervised Device Protocol (OSDP) communication with access control readers. This combination of features, bolstered by an intuitive, browser-based user interface, gives customers an easy-to-use and secure site-access system. Users can manage MPA2 securely using Ethernet or Internet connections. Honeywell MPA2 control panels feature: Flexible 3-in-1 capability: Embedded, cloud- or software-hosted capability from one panel. This means that MPA2 can be deployed for a large variety of jobs, from basic access control for a single site to multi-site, enterprise-level security with fully integrated access, video and Faster installation: User-friendly, screwdriver-less installation is facilitated by push-in connectors and RJ45 cabling, halving the time previously required in fitting similar panels and offering benefits to installers, in terms of reduced operation and maintenance costs. IP-based hardware with Power over Ethernet (PoE) PLUS capability eliminates additional network module wiring and simplifies powering the panel. At-the-door mounting also decreases cable runs. MPA2 is built to use the Structure Cabling System in new buildings, where network/RJ45 cabling is already in place, reducing installation cost by up to 50%. Wiegand and OSDP Support: Next to legacy Wiegand communication, which makes it easy to connect to the most common Wiegand connected readers, MPA2 provides the latest communication technology for card readers for strong encryption, bi-directional communication and improved cyber security resilience. It gives users the option of forming a platform that can be expanded in the future. It also features SSL certificate security, safeguarding connections to the panel. MPA2 offers a simplified approach to security management, improving business and employee productivity, by reducing both training and operating time. The new panel is available as a standalone product and can be fitted into existing security set-ups with ease.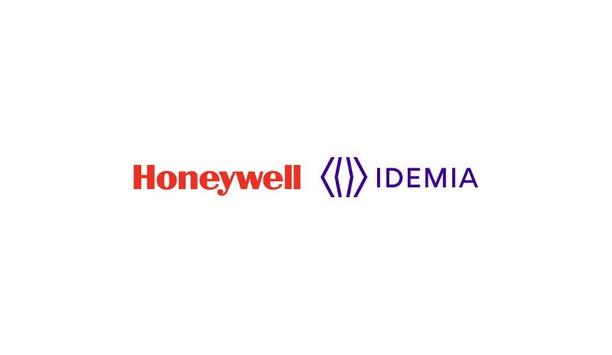 Honeywell and IDEMIA announce a strategic alliance to develop an intelligent and seamless building ecosystem
Honeywell, a global provider of connected buildings, and IDEMIA, a global provider of Augmented Identity, announced a strategic alliance to create and cultivate an intelligent building ecosystem that provides a more seamless and enhanced experience for operators and occupants alike. The alliance will integrate Honeywell's security and building management systems with IDEMIA's biometric-based access control systems to create frictionless, safer and more efficient buildings. The Honeywell and IDEMIA alliance is intended to design solutions that will allow occupants to easily and securely have contactless engagement with a building - from vehicle recognition at the car park and automatic elevator calls to biometric-based access and personalised conference room settings. With a focus on security and data privacy, these next-generation solutions will provide occupants with a safer, more efficient and more enjoyable experience that will help building owners attract tenants. Complex security requirements "We recognise that our customers need to deliver business outcomes like managing complex security requirements and providing healthier, more productive environments," said Manish Sharma, Vice President, Chief Technology and Chief Product Officer for Honeywell Building Technologies. We will create an intelligent building ecosystem that better addresses our customers' key challenges" "By working with IDEMIA, we will create an intelligent building ecosystem that better addresses our customers' key challenges and drives their desired outcomes. Whether it's a commercial office building, a hospital or an airport, we have the ability to change the way people experience and interact with buildings for the better." Safety and security systems "We look forward to expanding our long-standing relationship with Honeywell to bring greater value to our customers with more integrated solutions that make for a more seamless building experience," said Matt Cole, CEO, Secure Enterprise Transactions Division, IDEMIA. "The ability for our technology to easily integrate with Honeywell safety and security systems will provide building owners and operators more insight and control into creating more efficient buildings, while putting the occupant experience first." Facial recognition terminal IDEMIA's field-proven AI-based products and solutions - like MorphoWaveTM, a contactless fingerprint device that scans four fingerprints in less than one second; VisionPass, the most advanced facial recognition terminal; or Augmented Vision, a biometric video analytics platform - integrate with Honeywell security and building management systems. Honeywell's systems include Pro-Watch Integrated Security Suite, MAXPRO Cloud and Enterprise Buildings Integrator. Honeywell and IDEMIA will work together to deliver powerful integrations through aligned product creation Honeywell and IDEMIA will work together to deliver more powerful integrations through aligned product creation and joint product roadmaps. The integrated offerings will allow building operators to respond rapidly and effectively to alarms or incidents by providing an incident workflow package that allows Standard Operating Procedures (SOPs) to be configured, reducing compliance exceptions, security risks and response times. Personal protection equipment IDEMIA products also support Honeywell's Healthy Buildings solutions that help building owners improve building environments, operate more cleanly and safely and encourage sustained compliance with changing building standards, safety guidelines, government-issued regulations and a company's risk management policies. Honeywell's Healthy Buildings solutions provide a holistic view of a building's health based on key factors such as indoor air quality, occupant flow, personal protection equipment (PPE) analytics, contactless access, thermal screening, social distancing and sanitation efficacy.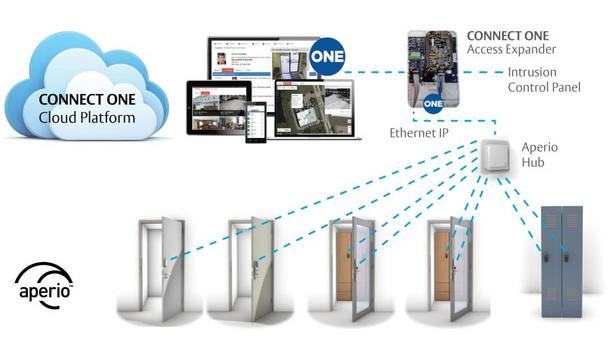 ASSA ABLOY integrates Aperio wireless lock technology with Connect ONE platform from Connected Technologies
ASSA ABLOY Opening Solutions completed the integration of their Aperio® wireless lock technology with the Connect ONE® cloud-hosted management platform from Connected Technologies, Monument, Colo. Connect ONE manages all connected customer devices, including wireless and hardwired locks, access control, intrusion, video surveillance, critical environmental monitoring and energy management from a single interface. "We're excited to present this integration with industry leading ASSA ABLOY Aperio wireless devices to Connect ONE dealers," said Mike Simon, Managing Partner of Connected Technologies. Global wireless platform "Now, dealers can easily expand their services to more doors and offer new protection possibilities that save installation time and money. In addition, the Aperio/Connect ONE integration works with popular Bosch, DMP, ELK and Honeywell Vista panels so they can be up and running with new specs quickly." The Aperio integration offers Connect ONE customers an easy way to connect additional wireless locks to new and existing installations. Aperio is a global wireless platform that works with extensive locking hardware options from ASSA ABLOY Group brands, offering the flexibility to address a variety of applications throughout any facility. The platform uses wireless communication (IEEE 802.15.4) between the lock and an Aperio hub to provide real-time communication to the access control system, simplifying installation and reducing costs. Encrypted wireless connection The integration also allows for a mapped hardwired relay output to initiate an auxiliary control upon access Aperio wireless locks map directly to the intrusion areas for an immediate armed status review to deny access when armed and can also disarm intrusion with proper authority upon granted access at the lock. Since the wireless locks are highly integrated with the control panel, user permissions are applied exactly the same for hardwired readers, allowing for a mix of wireless and hardwired reader/locks without additional set-up complexity. The integration also allows for a mapped hardwired relay output to initiate an auxiliary control upon access and a relay output to control an external door opener. Aperio locks use an encrypted wireless connection to an Aperio IP hub; each hub can communicate to a maximum of 64 locks. Highly flexible solution "Connect ONE offers a simple, scalable solution that complements the Aperio offering perfectly," stated Mark Duato, Executive Vice President, Aftermarket, ASSA ABLOY Opening Solutions Americas. "This integration will offer dealers and end-users a highly flexible solution for comprehensive access management." Connect One's ScanPass® Mobile Credential smartphone control is also supported with the integration, eliminating the need for card or fob credentials. Dealers can contact ASSA ABLOY to become certified to offer Aperio locks, which come in a variety of form factors and can be purchased through ASSA ABLOY Authorised Channel Partners.