ADPRO CCTV Video motion detectors
(40)
Browse CCTV Video motion detectors
Video motion detector products updated recently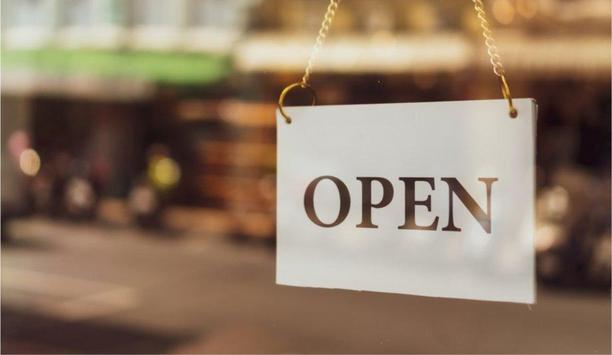 Reopening doors: What steps should be taken to ensure safety and security?
A total of £1.6 billion worth of goods are reported as 'lost' to in-store theft in supermarkets each year, with figures increasing steadily. The presence of self-checkout systems have increased in supermarkets, as well as other industry retailers. By 2021, we're globally on track to have 468,000 self-checkout machines in operation, nearly double the 240,000 in existence since 2016. While this increase comes with such benefits as reduced wait times for customers and staff costs, it also comes with a risk of retail theft at self-checkouts. With the circumstances the world now finds itself in i.e. mass unemployment, financial uncertainty, the retail industry has seen an influx in these types of petty crimes, hitting retailers during an already turbulent period. While retailers are taking precautions to protect themselves and their patrons in this new era of in-person shopping, it's important to ensure the business itself is protected. A popular method to combat these fears is to employ on-site security personnel, however, as we continue to adapt to new operating guidelines, retailers must begin thinking past the immediate future, and begin implementing long-term security solutions to prepare for life after lockdown such as strong CCTV systems with remote access. How has the security industry adapted its services to a post-lockdown world? Technological innovations like thermal recognition are key to adapting security systems for a post-lockdown world. Businesses which previously relied on facial recognition now must update their methods to account for shoppers wearing masks on-site and in-store. By 2021, we're globally on track to have 468,000 self-checkout machines in operation, nearly double the 240,000 in existence since 2016 Biometric systems are now able to identify people with face masks, and thermal recognition such ADT's Thermi-Scan system which can track human body temperature without the need for contact. Implementing these safe protocol procedures protect both employees and customers against virus outbreaks such as COVID-19. The need for these advances in video surveillance will reportedly increase the biometric facial recognition market by 14 per cent by 2027. Artificial intelligence has been hailed recently as the way forward for remote security needs, and whilst business-owners continue to navigate procedures of returning to work post-lockdown, having remote access to real-time security monitoring is essential now more than ever. What are the main measures stores can take to prevent or reduce theft? Strategically placing a multi-camera surveillance system to ensure clarity, eliminate blind spots, and deter thieves should be top priority. It's equally essential to invest in a system which has an efficient playback programme, particularly in situations where reviewing important footage efficiently can offer vital information to the police force. Advances in video surveillance will reportedly increase the biometric facial recognition market by 14 per cent by 2027 As business-owners continue operating at reduced hours and with limited on-site staff, being able to access camera footage quickly and remotely is a key factor to consider. Whether owners opt to receive an alert on a mobile device allowing them to review notifications, or if their system is monitored by a remote security centre, it's important to be able to access footage quickly for added efficiency and ease. Facial recognition and AI have been popular points of discussion in relation to security cameras and CCTV. While careful considerations must be taken prior to utilising any sort of facial recognition technology, including conducting a Privacy Impact Assessment, the benefits include being provided with real-time tracking of repeat offenders which immensely helps the prevention of in-store theft. Here are some key points to consider when choosing in-store surveillance: Assess your needs – To get the best out of your security system, it is essential to analyse what your requirements are for your business as they might have changed to adapt to a post-lockdown world Camera setup – With store layouts shifting to accommodate social distancing guidelines, it's important to re-evaluate the current set-up of any security cameras. Depending on any layout updates, it might be important to consider operating multiple cameras in one area to ensure a peripheral view and eliminate any blind spots Camera positioning – For optimal performance, check that light sources are not obstructing your view such as glare from the sun. It is also worth considering the height at which cameras are installed to maximise surveillance Check the focus – It is worth testing camera lenses bi-monthly to ensure that lighting or weather hasn't affected the focus of the lens, resulting in a blurry visual Remote access – As guidelines continue to evolve, ensure you're able to access any necessary camera footage quickly and safely in case of emergency Will we begin to see a reduction of theft as new technology is implemented? We're beginning to see incidents of shoplifting and theft being taken more seriously by law enforcement. In the coming months, for the first time in Britain nearly twenty shoplifters who were either caught red-handed or identified on CCTV will be appearing before magistrates. While currently these court cases are being pursued by a private police force, these actions come after a Government plea to high-level police to prosecute shoplifters stealing under £200. Retailers have long voiced concerns that forces have abandoned low-level thefts and these steps are small but show that businesses are being heard. As innovations in surveillance security continue, we'll be seeing a move away from human involvement which will create a more reliable and efficient system able to rely on machine learning and analytics. While there have been wider strides made in utilising AI for surveillance, these are largely being used currently by local governments to alert police forces to threats of criminal activity. It's not unreasonable to think that in the near future, these types of smart technology will be employed by private businesses to analyse suspicious behaviour or possible theft. However, as we see an increase in the advancement of security technology, we anticipate that those inclined to commit in-store theft will adapt their methods, therefore retailers should look to regularly evaluate their security needs to keep risks at bay.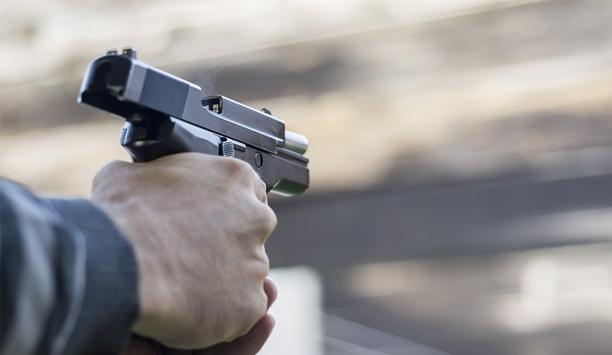 The how and why of gunshot detection
The benefits of some physical security systems have an obvious return on investment, such as surveillance cameras trained on retail cashiers and access systems that keep unauthorised persons from entering protected areas. There are others that may only show a return once a negative event has occurred, and some may argue that gunshot detection falls into this category, however there are many reasons to see the value in this technology. Below are a few reasons why you should look at gunshot detection and some best practices for evaluating this type of technology. Reduced casualties = reduced costs Most of gunshot detection's value will be measured on the system's ability to reduce response time to a shooting incident. Statistics have shown that an average of one death occurs every 5-15 seconds during an active shooter incident. One question to ask gunshot detection manufacturers is how quickly their system alerts. Applying these statistics against alerting speed can help calculate a potential reduction in casualties to employees.Mitigating casualties can also reduce subsequent benefit costs for those psychologically traumatised by the incident Mitigating casualties can also reduce subsequent benefit costs including paid sick leave, death benefits, and mental health care for those psychologically traumatised by the incident. To put this into real-world context, a major retail brand experienced a workplace shooting that tragically resulted in loss of lives and multiple casualties. The corporation spent more than $40M in costs associated with the shooting. It was after this incident that the company decided to install gunshot detection, because although they had looked at it previously, they finally made the connection to the return on investment: Reduced response time will decrease (and hopefully eliminate) casualties, which will save lives and millions of dollars if a future incident were to occur at one of their sites. Meeting OSHA requirements OSHA's General Duty Clause states that employers must provide a workplace free of "recognised hazards" that are likely to cause death or serious injury. Courts have interpreted this to mean that employers have a legal obligation to abate the active shooter hazard when there is a feasible method available to do so. Mark Terry, Director of Global Enterprise Security for Rackspace in San Antonio, sees gunshot detection as a life safety necessity that also fulfils the corporation's Duty of Care. He told me that adding gunshot detection is not only a game changer for active shooter response, it fulfils their Duty of Care and brings peace of mind that his company has done everything they can to protect their people. Lawsuits charging security negligence have become commonplace after shootings Reduce litigation risk with gunshot detection – but choose wisely Lawsuits charging security negligence have become commonplace after shootings, naming a "lack of gunshot detection devices" as a source of culpability, such as the $800M lawsuit victims brought against MGM after the Route 91 concert shooting in October 2017. What is important to realise, however, is that not all gunshot detection systems are created equal, so there are a number of performance characteristics to consider. For example, acoustic-only systems have a higher likelihood of false alerting to loud noises, especially indoors, as do those that search a library of gunshot audio files before reporting shots.Dual mode systems that require both acoustic and infrared detection in order to report are far more accurate Dual mode systems that require both acoustic and infrared detection in order to report are far more accurate. Tedd Steele, Senior Network Architect at Charleston International Airport, told Airport Improvement Magazine that the system they installed "can determine gunshots with a high degree of accuracy thanks to the dual mode sensors. It knows the difference between loud bangs and a gunshot." When looking at wireless gunshot detection systems, end users should ask about sensor uptime, self-testing features, battery life and encrypted communications. Regulations and standards Currently, there are no standards or regulations to follow in order to market a technology as gunshot detection. A video camera is typical in that you can expect that the product will capture video. There are different feature sets like facial recognition and analytics that set different systems apart on the backend, but first, cameras must capture a moving image. When you apply this same analogy to gunshot detection, the waters are a bit muddier because the science of isolating gunshots while also filtering out false alerts is much more complex than simply detecting and reporting a loud bang.The NFPA has also issued guidelines for the use of gunshot detection Many manufacturers of aggression detection systems now claim 'gunshot detection' as a feature set, and there are smoke detectors and cameras now marketing this claim, but these devices are not on the same level playing field as genuine gunshot detection systems. In the absence of regulations and standards, consumers should look to authorities that have evaluated systems such as the U.S. Department of Homeland Security and the Centre for the Protection of Critical Infrastructure in the U.K., The NFPA has also issued guidelines for the use of gunshot detection as a part of their principal role in creating life safety codes for buildings. Testing and References If you place a number of gunshot detection systems side by side in a shooting range, they all will likely report a shot, but this is not a reasonable test because a range is a controlled environment. What happens in a real world environment? Does the system need to be calibrated to its environment? What happens in the presence of fire alarms and strobes going off in a live incident? Seeing a system respond to live fire is important in the evaluation process, but it is not the only marker of overall system capability. Consumers will want to ask manufactures questions like how many systems have been deployed in customer environments and for how long, and let their customers tell you their detection and false alert rates have been. Enterprise consumers will want to look closely at network and cybersecurity features and look closely for any potential security risks. Also ask for references from customers in your industry so you can see how and where they are using gunshot detection to meet challenges that might be unique to your type of workplace, school, or public venue. Overall, it is extremely important for organisations to be able to declare that they have done everything in their power to properly prepare for and respond to active shooters. Combining an effective gunshot detection system with video, access control and mass notification will not only improve your ability to effectively respond to a shooting incident, it raises your security posture and confidence that you have done everything you can to protect your people from modern day threats. It also puts these security systems to better use by delivering real-time, additional situational awareness during a shooting incident. And this will be especially true when you have done your due diligence before selecting a gunshot detection system.
Can CCTV become a more effective tool?
We all know that having CCTV around your home can help to protect you and your family. Without CCTV, you could end up in danger and an intruder could get away with breaking into your house, hurting your loved ones and stealing your possessions. Similarly, without CCTV in the office, you'll be leaving yourself open to all kinds of damage and could lose a lot of equipment in the process. In short, making sure you have CCTV is important for both home and business security. However, it can be improved to become a more effective system so that you're better protected, and can even deter a potential intruder without having to panic. In our world of ever-changing technology, we're able to upgrade and enhance our CCTV systems so they can become a monitored system. Remote CCTV monitoring is an ideal way to protect everyone and everything whether you're at home or at a workplace. What is remote CCTV monitoring? For a long time, CCTV was one of the best ways to keep your home, the office and people safe. But people started to notice that it would only deter people so much of the time and often the cameras were ignored by intruders. They would just cover their faces and hope for the best as they steal from a home, office or any other premises. Remote CCTV monitoring is a system that can loop into your existing CCTV, or come preinstalled with a new system. This technology sends a feed to a control room full of trained operators that are on call 24/7. Within this control room, operators are able to respond to any sort of distress call or unauthorised movement on the property line. How does it work? Remote CCTV monitoring works by attaching to a live feed of your CCTV system, existing or new, so that the signal and images can be passed to a team of operators. These operators are on hand 24/7 so that if there is a problem, you know that you're safe in the hands of a specialist team. The specialist team has been trained to mitigate the chances of somebody breaking into your home when the system is triggered; similarly they call the local authorities instantly so that the potential intruder has less time to flee the scene. This is especially important if an intruder is already inside your property because they have less time to steal your items and leave. Without CCTV in the office, you'll be leaving yourself open to all kinds of damage and could lose a lot of equipment in the process One of the biggest questions that revolve around remote CCTV monitoring is the idea of operators watching the CCTV at all times. Luckily most remote CCTV monitoring systems will incorporate a motion detection system to accompany your CCTV. Motion detection offers the ability to alert a control room if there is an unauthorised entry to the property line. These motion detection systems are state-of-the-art and so, depending on the system that you choose, they can watch over your property from a number of angles. Once the motion detection system has been triggered and the alert has been sent to the control room, then and only then will the operators get involved. This means that until the motion detection system has been triggered, nobody will watch your live CCTV feed. After one of the systems has been triggered, one of the specialist operators will instantly jump into action. This means that they can take different measures to deter any potential intruder and make sure that they do everything in their power to stop any damage or theft from the premises. In addition to the motion detection system and CCTV, you are able to opt for a public address (PA) system too. This means that an operator is able to shout commands through the PA system and potentially scare away any intruder. The intruder will also be warned about the fact that local authorities have already been called to the location. Remote monitoring versus traditional CCTV Motion detection offers the ability to alert a control room if there is an unauthorised entry to the property line Having a monitored CCTV system means that you're able to better protect yourself, your business, employees and even your loved ones. Whether you're at home or in the office, having someone looking over your shoulder protecting your every move is something that can be appreciated by everybody. The biggest problem with just having traditional CCTV, is that it is a reactive system. This means that rather than stopping crime, a CCTV system just records it. While the thought is that having a CCTV camera visible can deter some intruders, there's no real evidence to suggest that it stops anybody; anyone can simply cover their face and carry on breaking into your home, office or even your car. As mentioned, remote CCTV monitoring is going to tackle that problem and make sure that someone is on hand to protect you at all times.
Honeywell launches X-618 public address system with cutting-edge features and upgradeable firmware
Honeywell introduces the new X-618 Public Address (PA) System and supporting speakers. This IP-based system is designed to serve all types of paging purposes and comes with cutting-edge features and a highly-efficient compact platform – convenient for designing and maintaining a wide range of medium to large-sized applications. Unified notification platform The Unified Notification Platform (UNP) a software solution to enable mass notification tailored to the needs of the end-user. UNP is an open platform that interconnects disparate systems within a mass notification ecosystem, or MNE. With UNP, emergency notifications are sent simultaneously to thousands of end-points on various communication platforms. Key features of the X-618 Public Address (PA) System are as follows: Integrates with all devices with IP addresses, expandable via Ethernet Extended point capacity supports larger and more complex installations (up to 250 controllers) RCA, XLR, internal network, internal storage (1GB flash memory) 4x8 audio matrix, 4 simultaneous audio outputs, 8 amplifier channels Flexible 8+1 or 4+1 amplifier backup Configurable speaker line supervision Flexible 8+1 or 4+1 amplifier backup Automatic fault diagnosis Automatic volume level control Zone broadcast auditing Quick and convenient programming Field-upgradeable firmware with easy system updates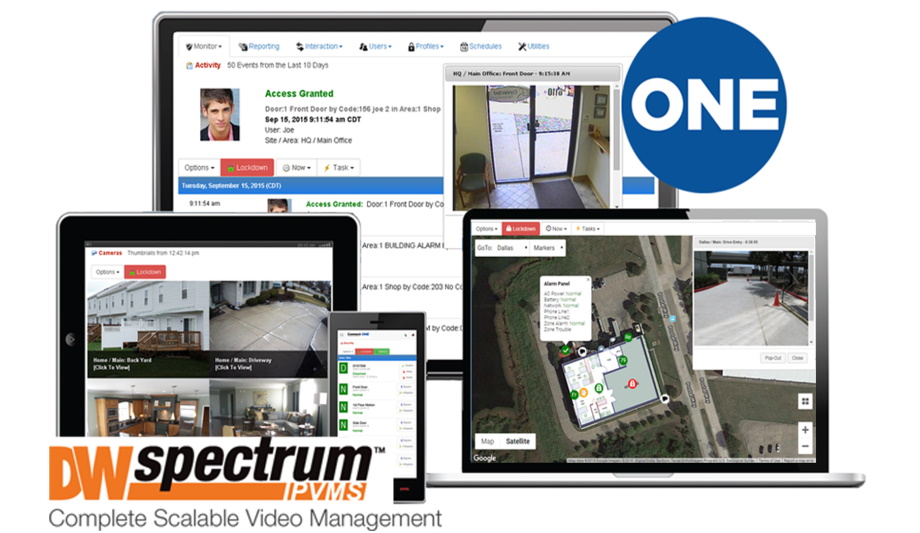 Connected Technologies and Digital Watchdog unveil new software integrations to help dealers and customers
Connected Technologies LLC, provider of a powerful cloud-hosted security management platform and Digital Watchdog (DW™), the provider of digital recorders, surveillance cameras and video management software have unveiled new integrations between DW Spectrum and Connect ONE that provide deeper reporting and management controls for dealers and their customers. Connect ONE and DW Spectrum integrate natively through software to receive or trigger notifications or events without system configuration such as opening a vulnerable in-bound port on the end-user's network, port forwarding or connecting to the user's IP address. Output control and lockdown With the expanded integration, dealers can add new feature sets, events and notifications gathered from DW Spectrum's VMS, NVR or surveillance cameras for viewing and control on the Connect ONE, all-in-one interface. "Connect ONE is focused on expanding the possibilities for integrated systems for our dealer-customers," said Dan Simon, Co-Founder and Managing Partner, Connected Technologies. "This integration gives dealers the ability to provide more value in their managed services offerings through Connect ONE," he said. Connect ONE's users can receive events to monitor the health status of the NVR or perform special logging of activities or analytics. All Connect ONE Event Rules can be activated in response to NVR events such as report logging, notifications to users and system control – including arming, disarming, output control and lockdown. Connect ONE pushed system events such as arming, alarm, access, trouble and audit changes to the NVR are supported. Providing complete solutions ConnectOne's ability to simplify integration with a variety of technology presents an opportunity for DW Dealers" Events are shown on the DW Spectrum interface to indicate the source and type of event along with a text description, such as user, zone, door, area, etc. Events received by the NVR can also record video bookmarks, trigger a camera preset and increase recording quality. "We are excited to see our technology partners take a deeper dive into DW Spectrum's open architecture and all the functionality it offers," said Patrick Kelly, Director of IP Video Solutions, DW. "ConnectOne's ability to simplify integration with a wide variety of technology really presents an opportunity for DW Dealers to provide complete solutions." DW Spectrum and Connect ONE integrate via direct network connection or DW Cloud. Integrated security management solution Following set up, users can retrieve a camera list for quick and easy configuration, view live video, search playback recordings, record snapshots upon an event from intrusion/access system for video verification and review a 10-second pre-event and up to a 45-second post event video clip. DW Spectrum is a powerful and user-friendly IP Video Management software, highly optimised to provide unlimited scalability, unmatched bandwidth savings and simplified system setup and management. Connect ONE by Connected Technologies is a cloud-hosted integrated security management solution which provides a single user interface to control intrusion, access control, video surveillance, critical environmental monitoring and energy management. Connect ONE works with the Bosch B and G series as well as DMP XR/XT series, ELK M1 series and Honeywell Vista Turbo security and access control panels.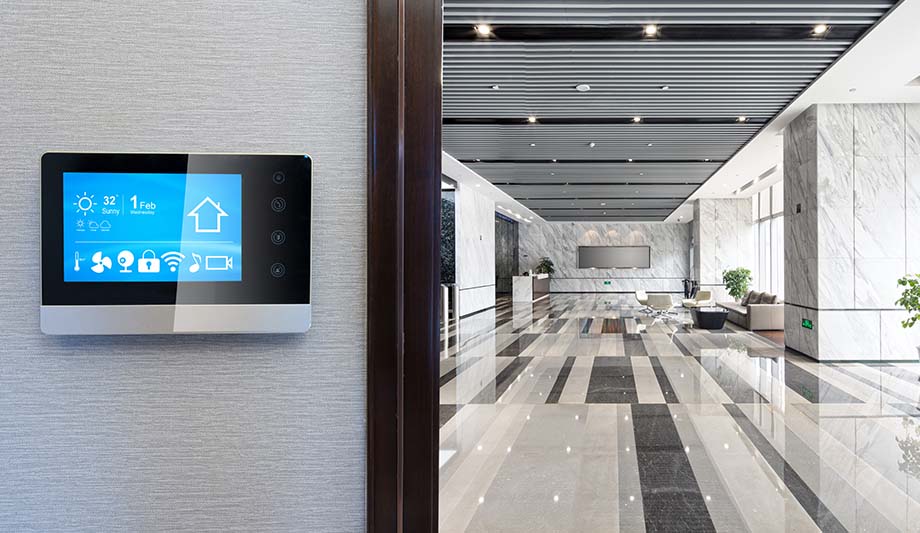 The role of building systems to ensure safety as employees return to work
Returning to work after the global pandemic will not be business as usual, and security systems are an important asset when it comes to helping to keep occupants and buildings safe. For example, video analytics can provide insight into how spaces have previously been used and can help to predict where and when occupants encounter each other or congregate. These foot-traffic patterns can inform settings for a variety of devices – like ventilation and temperature controls – and even help owners create social distancing plans and monitor personal protective equipment (PPE) compliance. "While the 'new normal' is still being defined, we believe there will be a greater focus on creating healthier environments while also complying with new regulations," says Marcus Logan, Global Offering Leader, Honeywell Commercial Security. "Temperature, humidity, energy efficiency, security, safety, comfort, productivity, and demonstrating compliance with regulations are all a part of a healthy building." For example, social distancing is a new concept for the workplace. How do you make that happen in an open work setting, in breakrooms, elevator lobbies and meeting spaces? Optimised systems create healthier environments Anxious employees will need reassurance about returning to the workplace Building owners will need to look at how they can optimise their systems – or deploy new ones – to create a healthier environment. Building technologies, like those provided by Honeywell's Healthy Buildings solutions, provide building owners with more control over critical factors to encourage sustained compliance with changing building standards, safety guidelines, government-issued regulations, and a company's risk management policies. These solutions also provide transparency for occupants into a building's status, says Logan. Hygiene will be a critical issue: People will want to know that the spaces are ready for their return. Increased cleaning procedures and schedules will evolve, and a way will be needed to demonstrate the procedures are effective and that they have been strictly adhered to. Identifying ways to measure effectiveness of sanitisation and track compliance to the procedures will be a key challenge to solve. This is a space that will evolve significantly in the coming months and years, says Logan. Access control and video analytics Contact tracing is a new requirement in some businesses, and security technology – like access control and video analytics with advanced reporting – can help. Access control technology integrated with video analytics can be used to trace occupant movements within a facility. These technologies capture data that can be used with advanced reporting to provide a digital footprint of where a person has been within a facility and if they may have been exposed to someone identified as being infected with a contagious virus. Building owners can then proactively notify exposed individuals evolve to self-quarantine and minimise further spread of an infection. Video analytics can help to predict where and when occupants encounter each other Anxious employees will need reassurance about returning to the workplace. They will not only seek confidence that the building is optimised for a healthier environment but also that processes are in place to quickly identify and respond to potential issues. Transparency and visibility into how the building works and the health of the environment will help to reassure occupants returning to the workplace. "One way to do this is to share building analytics with occupants – to help them understand factors about the indoor air quality or occupancy density," says Logan. Controlled health, safety and security Honeywell's solutions provide building owners with more control over critical health, safety and security factors to encourage sustained compliance with changing building standards, safety guidelines, government-issued regulations and a company's risk management policies, Logan adds. Visibility into how the building works and the health of the environment will help to reassure occupants returning to the workplace Every day there is new information coming from the medical and scientific community about COVID-19, and the building industry is just starting to learn what it all means. Logan warns that there is no single solution that will keep every environment healthy and safe. A good strategy features deploying a combination of solutions, optimising systems and being vigilant to make sure that companies are sustaining compliance to new and changing regulations, says Logan. "Today more than ever we must be mindful of the changing culture of how buildings are managed by making apparent the need to be mindful of health and well-being in all aspects of our lives," says Logan. Honeywell has developed outcome-based solutions that allow building owners to transparently address building quality factors while supporting their business continuity needs in the uncertain environment. "We're giving them the data they need to confidently reassure their employees to accelerate their business operations," he adds.
Related white papers
Automatic vehicle identification: State of the industry 2020
Featured white papers
Building a safe ecosystem for visitors post COVID-19
Download
Smart security cameras: excellence in retail
Download
5 reasons to integrate mobile technology into your security solution
Download