Problems arising from the inaccurate identification of contents of U.S. Department of Defense sea cargo containers led the U.S. Defense Logistics Agency (DLA) to mandate a robust, multi-functional identification solution that would perform reliably in some of the world's harshest environments, including war zones.
For nearly 20 years, DLA's shipping, receiving and pallet identification system has set a ground-breaking standard in secure cargo identification thanks to the successful application of a paperless freight manifest based on HID Global's LaserCard® optical security media technology.
Need for automatic identification of cargo
In the late 1980's the rapid deployment of more than 500,000 troops to the Persian Gulf for Operation Desert Shield/Storm placed a severe strain on the U.S. Department of Defense (DoD) supply system. The agency's legacy material management system could not adequately identify nor maintain reliable records of critical supplies contained in the massive surge of incoming sea cargo containers.
The DoD required a new system that would ensure the automatic identification of cargo containers and their contents. The system had to simultaneously increase in-transit visibility, expedite receipt processing, prioritise container processing, facilitate discrepancy reporting, minimise impact on existing systems and provide a portable permanent record of transactions. Watertight security, fraud resistance and durability were therefore key elements for resolving the in-transit identification problem.
The DoD specified the highest standards for a new automated manifest system to address the need for security, counterfeit- and tamper-resistance, durability and the ability to store substantial amounts of digital data.
The AMS programme won numerous U.S. government awards
A multi-functional solution
The U.S. Defense Logistics Agency contracted for a new Automated Manifest System requiring a rapidly deployable portable office, sophisticated inventory control software, and a paperless manifest based on the uncompromised digital security of HID Global's LaserCard® optical media technology and the robust construction of the polycarbonate-based card.
The programme met and exceeded all the Army's security, durability and processing requirements since its inception in 1991. The AMS programme won numerous U.S. government awards, including the Vice Presidential "Golden Hammer Award" for cutting logistics costs over 67%.
A solution for harsh environments
Exposed to the elements
Laminated card construction contributed to durability
Immune to electromagnetic fields
Deployed in war zones: Somalia, Bosnia, Kuwait, Iraq, Afghanistan
System-wide efficiencies
One card, multiple uses
Reduced logistics costs by 67%
Slashed receipt processing time by 78%
HID Global credentials provide valuable benefits
High Data Capacity: The card's high capacity optical security media (up to 2.86 MB of user data) held all required manifest information and could be updated as needed. Each manifest record used about 50 to 60 KB so one optical media card was able to be recycled for multiple shipments.
Cost-Effective: Each card was able to be reused up to 50 times, reducing the effective cost to about 10 cents per use.
Global Deployment: The entire U.S. Army distribution and receiving system worldwide, including all active Army field sites, was outfitted with the ability to read and write optical media cards. In conflict zones, such as Afghanistan, Kuwait, Bosnia and Somalia, 'portable receiving offices' were dropped in by parachute if needed.
Durability: The card, which rested outside the shipping container as part of the label, was exposed to the elements in transit for months at a time. The card withstood harsh weather and conditions worldwide, matching the Army's environmental testing of the card prior to purchase. With a failure rate of virtually zero, this was "the most durable and reliable media seen in over thirty years of DoD Logistics experience," observed Eugene Bransfield, DLA Program Manager.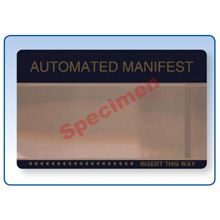 The card, which rested outside the shipping container as part of the label, was exposed to the elements in transit for months at a time
Compatibility and Ease of Use: The cards were simple to integrate and use. The DLA database downloaded standard files for each shipment, which were directly copied to the card in real time as shipments were prepared.
Reduced Error Rates: Automatic discrepancy reports minimised labour-intensive operations and reduced errors.
Speed: The card was immediately writeable when inserted into an encoder, requiring no lag time to initialise or "spin up." All data was recorded in a few seconds, which was important to get the card attached to each pallet during the depot loading sequence.
The AMS was used until 2010, when new software and satellite-based technology replaced the original system.
Polycarbonate in Secure ID
The durable nature of polycarbonate allows for the production of long-lifespan identity documents such as the AMS credential. Modern ID documents are required to stand up to many types of stress, ranging from attempts at physical alteration to years of inconsiderate handling in a variety of environments and weather conditions.
To deliver the most secure, durable and climate-resistant cards, the industry is increasingly turning to polycarbonate as the material of choice. Polycarbonate has won the trust of governments around the world and today is increasingly used in the production of multiple advanced national identity card programmes, national passport programmes and national driving licence programmes.
HID Global has honed its expertise in the manufacture of polycarbonate-based secure ID cards over more than 25 years, a decade ahead of the majority of the card industry. Today, the company has delivered tens of millions of polycarbonate cards for major commercial and government programmes worldwide. The cards "were exposed to 170?F, soaked in salt water for weeks on end, subjected to spills such as strong Navy coffee and even run over with a Bradley infantry vehicle — all to little effect."
In 2009, the DLA renewed its contract with General Dynamics Information Technology for 3 years, ensuring the continued success of this ground-breaking programme.
Download PDF version