MOBOTIX CCTV Connectors
(1)
CCTV connector products updated recently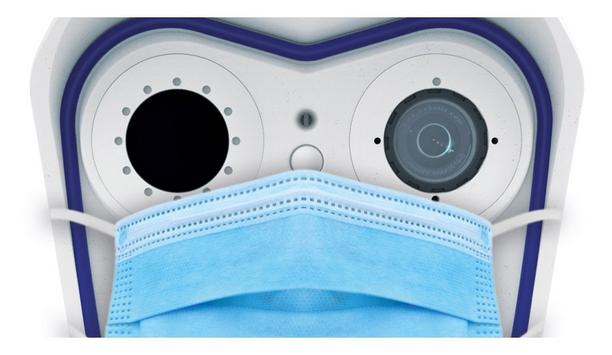 MOBOTIX supports its customers with intelligent video technology on their way "back to the new normal"
The world has changed with the COVID-19 pandemic. There are many new challenges and regulations. MOBOTIX's intelligent video technology can support companies, institutions, public as well as private facilities during the crisis and in the restart after the lockdown. MOBOTIX has bundled the available "back-on-track video technology solutions" for its partners and customers to help get them up and running quickly and effectively. This makes it easier for industries and sectors such as retail, restaurants, airports, train stations, municipalities, industrial, service companies and educational institutions to "get back on track." MOBOTIX automates the "back-to-business restart" with professional analysis and thermal imaging technology, with an array of optional apps in the latest MOBOTIX 7 generation cameras and specially-developed add-on solutions from MOBOTIX's global Partner Community. Highest cyber security Only the consistent adherence to rules and regulations will drive further improvements in this pandemic" The hardware and software of MOBOTIX can be adapted and converted at any time for numerous alternative industry-specific tasks, always with the highest cyber security. "Only the consistent adherence to rules and regulations will drive further improvements in this pandemic. By doing so we will hopefully move together successfully towards 'normal life and work.' It is a good feeling when we can support and accelerate this with our technology," says MOBOTIX CEO, Thomas Lausten. Entrance control system In many shops, schools and public buildings there are updated capacity limits for the number of visitors, customers or employees. To determine the current numbers, all entrances and exits must be checked. MOBOTIX video technology can do this reliably, automatically, and effectively - without the need for additional personnel. An entrance control system can be installed indoors or outdoors, for example, using a traffic light system or an automatic door control system. The MOBOTIX video analysis technology also allows the cumulative recording of the current number of people in complex and multi-story buildings using all cameras installed at the entrances and exits. Supporting Social Distancing "Social Distancing" is a widely used term. It describes the observance of minimum distances and is intended to reduce the risk of infection. MOBOTIX technology can also provide support here. Face mask detection In addition, sensitive zones, such as sterile zones in hospitals and nursing homes, can be better monitored and protected It does not monitor whether the minimum distance is maintained in all areas, but rather checks whether it could be maintained in general within heavily frequented areas. For example, video technology can detect overcrowding - e.g. in waiting areas or at checkouts - and resolve it by means of visual and acoustic warnings. The capacity and crowding of people are not the only concerns, of course. In many public areas, face masks are also required. It must be ensured that proper protection is worn. Partner solutions that rely on MOBOTIX technology can detect when face masks are worn and trigger alarms or warnings if violations occur. In addition, sensitive zones, such as sterile zones in hospitals and nursing homes, can be better monitored and protected. Recognising temperature abnormalities MOBOTIX TR (Thermal Radiometry) technology makes it possible to measure thermal radiation - even from people. Although MOBOTIX thermal technology does not replace medical devices, they can help analyse critical situations in order to escalate to further measures. It allows anomalies to be detected and reported. Identified persons can then be subjected to further examination and referred to medical personnel. "Our technology helps customers not only in times of crisis. MOBOTIX video security systems are valuable to our customers well beyond the crisis," says Lausten. "The high-end video systems can be used, adapted or converted at any time for numerous additional and new industry specific tasks. Our intelligent solutions cover much more than just security applications. For example, they offer outstanding potential in process optimisation or improving a service organisation. The investment in MOBOTIX video technology is and remains future-proof," says the MOBOTIX CEO.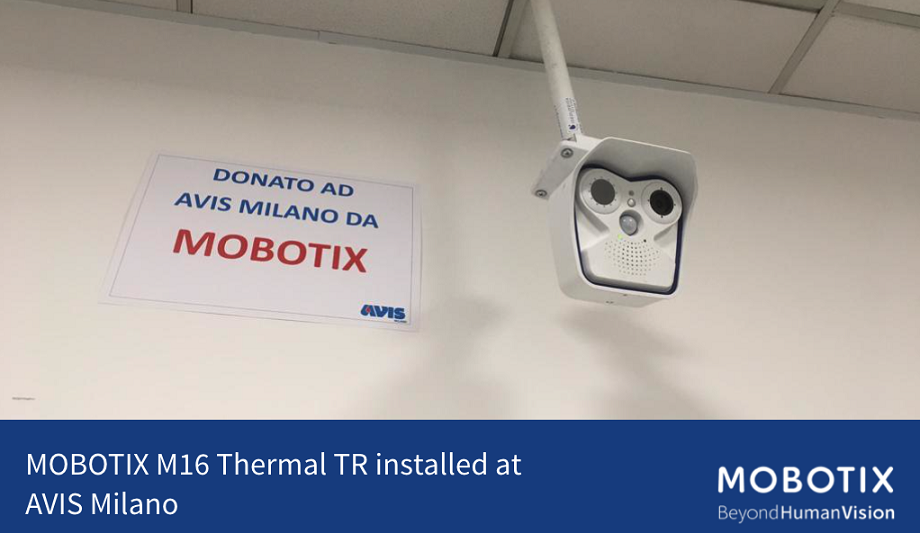 MOBOTIX donates Thermal TR imaging camera to blood bank association AVIS Milano in Italy
Lombardy is one of the regions most affected by the COVID-19 epidemic. Due to the emergency, hospitals remain overcapacity, surgeries postponed, and staff continue to work fatigued because of what they've had to sustain over the past few months. In addition to this already critical situation, the Milanese capital suffers from a major blood scarcity. Decrease in blood donation collection In recent months, the Ministry of Health has intervened several times with recommendations to prevent possible interruption or decrease in blood donation collections within the region. This was targeted to improve processes at the donation centre in order to aide in the management of blood components and raise awareness of transfusion needs. Many donations made were due to the appeals launched by AVIS Milano. Due to the responses of citizens, even non-periodic donors, who went to the Lambrate headquarters in recent weeks was of generous help. Donors' security The donation candidate with a potentially higher temperature is then escorted to another location To ensure donors' security and to avoid crowding in the waiting rooms, regulating access and managing the flow became extremely important. AVIS Milano has immediately taken necessary measures. Thanks to MOBOTIX's donation and the completely free installation by Bergamo-based company, Ideologica, the association is now able to provide a high level of protection before a potential donor is accepted. A MOBOTIX Thermal TR imaging camera has been installed in the room where donors are processed and wait for access to donor acceptance protocols. Radiometric thermal sensor The camera, which is equipped with a radiometric thermal sensor, is able to detect variations in temperature of those present in the access room. It was integrated into AVIS Milano's existing system by Ideologica in just one afternoon, and was programmed to detect any temperature rise above 37.5 degrees Celsius (as required by law to allow the donation), with an accuracy level of 0.3 degree. We were able to identify the person potentially at risk of COVID-19 through the temperature symptom" If a donation candidate displays any change from this value, an immediate auditory alarm is triggered. The donation candidate with a potentially higher temperature is then escorted to another location and informed of the reasons for their donation refusal and is encouraged to visit his or her attending physician for further investigation. Medical staff immediately receives a report In respect of privacy, the system has not been set up to be viewed remotely with a video image on any external PC. The medical staff immediately receives a report that a person with a temperature above 37.5 degrees centigrade has appeared in the entrance hall. "Thanks to the contribution of MOBOTIX technology, we were able to identify the person potentially at risk of COVID-19 through the temperature symptom from the moment of entry, avoid contact with other donors present and advise the individual on an immediate follow-up with their doctor," commented Sergio Casartelli, General Manager of AVIS Milan. Facilitate solutions with MOBOTIX Technology "Technology should always be seen as positive improvement in any application regardless of how it is used, either to facilitate or to provide a final solution. We as MOBOTIX are committed to promoting and providing through our solutions and our partners as many benefits and opportunities as possible." "We are extremely proud and humbled that we could collaborate with AVIS and that our technology could support the work AVIS has done to ensure availability of blood in Milan." "This is one of the most important actions any organisation could have taken to provide support at this critical time," concluded Phillip Antoniou, Vice President Sales Europe South / West & MEAPAC.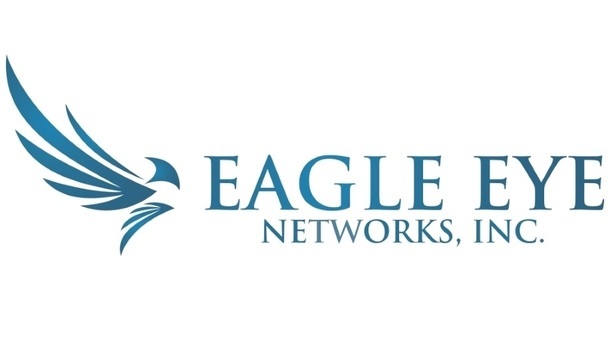 Eagle Eye Networks launches cloud-based, turnkey elevated temperature screening system
Eagle Eye Networks, the global renowned provider of cloud video surveillance, has announced the availability of a passive elevated temperature screening solution with the Eagle Eye Cloud Video Management Systems (VMS). Eagle Eye Networks will be providing a complete system via its reseller partners which includes a thermal camera, blackbody calibration unit, cloud-based recording subscriptions, and real-time notifications. Calibration unit The calibration unit is recommended by the FDA for these applications to increase accuracy The calibration unit is recommended by the FDA for these applications to increase accuracy. Eagle Eye resellers can offer solutions to restaurants, factories, warehouses, office, retailers, hotels, health care, fitness, and other industries in order to provide passive temperature screening as business resumes. "Elevated temperature screening, although not fully proven, is a potential tool to enhance people's safety as the world resumes business. The desire to measure everyone's temperature when entering a facility is new, but the technology was quickly integrated into the open Eagle Eye Video API platform, providing an excellent example of why an open platform is superior," said Dean Drako, Chief Executive Officer (CEO) of Eagle Eye Networks. Eagle Eye Cloud VMS Dean adds, "You cannot accurately predict all your security system needs as the world and technology changes so rapidly. You really must have an open platform, like the Eagle Eye Cloud VMS, to be prepared." Applications which require around-the-clock monitoring, such as passive elevated temperature screening, are best accomplished using a cloud video surveillance solution. Leveraging the cloud avoids the need for an attendant to be present, helps in maintaining proper records, and provides for quick deployment in global multi-location situations. Eagle Eye elevated temperature screening system The turnkey Eagle Eye elevated temperature screening system includes all the necessary components for efficient functioning. The integrated cameras are manufactured by overseas third-party companies. To address cyber security concerns, Eagle Eye Networks utilises its Cyber Lockdown feature to ensure all cameras are cyber secure at all times. Eagle Eye also supports thermal cameras from Sunell, HikVision, Dahua, Mobotix, FLIR, and other companies. Joshua Baer, Chief Executive Officer (CEO) of Capital Factory, the globally renowned start-up incubator in Austin, Texas, US said, "As we look to re-open our facilities in the near future we want to make sure the environment is as safe as possible for our members and entrepreneurs." Joshua Baer adds, "We see passive thermal elevated temperature measurement as a powerful tool to make sure we are doing what we can to keep everyone safe. The fact that it is fully passive and does not require any action by the members or require attendance by a staff member is critical to us." Eagle Eye Cloud VMS integration with thermal camera Existing Eagle Eye Cloud VMS customers can easily add a thermal camera to their existing system Existing Eagle Eye Cloud VMS customers can easily add a thermal camera to their existing system and perform elevated temperature measurement. "We all want to do what we can to battle COVID-19," continues Dean Drako, adding "As a cloud video surveillance company we have been working on integrating, testing, and validating thermal cameras for elevated temperature screening." Complete turnkey system Darko further said, "Our results have indicated that these solutions, while not perfect, can be a useful tool as we strive to return to a more normal workplace. A number of our partners and customers have asked us to provide a complete turnkey system." Passive Elevated Temperature screening is a new technology that comes with a complete set of new challenges. Eagle Eye Networks will continue the development on these thermal screening systems to reduce costs, increase accuracy, and improve robustness.
Featured white papers
Automatic vehicle identification: State of the industry 2020
Download
How analytics engines mitigate risk, ensure compliance and reduce cost
Download
11 considerations for embedded system RFID readers
Download