Compare IB8381-E with BB5116
(2)
| | | |
| --- | --- | --- |
| | VIVOTEK IB8381-E | VIVOTEK BB5116 |
| Chip Inch Size | 1/3 | 1/3 |
| Colour Type | Colour / Monochrome | Colour / Monochrome |
| Resolution | 5 MP | 2 MP |
| Digital (DSP) | ✔ | ✔ |
| Specialist Type | Network | Network |
| Sensitivity Lux | 0.001 | 0.001 |
| Auto Iris | ✔ | ✔ |
| Voltage | 12 V DC | 24 V AC |
| Motion Activated | ✔ | ✔ |
| Focal Length mm | 3 ~ 9 | 3.1 ~ 8 |
| Mount Type | Wall, Pole, Corner | -- |
| Wide Dynamic Range | ✔ | -- |
| Picture Elements HxV | 2560 x 1920 | -- |
| Image Frame Rate | 25 fps | 30 fps |
| Back Light Compensation | ✔ | ✔ |
| Auto Gain Control | ✔ | ✔ |
| White Balance | ✔ | ✔ |
| Electronic Shutter Range | 1/5 ~ 1/32,000s | 1/5 ~ 1/40,000s |
| S/ N (Signal/ Noise) Ratio dB | >53 | -- |
| Lens Mount | -- | CS |
| Signal Mode | -- | NTSC, PAL |
People also viewed these products
Featured security companies
Related Videos
Hikvision demonstrates DeepinMind behavioural analysis
Dahua Images and Graphics Business
Dahua launches PoE 2.0 switch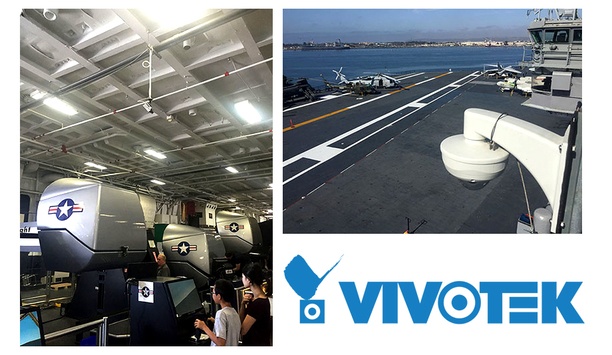 VIVOTEK delivers optimal security coverage at USS Midway Museum in San Diego, California
Decommissioned in San Diego, California, the USS Midway served from 1945 until 1992, as the longest-serving American aircraft carrier of the 20th century. The historic naval ship museum opened to the public for tours on June 10th, 2004, and receives 1,000,000 visitors annually. The USS Midway's mission is to preserve, inspire, educate, and entertain visitors as well as serve as America's living symbol of freedom. Video surveillance system Throughout USS Midway's 47 years of service, the aircraft carrier played key roles in the Cold War, served with the Atlantic Fleet, was combat deployed in Vietnam as well as the Arabian Gulf for Desert Storm, and many other operations throughout the world. The aircraft carrier is home to flight simulators, a gift shop, café and a theatre, measures 1,001 feet long, and contains 18 decks. The large number of tourists, volunteers, and museum staff occupying the facility, along with the many events held on-board on any given day, make safety and surveillance a top concern for the museum's Board of Directors. Earlier this year, Director of Safety and Security, Bill McClurg, with the full support of the CEO and the museum's board, led a team of USS Midway department directors including information technology, finance, and operations, and launched a project designed to update and improve the museum's existing video surveillance system. The process culminated in the selection of VIVOTEK's valued partner, Layer3 Security Services, a systems integration company headquartered in San Diego that serves companies, government agencies and institutions throughout Southern California. Network cameras The new video surveillance system features dozens of VIVOTEK network cameras including fixed domes, box cameras, and Pan Tilt Zoom models. "There were many reasons for selecting VIVOTEK for this demanding application," said Dario Santana, President of Layer3 Security Services. "These include the breadth of VIVOTEK's product line, the high degree of integration with ExacqVision's VMS platform, and the products' superior price and performance. In the end, it only made sense to select VIVOTEK for the USS Midway upgrade," concluded Dario. In the end, it only made sense to select VIVOTEK for the USS Midway upgrade" VIVOTEK's FD8365HV and FD8338-HV fixed dome network cameras were also positioned in areas in need of surveillance. Both camera models are able to withstand inclement weather and the IP66 and IK10-rated housing protects the unit against acts of vandalism, making these units a great selection for installation aboard the aircraft carrier. A variety of camera models were chosen to monitor specific areas of the museum and surrounding areas. VIVOTEK's FD8373-EHV fixed dome network cameras were installed throughout the premises due to the 3-megapixel wide dynamic range CMOS sensor's excellent ability to adjust to challenging lighting conditions. The WDR Pro feature allows the camera to capture both the dark and bright areas of an image and combine the differences to generate a highly realistic representation of the original scene. Zooming capabilities Working closely with Layer3, Bill McClurg also chose SD8364E, speed dome network cameras for the zoom capabilities in parking lot as well as ship deck monitoring and IP8155HP, box network cameras. VIVOTEK's SD8364E 1080p full HD resolution speed dome delivers superb image quality with its 30x optical zoom lens, perfect for monitoring wide open spaces. SD8364E's IP67 and NEMA 4X-rated housing protects against rain, dust, and corrosion as well as operates under extreme weather conditions making it suitable for San Diego's climate. The IP8155HP professional box network camera offers 1.3-megapixel resolution and WDR Pro II providing extreme visibility in high contrast environments. "Layer3 Security Services and VIVOTEK far exceeded our expectations with the installation of our new upgraded surveillance system. Layer3's ability to translate our needs into a workable design and their recommendation of VIVOTEK's superior yet efficient product line led to a successful deployment. Effective video surveillance on a museum, whose mission is to be, 'America's Living Symbol of Freedom,' is an essential element in preserving it for generations to come," said Bill McClurg, Safety Director.
VIVOTEK VAST used in successful IP surveillance project at Varun Beverages Ltd.
VIVOTEK has extended its IP surveillance services by improving the efficiency of daily operations at soft drinks franchise Varun Beverages Ltd. Prior to this, Varun Beverages had experienced a number of different issues, despite being under analogue surveillance. These issues included everything from theft to the operational inefficiency of workers. By helping Varun Beverages to realise the shortcomings of analogue surveillance, VIVOTEK brought the plant on par with the evolving security landscape. Along with its partner Network Technology, VIVOTEK changed the analogue video surveillance solutions to IP surveillance solutions for improved video and image quality and enhanced Field of View (FOV). Complete end-to-end solution Commenting on the success of the project, Sanjeev Gulati, Country Manager, India & SAARC, VIVOTEK Inc. commented: "Despite existing security surveillance arrangements, Varun Beverages reported a number of thefts. Adding to their distress was the poor image quality and limited coverage area of their existing analogue surveillance solutions. Their daily operations suffered due to these drawbacks. After having analysed the situation, along with Network Technology, we suggested altering their analogue surveillance solution to an IP surveillance solution. We gave them a complete end-to-end solution; from general surveillance to various checkpoints in the plant. The deployment of VIVOTEK solutions transformed operations to be more productive and secure. They are now satisfied with the video and image quality of their security surveillance system." Robust security solution A spokesperson for Varun Beverages commented: "We were very concerned about the issues that we were dealing with; be it security, operational or employee disputes. VIVOTEK's IP surveillance system worked with us step by step to not only provide the robust security solution we were looking for, but also to help us navigate through all our key plant requirements. The IP surveillance system has significantly improved control over the entire production process and administrative areas of all our production facilities. "The solution enables an efficient and centralised security through which the manager can monitor remotely anytime and anywhere" The solution enables an efficient and centralised security through which the manager can monitor remotely anytime and anywhere, promptly and effectively. VIVOTEK has been extremely helpful during the planning stage and in providing technical support, which exceeded our expectations. We are looking forward to working with them in the future as their business expands." VIVOTEK VAST video management software The video management software used to operate the IP surveillance solution is VIVOTEK VAST, which is connected to various camera models, including 5-megapixel 360-degree surround view fisheye camera FE8180, the robust Full-HD speed dome camera SD8363E, the 3-megapixel outdoor ready 180-degree view fisheye camera CC8370-HV, the 2-megapixel 15-metre IR illuminator fixed dome camera FD8169, and two bullet-type cameras IB8369 and IB8367. VIVOTEK and its associate partner also segregated the cameras on the basis of lens types, such as fixed lens camera and varifocal lens camera for different applications. After the installation of the new IP surveillance system, Varun Beverages has managed to prevent thefts in its warehouses and plants. The workers and operation staff, being well-aware of the new enhanced security surveillance, stick to company protocol and uphold company standards in terms of hygiene and effective and efficient operations.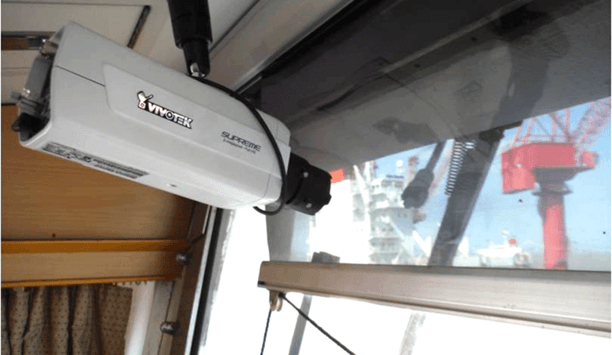 VIVOTEK and Technet Informatics develop onboard monitoring system for ocean-going vessels
A maritime nation since antiquity, today Greece is one of the centres of the world shipping industry. At over 250 billion euros annually, shipping accounts for more than six percent of the country's GDP and employs nearly three-hundred thousand people. In an industry of this immense scale, onboard security is a primary concern. The challenge: to install a shipside surveillance system able to withstand all weather conditions at sea. Seaborne surveillance systems The demands on a seaborne surveillance system for today's shipping industry are as complex as they are challenging. Technet Informatics needed a system that could help ensure crew safety and security, continuously monitor a vessel's condition, ensure that proper procedures were being followed at all times, guarantee live monitoring of vessel alarm and loading procedures, and provide evidence in the event of emergencies, accidents, or piracy incidents. Of particular difficulty was the need for a camera to be installed above the main engine, where extreme heat and steam would destroy most camera systems. The Solution: VIVOTEK collaborates with Technet Informatics, Ltd. to develop a robust shipboard system. Shipboard safety and security A bulk vessel is a challenging environment in which to install a surveillance system. The construction of such vessels makes complete coverage difficult and working conditions can be severe. Any number of issues can impact system operations, whether onboard or due to salt air and weather conditions. Despite these challenges, shipboard safety and security are of paramount importance, and the utilisation of advanced technology is vital to ensure that correct procedures are being followed and that a safe working environment is maintained, as well as to provide evidence in the event of any accident or incident. The demands on a seaborne surveillance system for today's shipping industry are as complex as they are challenging" Facing this challenge, a bulk vessel in Greece recently installed a complete shipboard system of IP-based security cameras in order to monitor the safety and adherence to procedure of onboard employees, as well as to secure the cargo. The security system had to be robust enough to work reliably over the course of months spent at sea. Technet Informatics has been working in information and communications technologies since 2010 in conjunction with software developers and hardware distributors from around the globe. For this job, completed in February 2017, they turned to VIVOTEK, a leader in surveillance solutions, to take advantage of VIVOTEK's deep experience and broad range of camera types and to fulfil their need for specialised models to deal with a variety of shipboard conditions. VIVOTEK fisheye cameras Chief among these was VIVOTEK's FE8181V fisheye camera with hard casing, installed above the main engine. Also included were two IP9171-HP and two IP8162 Full HD fixed network cameras for exterior views, an FE8181 on the bridge, and six high-performance, low-profile FE8180s to monitor the decks, all linked together by two ND8422P sixteen-channel embedded plug-and-play network video recorders in the ship's office for easy monitoring. VIVOTEK's FE8181V is the latest fisheye fixed dome network camera from VIVOTEK. It features a detailed 5-Megapixel resolution sensor which produces superb image quality. Equipped with a fisheye lens, this camera is ideal for placement above the main engine because it is encased in a weatherproof, IP66-rated housing, and is further strengthened by the adoption of a rugged, IK10-design housing, enabling it to handle a wide range of operating temperatures and rendering it both weather- and vandal-proof. The FE8181V true day/night camera features a removable IR-cut filter, maintains clear images 24 hours a day with built-in IR LEDs enabling the camera to provide uniform 360° surround illumination for clear and bright viewing at up to 10 metres, even in completely dark environments. A single FE8180 can easily do the job of three to four standard CCTV cameras" VIVOTEK's FE8180, a tiny fisheye camera, is not only extremely low-profile, with a diameter of only 90mm, but is also able to be mounted directly on the wall to capture 180° panoramic views, or on the ceiling for a 360° surround view, with zero blind-spots. A single FE8180 can easily do the job of three to four standard CCTV cameras, dramatically reducing costs while blending in with any interior or exterior. It was an ideal solution for the wide-open spaces of a ship's decks – seeing everything, but remaining unobtrusive. VIVOTEK ND8422P Network Video Recorder Because of the large number and wide variety of cameras used in and around the ship, two ND8422P sixteen-channel NVRs were installed. The plug-and-play functionality of these NVRs frees security staff to concentrate on their jobs, not installation or maintenance, and allows them to monitor ship conditions on-the-go via their EZConnect Mobile APP. With two NVRs installed for a total of seventeen cameras, the ship's operators will be able to readily upgrade their system at any point in the future. In sum, the combination of simplicity of design, intelligent technology, and rugged protection from all elements makes VIVOTEK's surveillance systems the only choice for the most demanding conditions on earth, or at sea.