Compare p25 with Vandalism V15
(2)
| | | |
| --- | --- | --- |
| | MOBOTIX p25 | MOBOTIX Vandalism V15 |
| Colour Type | Colour / Monochrome | Colour / Monochrome |
| Resolution | 6MP | 4096 x 1536 |
| Digital (DSP) | ✔ | ✔ |
| Specialist Type | Megapixel | -- |
| Sensitivity Lux | 0.001 | 0.25 |
| Voltage | PoE | PoE |
| Mount Type | Ceiling | -- |
| Inclusion DVR/ Web Server | ✔ | ✔ |
| Image Frame Rate | -- | 30 |
| Back Light Compensation | -- | ✔ |
| White Balance | -- | ✔ |
People also viewed these products


Featured security companies


Related Videos
FLIR TruWITNESS mobile security platform for city surveillance
FLIR's security products make video surveillance simpler and easy
Automated Fire Suppression System relies on FLIR thermal imaging cameras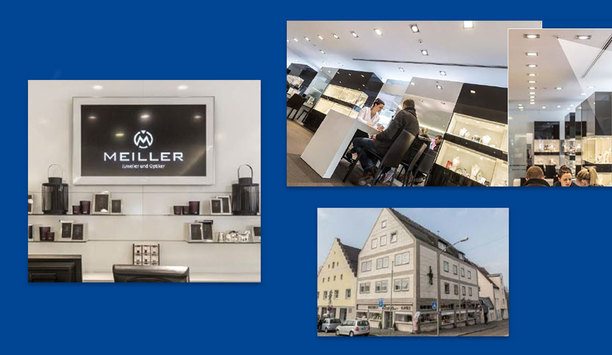 MOBOTIX video surveillance cameras safeguard high-end jewellery for Meiller Jewellers
Trust – along with appearance – both play a key role in the world of exclusive watches and jewellery. This is the case for Meiller Jewellers in Schwandorf, Germany. This fifth-generation partnership offers exclusive watches, jewellery, and glasses from venerable, high-end, and contemporary brands and models. With their experience, exceptional service and extremely wide selection of both traditional and trendy products, the family-run company has captivated customers since 1876. Twenty employees advise customers and sell products, as well as ensure the high-quality maintenance and repair of watches and jewellery in the certified master workshop. The jewellery store's range includes around 200 brands of watches, rings, necklaces, earrings and bracelets as well as eyewear, offering over 10,000 products in total. When it comes to video security, Meiller also relies on a modern solution and has installed ten MOBOTIX cameras in the store. The family-run company Meiller Jewellers has captivated customers since 1876 Analogue footage issues Up until now, the jeweller had been using an analogue security camera system, which was starting to show its age and no longer ran smoothly. In addition, the quality of the video images sometimes left much to be desired. "We are dealing with very small items here, such as earrings, and sometimes these were difficult to make out due to the low resolution of the analogue camera," explains Roland Meiller, owner of Meiller Jewellers. Roland Meiller decided to install a new video solution and called security consultant Norbert von Breidbach-Bürresheim, Managing Director at VALEO IT Neteye GmbH. Norbert packed the MOBOTIX cameras up and brought them to the store where he demonstrated the video systems for the jeweller. In addition, he made a number of test recordings and the customer was more than satisfied with the results. "The resolution of the video systems was very good, and the details were easy to make out – even in backlight situations," Meiller said. "The price of the solutions sealed the deal for us because you can really see the difference when it comes to the value for money the new indoor cameras offer. Another criterion was the design of the cameras. Their design is very discreet, making the cameras on the ceiling hardly noticeable." Cameras ready for use in 12 hours The ten cameras were to be installed outside opening hours, but since shops were allowed to open on the Sunday of the chosen weekend, which is not usually the case in Germany, VALEO IT Neteye began to remove the old analogue system on Saturday afternoon, directly after the store was closed. Afterwards, new network cables had to be installed in the ceiling since there were only analogue cables in place at the time. Finally, the new cameras were mounted. "The removal of the old cameras and installation of the new ones went incredibly smoothly and was finished within just 12 hours, so that we were able to re-open the shop on time for a bustling day of business that Sunday," Meiller explained. "VALEO IT Neteye had already preconfigured the video equipment they brought, so the installation was especially fast." Meiller Jewellery offers exclusive watches, jewellery, and glasses from venerable, high-end, and contemporary brands and models Excellent image quality even in poor light conditions A total of nine c25 indoor cameras were installed at the entrance and on the ceiling over the sale tables. These are ideal for installation in ceilings due to their small diameter of just 12 centimetres and a weight of approximately 200 grams. Features include a light-sensitive sensor with 6MP Moonlight technology, a microSD memory card and the latest camera software. The integrated Lowlight Exposure Optimisation MxLEO facilitates high-contrast images without motion blurring, even in poorly lit surroundings. This allows the easy identification of people, as well as the details of individual watches or pieces of jewellery. In addition, the c25 is equipped with MxAnalytics video analysis tools that can be used, for example, to carry out people and object counting or display a heat map of high-traffic areas. "We do not use these functions yet, but we are thinking about doing so in the near future," says Meiller. In high-end shops, a highly visible video surveillance system is not always desired, since the customers usually place high value on discretion Cameras provide overview of the entire shop A p25 indoor camera was installed above the cashier's area. It is equipped with a 6-megapixel Moonlight sensor, and is very light-sensitive. Due to the manual swivel and tilt functions, the camera offers high flexibility during installation. The camera features a telephoto lens and provides high-resolution 6-megapixel images in high detail. It is true that a highly visible video surveillance system may deter potential burglars or thieves by emphasising the danger of being identified and caught after the act. In high-end shops, however, this is not always desired, since the customers usually place high value on discretion. That is why a video-based solution should be as discreet as possible. "In a jewellery shop like ours, a video system is part of the basic kit, for insurance purposes for starters. The MOBOTIX cameras have an elegant design, so that at first sight, they aren't even visible on the ceiling," says Meiller. Evaluation made easy in suspicious cases The MOBOTIX cameras are based on a decentralised concept. In this decentralised concept, each camera functions as a high-performance computer. Both data and image processing, as well as the encoding, are performed by the camera itself. The recording can be stored to the camera's SD card at Meiller Jewellers and transferred to a network storage device. It is only viewed in concrete cases of suspicion. Compared to a centralised system, up to ten times more cameras per server can be connected this way. Furthermore, no additional computers or software are necessary. This is another key advantage, since the old analogue cameras required an expensive hard drive recorder. In the workshop separate from the store, there is a computer on which live feeds from the jewellery shop can be viewed. In this way, employees always know what is going on in the shop, while as a result, the jeweller has a video surveillance system that ideally ensures quick identification and arrest of the culprits in the case of theft or burglary. MOBOTIX surveillance cameras improve security at Bergen County Courthouse and Jail
The Customer The Bergen County Courthouse and Jail in Bergen County, N.J., represents a combination of old and new. Built in 1911, the Bergen County Courthouse is a historical landmark and its architecture reflects the Beaux Arts classicism popular at the time for public buildings. Today, the courthouse and jail campus integrates state-of-the-art technology featuring a computerised central command centre tied to all inmate-housing areas, integrating security for the protected premises, and a duress and panic alarm system. But with its prior analogue CCTV system, the Bergen County Courthouse and Jail lacked strong images to provide personnel with the ability to view critical video to respond proactively to threats, liability issues and other problems. The Bergen County Sheriff's Office (BCSO) in Hackensack is the largest law enforcement agency in all of Bergen County and provides a variety of functions for 70 municipalities under its umbrella. The BCSO provides management and administration of a variety of facilities and services, including the Bergen County Jail, a 1,200-bed correctional facility housing both pre-trial and sentenced inmates. The campus for the courthouse and jail is where pre-trial detainees are greeted and processed. The jail includes minimum, medium and maximum-security environments. The Project Bergen County embarked on a multi-year, multi-phase IP surveillance installation, a bid specification won by IMSYS Corp., a systems integration company. The project, which began about three years ago, is now in its third phase, expanding and networking surveillance cameras throughout four buildings on campus. According to Mickey Bradley, Inspector for the Bergen County Sheriff's Department who is the highest non-elected official at the organisation, the goal was to incorporate high-resolution video while ensuring scalability for future expansion. "We had cameras, but they were analogue and primarily task-oriented," Bradley said. "We wanted a unified network across our entire surveillance environment." BCSO was able to use the existing infrastructure of fibre and Ethernet connectivity to deploy new cameras and devices, but another aspect resulted in additional savings. "The bid specification actually came in under budget by about $850,000, because we were able to use fewer cameras by using a MOBOTIX surveillance solution," he said. MOBOTIX cameras deliver a wide range of viewing options, including 360- and 180-degrees, which reduces the number of cameras required. Additional cost savings is derived from the decentralised approach to video surveillance, which was pioneered by MOBOTIX. This approach solves the bottleneck process by using the camera itself to push intelligence and data to the edge of the network. The MOBOTIX decentralised surveillance system incorporates a high-speed computer and memory card into the camera. The PC and video control centre serve for viewing and controlling video, rather than analysing and recording. This approach greatly reduces upfront and long-term costs, and increases ROI. And costs are further reduced due to the scalability of the system because as more cameras are added, only more storage is needed. There are no recording software licenses are required. "Bergen County continues to rely on MOBOTIX cameras and Pivot3 storage to provide high-resolution video, and cost-effective and expandable centralised storage" Bergen County also required the low-light and audio capabilities of the MOBOTIX cameras, according to Phil Lisk, Director of Information Technologies for the Bergen County Sheriff's Office. Even under the varied and sometimes harsh lighting of the courthouse and the jail, quality images are consistently attainable, he said. The audio and video offered by the MOBOTIX cameras provides personnel with the extra eyes and ears they need to stay a step ahead of possible incidents. "The cameras can be programmed to give an audio alert to warn inmates, guards or other employees of a situation," Lisk said. "When you can hear what's going on, in addition to seeing quality images, incident prevention efforts are much stronger." The latest phase of the installation extends the surveillance network to the Bergen County prosecutor's office to enable rapid sharing of video evidence as needed. The entire, enterprise-class system now boasts more than 820 MOBOTIX IP megapixel cameras, coupled with more than one Petabyte of Pivot3 storage. Bergen County uses Pivot3 vSTAC Watch converged storage and compute appliances, which combine server and storage functionalities into a single appliance to deliver up to 40 percent savings in power, acquisition cost and rack space. Pivot3 virtualised appliances are purpose-built for video surveillance storage and incorporate robust application failover to protect valuable video data and prevent down time. "Bergen County continues to rely on MOBOTIX cameras and Pivot3 storage to provide high-resolution video, and cost-effective and expandable centralised storage," said Heath Gaffney, CEO, IMSYS. "The goal of the project was to deploy IP video throughout each facility for positive identification and evidentiary support in liability claims." New cameras recently installed include the MOBOTIX DualDome D14, which features two lenses and two 3.1 resolution image sensors totalling a maximum of 6.2 megapixels, and the MOBOTIX Vandalism V15, a 5-megapixel, dual-camera system designed especially for harsh environments. The 5 mm stainless steel housing of the V15 is designed to resist even an attack from a handgun. The cameras deployed in the prosecutor's office are managed by an IPAS Video Management System from IMSYS. With IPAS, users can use map and floor plan based navigation to view live and recorded video from any Web-enabled device. The dual-lens and hemispheric features built into MOBOTIX devices allow county to monitor more locations with fewer cameras Other MOBOTIX cameras installed during the initial phases include the Q24 Hemispheric Camera, which is capable of providing a complete 360-degree all-around view. Bergen County is also leveraging the MOBOTIX T24 Hemispheric IP Video Door Station and the DualNight M12, a dual-lens, day/night camera. Overall, the dual-lens and hemispheric features built into the MOBOTIX devices allow the county to monitor more locations with fewer cameras. "The system is definitely proving its worth," Bradley said. "In one recent incident, an individual purposely broke a water pipe in the courthouse and caused hundreds of thousands of dollars in damage. With our expanded video capabilities, we were able to positively identify that person, and they were prosecuted and convicted." Coming Attractions The next part of the project will include incorporating the 100-year-old courtroom and second floor detective's offices into the system, as well as tying in a new six-story building currently under construction and slated for completion in mid-January 2014. "One of the most beneficial aspects of the system is that it is completely scalable. As we grow and budgets allow, we can deploy additional layers of security. Furthermore, the system has delivered significant cost savings as we were able to deploy fewer cameras due to the larger field-of-views delivered by the MOBOTIX cameras and the decentralised concept." High-resolution video images are critical to many vertical markets, but especially in the criminal justice environment. MOBOTIX cameras, coupled with the latest storage appliances, VMS and other intelligent capabilities, are delivering efficient, effective surveillance at the Bergen County Jail and Courthouse and its facilities, promoting safety and security system-wide.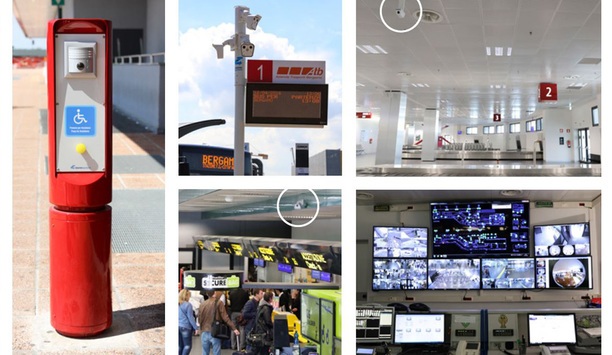 Security ready for take off: MOBOTIX helps protect 11 million passengers at major Italian airport
Security at airports has become indispensable, and entails continuously increasing requirements. The only way to keep satisfy the most demanding standards day after day, is to constantly further develop the technology in use. Video surveillance is a crucial contribution to airport security; this technology has a great deal of potential, as long as the current configuration is not taken as the final goal in terms of development. Il Caravaggio airport expansion phase "Since the technological developments and the need to increase the level of security were clearly evident, we could no longer put off considering a flexible video surveillance system, one that would be ready to meet the security and analysis requirements and guarantee a high level of performance," says Ettore Pizzaballa, Manager of Information Systems at SACBO S.p.A. The important expansion phase at the Il Caravaggio International Airport terminal, which involved building a long gallery of shops and expanding the passenger boarding area, made the situation even more complex and challenging. This added another piece to the puzzle, alongside the usual airport security scenarios. The video analysis software allows us to better understand how the flow of passengers moves inside the terminal" Improving surveillance image quality Il Caravaggio International Airport is the third-largest airport in Italy in terms of traffic, with a volume of over 11 million passengers. Security is crucial when it comes to an airport infrastructure of this size, and a great deal of attention is required to maintain the necessary level of surveillance. Introducing MOBOTIX technology (offered by the systems integrator Tecnosystem) enhanced the quality and resolution of the surveillance images. In turn, this further improved the activities carried out together with the constantly present police forces operating at the Il Caravaggio International Airport terminal, thereby providing suitable support for investigations. "Inside the airport, not all the halls are homogeneous in terms of height and lighting; thanks to MOBOTIX, we were able to achieve excellent image quality under all conditions." Analysing aircraft and vehicle movements Video surveillance has also turned out to be a valuable additional tool for improving operating procedures related to safety: "We can analyse aircraft and vehicle movements in the manoeuvring areas to help train operating personnel. Even the luggage is constantly under surveillance: If a piece of luggage stops or is stuck where employees can't see it, the system immediately sends a notification to employees". Several different models were used in keeping with needs, including the c25, i25, M24/25, 24/25, S15, S15 SurroundMount, M15/16 and T25 The parties involved aim to complete the project within two years. That may appear to be a long period of time, but it is actually rather short considering the complexity and scale of the task at hand. Over 300 MOBOTIX video cameras have been installed, both indoors and outdoors. Several different models were used in keeping with respective needs, including the c25, i25, M24/25, 24/25, S15, S15 SurroundMount, M15/16 and T25. Each one of these cameras is active 24/7. The new VoIP infrastructure and NAS recording allow the different control rooms to share the images. Perfect synergy between hardware and software When it comes to ensuring state-of-the-art security, though, even the most advanced hardware technology does not suffice to cover all of the related tasks. A less visible component plays an important role in ensuring the efficiency of MOBOTIX solutions. "In addition to the image quality, we were also impressed by the option to receive thoroughly customisable software based on our specific requirements – not to mention the video analysis functionality." At this point, it is actually easy to spontaneously develop ideas for the future, expanding the field of application of a system that boasts continuously developing potential, and utilising the video surveillance infrastructure and its video analysis applications in order to obtain immediate and concrete results. The benefits are numerous: "The video analysis software allows us to immediately detect abandoned objects, locate the optimum route for vehicles in the manoeuvring area and better understand how the flow of passengers moves inside the terminal (which we need to plan optimal routes), studying which type of traveller goes directly to the gate and which one stops instead to make purchases at the shops. The software also allows us to constantly monitor the lines at security checks and check-in and boarding areas in real time," summarises Pizzaballa.
Featured white papers
Physical security supports a future-proof cyber security strategy
Download
Combining systems intelligence and human insight for superior security
Download
Three reasons for adopting open architecture access control solutions
Download