The Customer
The Bergen County Courthouse and Jail in Bergen County, N.J., represents a combination of old and new. Built in 1911, the Bergen County Courthouse is a historical landmark and its architecture reflects the Beaux Arts classicism popular at the time for public buildings. Today, the courthouse and jail campus integrates state-of-the-art technology featuring a computerised central command centre tied to all inmate-housing areas, integrating security for the protected premises, and a duress and panic alarm system. But with its prior analogue CCTV system, the Bergen County Courthouse and Jail lacked strong images to provide personnel with the ability to view critical video to respond proactively to threats, liability issues and other problems.
The Bergen County Sheriff's Office (BCSO) in Hackensack is the largest law enforcement agency in all of Bergen County and provides a variety of functions for 70 municipalities under its umbrella. The BCSO provides management and administration of a variety of facilities and services, including the Bergen County Jail, a 1,200-bed correctional facility housing both pre-trial and sentenced inmates. The campus for the courthouse and jail is where pre-trial detainees are greeted and processed. The jail includes minimum, medium and maximum-security environments.
The Project
Bergen County embarked on a multi-year, multi-phase IP surveillance installation, a bid specification won by IMSYS Corp., a systems integration company. The project, which began about three years ago, is now in its third phase, expanding and networking surveillance cameras throughout four buildings on campus.
According to Mickey Bradley, Inspector for the Bergen County Sheriff's Department who is the highest non-elected official at the organisation, the goal was to incorporate high-resolution video while ensuring scalability for future expansion.
"We had cameras, but they were analogue and primarily task-oriented," Bradley said. "We wanted a unified network across our entire surveillance environment."
BCSO was able to use the existing infrastructure of fibre and Ethernet connectivity to deploy new cameras and devices, but another aspect resulted in additional savings.
"The bid specification actually came in under budget by about $850,000, because we were able to use fewer cameras by using a MOBOTIX surveillance solution," he said.
MOBOTIX cameras deliver a wide range of viewing options, including 360- and 180-degrees, which reduces the number of cameras required. Additional cost savings is derived from the decentralised approach to video surveillance, which was pioneered by MOBOTIX. This approach solves the bottleneck process by using the camera itself to push intelligence and data to the edge of the network. The MOBOTIX decentralised surveillance system incorporates a high-speed computer and memory card into the camera. The PC and video control centre serve for viewing and controlling video, rather than analysing and recording. This approach greatly reduces upfront and long-term costs, and increases ROI. And costs are further reduced due to the scalability of the system because as more cameras are added, only more storage is needed. There are no recording software licenses are required.
"Bergen County continues to rely on MOBOTIX cameras and Pivot3 storage to provide high-resolution video, and cost-effective and expandable

centralised

storage"
Bergen County also required the low-light and audio capabilities of the MOBOTIX cameras, according to Phil Lisk, Director of Information Technologies for the Bergen County Sheriff's Office. Even under the varied and sometimes harsh lighting of the courthouse and the jail, quality images are consistently attainable, he said.
The audio and video offered by the MOBOTIX cameras provides personnel with the extra eyes and ears they need to stay a step ahead of possible incidents. "The cameras can be programmed to give an audio alert to warn inmates, guards or other employees of a situation," Lisk said. "When you can hear what's going on, in addition to seeing quality images, incident prevention efforts are much stronger."
The latest phase of the installation extends the surveillance network to the Bergen County prosecutor's office to enable rapid sharing of video evidence as needed. The entire, enterprise-class system now boasts more than 820 MOBOTIX IP megapixel cameras, coupled with more than one Petabyte of Pivot3 storage.
Bergen County uses Pivot3 vSTAC Watch converged storage and compute appliances, which combine server and storage functionalities into a single appliance to deliver up to 40 percent savings in power, acquisition cost and rack space. Pivot3 virtualised appliances are purpose-built for video surveillance storage and incorporate robust application failover to protect valuable video data and prevent down time.
"Bergen County continues to rely on MOBOTIX cameras and Pivot3 storage to provide high-resolution video, and cost-effective and expandable centralised storage," said Heath Gaffney, CEO, IMSYS. "The goal of the project was to deploy IP video throughout each facility for positive identification and evidentiary support in liability claims."
New cameras recently installed include the MOBOTIX DualDome D14, which features two lenses and two 3.1 resolution image sensors totalling a maximum of 6.2 megapixels, and the MOBOTIX Vandalism V15, a 5-megapixel, dual-camera system designed especially for harsh environments. The 5 mm stainless steel housing of the V15 is designed to resist even an attack from a handgun. The cameras deployed in the prosecutor's office are managed by an IPAS Video Management System from IMSYS. With IPAS, users can use map and floor plan based navigation to view live and recorded video from any Web-enabled device.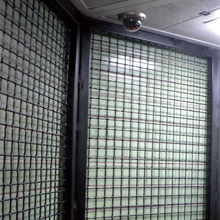 The dual-lens and hemispheric features built into MOBOTIX devices allow county to monitor more locations with fewer cameras
Other MOBOTIX cameras installed during the initial phases include the Q24 Hemispheric Camera, which is capable of providing a complete 360-degree all-around view. Bergen County is also leveraging the MOBOTIX T24 Hemispheric IP Video Door Station and the DualNight M12, a dual-lens, day/night camera. Overall, the dual-lens and hemispheric features built into the MOBOTIX devices allow the county to monitor more locations with fewer cameras.
"The system is definitely proving its worth," Bradley said. "In one recent incident, an individual purposely broke a water pipe in the courthouse and caused hundreds of thousands of dollars in damage. With our expanded video capabilities, we were able to positively identify that person, and they were prosecuted and convicted."
Coming Attractions
The next part of the project will include incorporating the 100-year-old courtroom and second floor detective's offices into the system, as well as tying in a new six-story building currently under construction and slated for completion in mid-January 2014.
"One of the most beneficial aspects of the system is that it is completely scalable. As we grow and budgets allow, we can deploy additional layers of security. Furthermore, the system has delivered significant cost savings as we were able to deploy fewer cameras due to the larger field-of-views delivered by the MOBOTIX cameras and the decentralised concept."
High-resolution video images are critical to many vertical markets, but especially in the criminal justice environment. MOBOTIX cameras, coupled with the latest storage appliances, VMS and other intelligent capabilities, are delivering efficient, effective surveillance at the Bergen County Jail and Courthouse and its facilities, promoting safety and security system-wide.
Download PDF version