OPTEX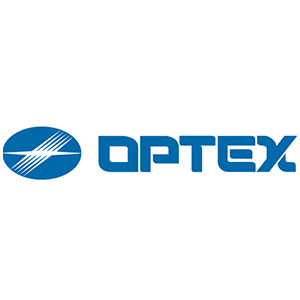 Clivemont Road, Cordwallis Park, Maidenhead, Berkshire, SL6 7BU, United Kingdom (UK)
+44 (0) 162 863 1000
OPTEX Overview:
For over 40 years, OPTEX has been designing and manufacturing high-performance sensing devices with a mission to make people's life and society more comfortable, safer and more secure. Founded in Japan, OPTEX is a global company with regional headquarters in Europe, Africa and Middle East (EMEA) in America (North and South) and Asia Pacific (APAC).
For security applications, OPTEX's provides a wide range of intrusion detection sensors including passive infrared (PIRs), active beams, laser and fibre optics sensors that help any site from the perimeter and approach, to the roof and building. Unaffected by variable lighting and most weather conditions, OPTEX sensors provide extremely reliable detection, designed to integrate easily with any other security system, from alarm panels and DVRs to most Video Management Software and PSIM platforms and trigger an event when an intrusion or presence in the area of interest is detected.
For high security-controlled access areas, OPTEX provides tailgating detection and reverse detection sensors that adds a layer of security onto existing access control systems to detect and prevent authorised access. To improve operational and business efficiency, OPTEX offers a highly reliable real-time multidirectional people counter that provides office buildings, museums, retail stores and venues with footfall and occupancy level information.
Products
Outdoor Detectors
Indoor Detectors
Wireless add-on devices
Access control system
Perimeter Protection
Automatic Door Sensor
Burglar Alarm
Industries
Remote Video Monitoring
Petrol, Gas, Utilities
Government & Military
Transportation
Retail & Logistics
Industrial Sites
Banking
Museums & Art Galleries
Leisure
Residential & VIP
OPTEX news
OPTEX Europe partners with DS Security Group to provide enhanced visual monitoring solution
OPTEX Europe, a pioneer in sensing and detection, has entered a new partnership with UK security services company, DS Security Group Ltd. The collaboration between OPTEX and DS Security Group is two-fold. Firstly, monitoring of the new OPTEX Intelligent Visual Monitoring solution is done via DS Security's recently launched state-of-the-art Alarm and Video Monitoring Centre, DS Operations Centre (DSOC). Secondly, the adoption and promotion of OPTEX's suite of sensors is part of DS Security's intrusion detection portfolio. Monitored alarm systems DS Security Group is a UK security services business that specialises in commercial services, utilising the latest security systems, access control and CCTV monitoring solutions to protect businesses and their commercial property and premises. Ben Linklater, Sales Director at OPTEX Europe, says: "We were extremely impressed by DS Security Group, in particular its expertise, professionalism and willingness to embrace new technologies. When we presented our new solution to add video to monitored alarm systems to Stephen and the rest of his team, it was clear our companies were aligned about the benefits it could bring to the customers." Easy visual verification We are pleased to become an OPTEX Monitoring partner and add their sensor range to our portfolio" Stephen Smith, Director and Chief Operating Officer at DS Security Group, says he is looking forward to working closely with OPTEX: "Having launched our new monitoring centre, it was very interesting for us to meet with OPTEX and understand more about their Intelligent Visual Monitoring solution. We could see how implementing OPTEX intrusion sensors and linking them to IP cameras will provide an easy visual verification to our customers." "We are pleased to become an OPTEX Monitoring partner and add their sensor range to our portfolio. We look forward to working closely with them on new projects to deliver the highest quality security solutions and level of service to our customers." added Stephen. Visual monitoring solution The OPTEX Intelligent Visual Monitoring solution enables separate intruder and CCTV technologies installed on the same site, but acting independently, to be connected using the OPTEX Bridge and create one, seamless, integrated and intelligent visual monitoring solution. Intruder alarms can now be visually verified within seconds, without impacting the integrity of the technology installed, or its Grade. When an alarm occurs, a signal is instantly sent to the ARC whose operator can view images pre and post the alarm event via a dedicated portal to determine whether the alarm is genuine.
Dahua Technology to host Dahua Technology Partner Day 2020 online with 26 technology partners
Dahua Technology, a renowned video-centric smart IoT solution and service provider, will hold its online Dahua Technology Partner Day 2020 on 1st of December. The event will be a perfect occasion to get a taste of the Dahua ECO system in the EMEA region. 26 technology partners will bring solutions in the field of security and IoT. Smarter Together is the central theme of the Dahua Technology Partner Day 2020. A total of 26 distinguished Dahua partners will gather to share their knowledge and expertise on the development of security and IoT applications for a variety of vertical markets. This online event will serve as a technological and commercial hub for end-users and system integrators from different markets, ranging from Logistics, Traffic and Infrastructures to Healthcare, Retail and Residential. Attendees can Register free of charge and tune in to all the partner keynotes. Explore business opportunities In the partner hub, participants can chat with technology partners, explore business opportunities or technical challenges and get the latest product information. The event will kick off with an opening speech by Mr. Jason Zhao, Dahua VP & General Manager of Overseas Business to introduce how Dahua Technology and its technology partners become smarter together. 26 Partners will showcase their solutions in a main auditorium and six different break out rooms, including Axxonsoft, Qognify, Ivideon, TechnoAware, Vaelsys, A.I. Tech, Optex, Eagle Eye Networks who joined in the 2019 offline partner day and gained much exposure and business opportunities last year. Global security industry We are moving the Partner day to an online event in order to sustain the opportunity of getting together" Integrated solutions developed by both Dahua Technology and its partners will be displayed during the event, which will surely raise spectators' interest as they meet different needs of system integrators and end users with greater versatility."The 2019 Partner Day held on September 26th at Estadio Wanda Metropolitano, Madrid was a success with many of our partners' participation. However, 2020 is challenging because of COVID-19." "We are moving the Partner day to an online event in order to sustain the opportunity of getting together. During the event, leading representative companies in global security industry and IoT industry will have the chance to present their insights into the latest Security Application and also reflect on current challenges in the industry", says Mr. Jiaqi Gao, Overseas Marketing Director at Dahua Technology. Smart integrated security solutions "The attendees will have the chance to meet security players in the market and create new and diverse business opportunities." Committed to its mission of "Enabling a Safer Society and Smarter Living," Dahua Technology will continue to adhere the core value of "customer-centred" and provide the market with smart integrated security solutions, systems, and services to create value for city operations, corporate management, and consumers.
OPTEX announces the updates of Intelligent Visual Monitoring alarm system with intelligent visual verification
OPTEX has launched its new Intelligent Visual Monitoring solution in the UK and Ireland, powered by CHeKT - a hardware and software solution that takes separate intruder and CCTV technologies installed on the same site, but acting independently, and 'bridges' them to create one, seamless, integrated visual monitoring solution. Monitored intruder alarms can now be visually verified within seconds, without impacting the integrity of the technology installed, or its Grade. When an alarm occurs, a signal is instantly sent to the Alarm Receiving Centre (ARC) whose operator can view images pre and post the alarm event as well as the live view via a dedicated portal to determine whether the alarm is genuine. Intrusion sensors OPTEX Bridge is the hardware device that physically connects the intrusion sensors and IP cameras Camera locations can be overlaid with a map of detection zones, thus helping the ARC operator to quickly and easily 'see' where the incident has occurred and take the appropriate action. Images can also be sent directly to the customer's handheld device for further verification if, for example, the alarm is genuine, but the 'intruder' is known to the customer or has a legitimate reason for being on site. The OPTEX Bridge is the hardware device (gateway) that is physically connecting the intrusion sensors or the panic buttons and IP cameras on site. It provides a complete audit trail of activity and can detect when a camera is not working (i.e. when it has dropped out of the network), and report the fault, thus ensuring security is not compromised. Intruder alarm technology It can also communicate via a gated Cloud portal with the ARC in the appropriate 'language', regardless of the make or manufacture of the monitoring technology installed, or the protocols with which it operates. It will, in effect, work with virtually any intruder alarm technology and any ONVIF camera to deliver one seamless visual verification solution. The ARC software needs to be compatible, and many of the major ARC software platforms are already integrated. Whereas the monitoring of intruder alarms through an Alarm Receiving Centre (ARC) is generally accepted best practice, CCTV monitoring remains slow to take hold. Part of the problem has come down to money; larger sites such as major depots and warehouses with constant activity 24/7 can clearly benefit from a fully functioning CCTV system monitored through a dedicated Remote Video Response Centre (RVRC). Visually verified alarms Cloud-hosted platform also allows a stronger collaboration between the ARCs and the home/business owners Smaller sites, while they would benefit from visually verified alarms, would struggle to justify the investment of a full-scale RVRC solution. ARCs now have the ability to provide a visual verification service to residential and commercial sites without a substantial investment in time or money; the Bridge can be installed and working within the hour. The Cloud-hosted platform also allows a stronger collaboration between the ARCs and the home/business owners by having the ability to share video clips to confirm the alarms while respecting any privacy guidelines through its bespoke privacy feature that only end-users can release. Early warning solution Masaya Kida, Managing Director of OPTEX EMEA says by installing the OPTEX Bridge, sensors and cameras combine to deliver a secure, reliable and effective early warning solution, detecting and reacting to an intrusion before a potentially damaging and costly event has occurred. "It is also invaluable to those who need police response and may have lost their URN (Unique Reference Number); a visually verified alarm will put them back on police response. For the installer, meanwhile, it provides them with the opportunity to re-engage and adds further value to the customer with the ability to seamlessly integrate with existing systems and technology across single or multiple sites."