Dallmeier CCTV Brackets
(6)
Browse CCTV Brackets
CCTV camera bracket products updated recently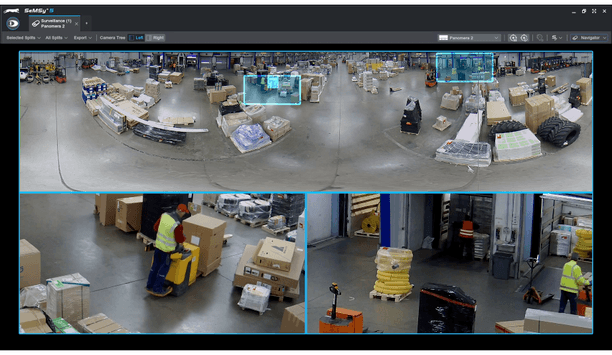 Dallmeier will showcase automated volume calculation and image-supported process management at LogiMAT 2020
At LogiMAT 2020 (Stuttgart Trade Fair Centre) from 10 to 12 March 2020, Dallmeier will showcase a broad portfolio of image-based process optimisation solutions aimed specifically at customers from the intralogistics sector. One example is camera-based "on-the-fly" volume calculation. One of the great challenges of intralogistics faced by many logistics companies is how to measure a large number of freight goods accurately and efficiently. The purpose is not only to identify incorrect or false information, but most importantly it is also essential to organise the processes so that they are as time-efficient as possible and do not disrupt other important workflows. This is precisely the aspect the automated volume calculation solution developed by Dallmeier is designed to deal with. Automated volume calculation Special 3D video systems measure the volumes of the freight goods practically instantaneously; the logistics company simply has to define an existing travel path as a measurement section. Exact specifications for the "Dallmeier measuring terminal" ensure maximum precision. Besides the enormous amount of time saved, other advantages of automated volume calculation include optimal utilisation of loading capacities, plausibility checks against reference data, or even coordinated goods inward and outward strategies. The innovative "Panomera " camera solutions from Dallmeier also offer considerably better control of an enormous range of different processes: From monitoring of production lines to rapid response in the event of failures up to and including much more efficient control of the flow of goods and information or improved claims management. In this regard, the high-performance "Panomera W" camera series with viewing angles of 180° and 360° offers users the ability to capture even very widely separated spatial contexts right from the control centre with a minimal number of cameras. Image-supported process management Dallmeier camera systems also offer an efficient capability for determining the condition of the freight goods At the same time, the technology ensures that a resolution sufficient for the required applications is always provided, for documentation that is usable in court or in liability cases, for example, or AI-based video analysis as well. Both the 180° camera view and a panoramic 360° perspective help logistics managers to simplify a large number of processes, such as monitoring logistical release systems. The misplacement of consignments is another known challenge which intralogistics must deal with. The tracking system developed by Dallmeier enables automatic search and locating operations for freight goods to be launched by the automated linking of video images with package item numbers. In this process, the various scan events are synchronised with single-frame accuracy using time servers. This guarantees the prevention of loss claims and increases safety at work. Dallmeier camera systems also offer an efficient capability for determining the condition of the freight goods by means of image documentation at the time of transfer of risk. Real-time control of freight goods The patented Panomera multifocal sensor technology does more than just reduce the number of cameras needed, with the associated infrastructure (masts, cables, network, etc.), it saves cost many times over. In conjunction with various analysis applications – such as AI-based object classification for reducing the incidence of false alarms – it also provides logistics companies with extremely powerful solutions for warehouses, loading and shipping areas as well as perimeter protection. As a German manufacturer, Dallmeier maintains the highest standards, whether they relate to quality, data protection or data security/cyber security. Dallmeier's innovative 3D planning approach also guarantees that the systems will deliver exactly the detection quality required for video recordings to be usable in court. Accordingly, fulfilling TAPA (FSR) requirements presents no difficulty at all.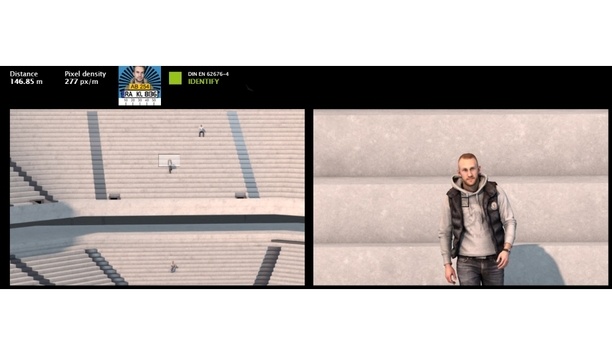 Dallmeier Electronic's Panomera video security solution secures 14 English Premier League clubs
Like many national football leagues, the teams of the English Premier League also suffer from unacceptable incidents such as lighting of pyrotechnics and throwing projectiles, hate crime and vandalism. This is why as early as 2013 the managers at Everton F.C. opted for a patented video security solution from the German video technology company Dallmeier. 14 of 20 clubs of the 2019–20 Premier League season have implemented Dallmeier "Panomera" multifocal sensor systems – including Arsenal, Chelsea, Liverpool and Manchester United. International safety standards Dallmeier solutions enable high-resolution capture of expansive areas with a minimum number of camera systems Many teams in the top flight of English football are also involved in the Champions League and Europa League, so it is also extremely important for them to satisfy the safety regulations imposed internationally by UEFA and similar bodies. For this purpose, Dallmeier solutions enable high-resolution capture of expansive areas, such as the stands, with a minimum number of camera systems. With Panomera cameras, multiple operators have the capability to zoom in on suspicious activities independently of each other, while the system continues recording the entire scene. This combination of the advantages of PTZ and megapixel cameras, an optimum overview of the situation is obtained, which can also be searched in the required minimum resolution at any time afterwards. This enables the clubs to achieve continuity of video evidence, get instant ID of people and events, and so reduce potential penalty payments. Smart content analysis Besides the court usability of video recordings, the "minimum resolution density" is also important for video analysis applications. As stated so succinctly by the rule "quality in, quality out", of course the quality of the results of analysis – for example in "crowd analyses" for people counting on stands, for "hostile vehicle mitigation" or to detect intrusion in sterile areas – can only ever be as good as the quality of the image, and accordingly the quality of the input data. With Dallmeier solutions, as early as the planning stage customers can precisely specify the pixel density values defined according to DIN EN 62676-4 for each region of the area captured – depending on whether for example at least 62.5 px/m is required for AI-based object classification, or 125 or even 250 px/m is required to guarantee that recordings of persons will be usable in court. 3D planning approach Panomera cameras from Dallmeier were able to deliver images of the highest quality time after time" "Throughout our selection procedure, the Panomera cameras from Dallmeier were able to deliver images of the highest quality time after time, not only in normal daylight conditions, but also under weaker floodlighting, that is to say not only live but also in the recording with the highest resolution quality in all regions of the images." "Moreover, with the Panomera cameras we can capture large expanses, the entire area of the stands, for example, with just a small number of systems. Ultimately, these considerations were the critical factor in our decision to award Dallmeier the contract for video security at Goodison Park", says David Lewis, Head of Security and Stadium Safety for Everton F.C. Highest precision The innovative 3D planning approach by Dallmeier provides stadium operators with the ability to place each individual camera with the highest precision in advance through the use of a "digital twin". Thus, even the planning contributes to a reduction of total costs. At the same time, the in-house planning team uses it to manage any difficulties such as visual obstacles (e.g. a video cube) or subsequent structural changes. This ensures that there are no "cost traps" for the customers, and that compliance with all requirements is guaranteed without exception when the system is implemented.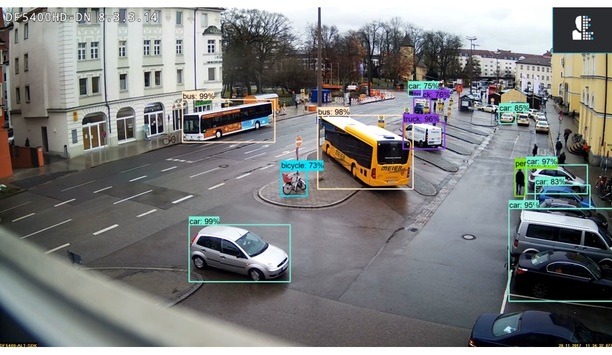 Dallmeier to showcase the implementation of future-proof video analysis applications at GPEC 2020
The automatic or semi-automatic analysis of data plays an increasingly important role in video security technology. Here, the image quality is decisive for the result of the analysis. At the GPEC 2020 trade fair, Messe Frankfurt, Europe's closed specialised exhibition for police and security authorities, from 18 to 20 February 2020, Hall 11, Booth E068, the German manufacturer of video information technology Dallmeier will show visitors how they can implement future-proof video analysis applications. A lecture by Dallmeier Safe City expert Frank Salder at the conference "Video Intelligence 2020" completes the trade fair presence. Precisely defined image quality There is hardly a better way to extract all kinds of data from complex contexts with relatively little effort than a video image. The possibilities range from "crowd analysis" for counting people in public spaces to the securing of "sterile areas" with the help of AI-based object classification. Despite all the enthusiasm for such innovative assistance systems, one thing is often underestimated; the importance of data quality. As a result, according to the rule "Quality In, Quality Out", the quality of the analysis results can of course only be as good as the image quality and thus the quality of the input data. Already during the planning stage Dallmeier offers customers the possibility to precisely define the so called "pixel density" values defined according to DIN EN 62676-4, such as 62.5, 125, 250 pixels per metre (px/m) in every part of the monitored area, depending on whether, for example, 62.5 px/m is required for an AI-based object classification or 250 px/m for court usability to identify individuals. Patented Panomera technology The imageless data acquisition to generate anonymised data also plays an important role The patented multifocal sensor cameras "Panomera" from Dallmeier, which have recently been awarded the European patent in addition to the German patent for their functionality, can provide the required minimum resolution for video analysis even over large areas. Even if several operators independently zoom in on relevant events, the system continues to record the remaining scene. This combination of the advantages of PTZ and megapixel cameras enables police and security officers to obtain an optimal overview of the situation, while still being able to search with the required minimum resolution, even within recorded footage. Since a Panomera system replaces many individual single-sensor cameras and their infrastructure, operators can keep the total cost of ownership to a minimum. Data protection Dallmeier's AI-based systems support emergency services not only by means of an intelligent pre-selection of events, people counting, automatic object tracking or forensic evaluation. The imageless data acquisition to generate anonymised data also plays an important role. Regardless of the video analysis application, the German manufacturer Dallmeier equips its technology components with state-of-the-art functions for data protection and data security. This ensures that police and security authorities can use Dallmeier systems in the most diverse scenarios in absolute compliance with data protection regulations, e.g. according to GDPR.
Featured white papers
RFID and smartphone readers in physical access control
Download
Access control & intelligent vehicle screening
Download
How plate reader technology increases your perimeter security
Download