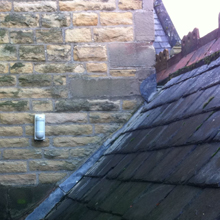 Compound Security Systems secures St Anne's church using Optex Europe detectors
A church in Sale is fighting back by turning high-tech after being targeted by metal thieves intent on stealing lead from its roof. St Anne's in the diocese of Chester has installed a security system from
Compound Security Systems
that detects intruders and automatically alerts operators at an alarm receiving centre (ARC) that an attempted theft is under way.
The solution, designed and installed by Rochdale-based Rapid Deployment Services (RDS), is centred around Compound's RDAS/GPRS system, the only one of its kind to be police approved. In this particular installation, the system uses five specially modified VX402 BoundaryGard detectors from
Optex Europe
, chosen for their durability and reliability even in the most challenging conditions.
Should a break in be attempted, an alarm is triggered by the detectors and a signal automatically sent to the ARC. The ARC operators are then able to instigate the appropriate response, if necessary calling the police. The local diocese was noticing a growing trend in the theft of lead from the roofs of its churches and in particular those where thieves could gain access via first floor flat roofs, or where downspouts offered easy access up on to the roof. St Anne's had been targeted in the past and discovered, after a roofing contractor had visited to replace some lead, that if they were to suffer a loss of the two main gulleys where the largest amount of lead was, they would be facing a repair bill in excess of £30,000.
The vicar started looking for some way of protecting the lead and so approached Rochdale-based Rapid Deployment Security Ltd (RDS) to design a solution. Managing Director of RDS, Frank Langman says the best security systems are those that give the customer total confidence that their site is being protected: "
That means having a system where the detectors do not constantly generate false alarms because of the bad weather, in this case winds up to 93 km/h and temperatures down to minus two degrees,
" he says.
"
Having looked at and trialled other external systems on the market, I realised that the RDAS GPRS system was the most reliable, primarily because it uses dual beam technology in the form of modified Optex BoundaryGard detectors. The local diocese have been so pleased with the system, they have invited us to contact other churches in the area suffering similar problems - I will be specifying this system for all roof protection projects in future!
"
Simon Morris, Commercial Director of CSS, says that his solutions generate a fraction of the false activations of other options, even in the most hostile conditions: "
This is partly due to the quality of our control systems, but also because we only use Optex detectors that we modify in-house for RF/GSM or GPRS communications.
"
Paul Nicholas, Divisional Manager of Optex, concludes: "
Our battery powered and wireless devices can integrate with a number of OEM rapid deployment systems, creating bespoke solutions for the manned guarding and electronic security markets to utilise in any number of applications.
"
Download PDF version