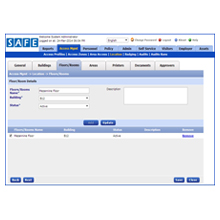 The new software centralises all company and identity information across systems and departments into one policy
Quantum Secure continues to expand its offering of specialised application modules for the company's industry leading SAFE physical identity and access management (PIAM) software solution with the introduction of SAFE for Finance here at ASIS 2014. The sophisticated software centralises all company and identity information across systems and departments into one policy and privilege based view. The automated features in SAFE for Finance result in minimised risk, superior compliance and reporting and reduced operating costs.
"Physical identity and access management is a cornerstone of any financial institution's security plan," said Ajay Jain, President and CEO, Quantum Secure. "SAFE for Finance addresses the highly stringent compliance and security needs of the financial market while allowing integration of disparate systems for end-to-end management, advanced visitor management functionality, and executive level reporting and analytics."
SAFE for Finance is a policy based enterprise solution that effectively manages the entire lifecycle of physical identities and related processes such as on/off boarding, physical access management, and access reviews while providing a completely audit-ready environment for compliance and standards requirements. For instance, its built-in reporting wizards allow the use of pre-configured and ad hoc reports to help reduce audit failures and maintain compliance with SOX, BASEL II and GLBA to name a few.
Other SAFE for Finance features include the ability to: establish and implement role based physical access assignments across single or multiple systems; support regulatory governance and compliance standards such as BASEL II and GLBA; and allow area owners to electronically manage all processes. SAFE for Finance securely integrates with human resources, contractor management, and training and physical access control systems. In addition, by analysing alarms, badge usage data and other identity-related data sources, SAFE for Finance provides information related to facility utilisation, usage/non-usage of access and any anomalous and/or suspicious behavior.
Download PDF version