Compare p25 with MX-M15D-Sec-DNight-D22N22-6MP-F1.8
(2)
| | | |
| --- | --- | --- |
| | MOBOTIX p25 | MOBOTIX MX-M15D-Sec-DNight-D22N22-6MP-F1.8 |
| Colour Type | Colour / Monochrome | Colour / Monochrome |
| Resolution | 6MP | 3072 x 2048 |
| Digital (DSP) | ✔ | ✔ |
| Specialist Type | Megapixel | PTZ |
| Sensitivity Lux | 0.001 | 0.1 |
| Voltage | PoE | -- |
| Mount Type | Ceiling | -- |
| Inclusion DVR/ Web Server | ✔ | ✔ |
| Auto Iris | -- | ✔ |
| Direct Drive | -- | ✔ |
| Motion Activated | -- | ✔ |
| Wide Dynamic Range | -- | ✔ |
| Picture Elements HxV | -- | 3072 x 2048 |
| Image Frame Rate | -- | 30 fps |
| Back Light Compensation | -- | ✔ |
People also viewed these products


Featured security companies


Related Videos
FLIR TruWITNESS mobile security platform for city surveillance
FLIR's security products make video surveillance simpler and easy
Automated Fire Suppression System relies on FLIR thermal imaging cameras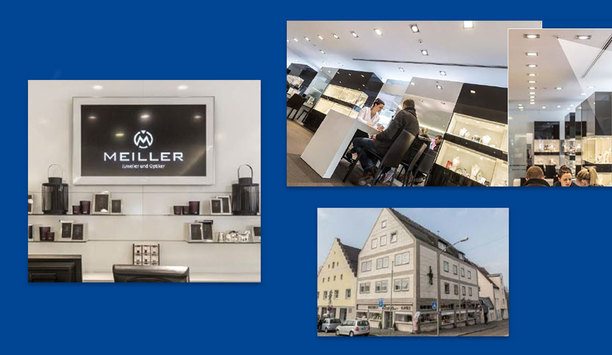 MOBOTIX video surveillance cameras safeguard high-end jewellery for Meiller Jewellers
Trust – along with appearance – both play a key role in the world of exclusive watches and jewellery. This is the case for Meiller Jewellers in Schwandorf, Germany. This fifth-generation partnership offers exclusive watches, jewellery, and glasses from venerable, high-end, and contemporary brands and models. With their experience, exceptional service and extremely wide selection of both traditional and trendy products, the family-run company has captivated customers since 1876. Twenty employees advise customers and sell products, as well as ensure the high-quality maintenance and repair of watches and jewellery in the certified master workshop. The jewellery store's range includes around 200 brands of watches, rings, necklaces, earrings and bracelets as well as eyewear, offering over 10,000 products in total. When it comes to video security, Meiller also relies on a modern solution and has installed ten MOBOTIX cameras in the store. The family-run company Meiller Jewellers has captivated customers since 1876 Analogue footage issues Up until now, the jeweller had been using an analogue security camera system, which was starting to show its age and no longer ran smoothly. In addition, the quality of the video images sometimes left much to be desired. "We are dealing with very small items here, such as earrings, and sometimes these were difficult to make out due to the low resolution of the analogue camera," explains Roland Meiller, owner of Meiller Jewellers. Roland Meiller decided to install a new video solution and called security consultant Norbert von Breidbach-Bürresheim, Managing Director at VALEO IT Neteye GmbH. Norbert packed the MOBOTIX cameras up and brought them to the store where he demonstrated the video systems for the jeweller. In addition, he made a number of test recordings and the customer was more than satisfied with the results. "The resolution of the video systems was very good, and the details were easy to make out – even in backlight situations," Meiller said. "The price of the solutions sealed the deal for us because you can really see the difference when it comes to the value for money the new indoor cameras offer. Another criterion was the design of the cameras. Their design is very discreet, making the cameras on the ceiling hardly noticeable." Cameras ready for use in 12 hours The ten cameras were to be installed outside opening hours, but since shops were allowed to open on the Sunday of the chosen weekend, which is not usually the case in Germany, VALEO IT Neteye began to remove the old analogue system on Saturday afternoon, directly after the store was closed. Afterwards, new network cables had to be installed in the ceiling since there were only analogue cables in place at the time. Finally, the new cameras were mounted. "The removal of the old cameras and installation of the new ones went incredibly smoothly and was finished within just 12 hours, so that we were able to re-open the shop on time for a bustling day of business that Sunday," Meiller explained. "VALEO IT Neteye had already preconfigured the video equipment they brought, so the installation was especially fast." Meiller Jewellery offers exclusive watches, jewellery, and glasses from venerable, high-end, and contemporary brands and models Excellent image quality even in poor light conditions A total of nine c25 indoor cameras were installed at the entrance and on the ceiling over the sale tables. These are ideal for installation in ceilings due to their small diameter of just 12 centimetres and a weight of approximately 200 grams. Features include a light-sensitive sensor with 6MP Moonlight technology, a microSD memory card and the latest camera software. The integrated Lowlight Exposure Optimisation MxLEO facilitates high-contrast images without motion blurring, even in poorly lit surroundings. This allows the easy identification of people, as well as the details of individual watches or pieces of jewellery. In addition, the c25 is equipped with MxAnalytics video analysis tools that can be used, for example, to carry out people and object counting or display a heat map of high-traffic areas. "We do not use these functions yet, but we are thinking about doing so in the near future," says Meiller. In high-end shops, a highly visible video surveillance system is not always desired, since the customers usually place high value on discretion Cameras provide overview of the entire shop A p25 indoor camera was installed above the cashier's area. It is equipped with a 6-megapixel Moonlight sensor, and is very light-sensitive. Due to the manual swivel and tilt functions, the camera offers high flexibility during installation. The camera features a telephoto lens and provides high-resolution 6-megapixel images in high detail. It is true that a highly visible video surveillance system may deter potential burglars or thieves by emphasising the danger of being identified and caught after the act. In high-end shops, however, this is not always desired, since the customers usually place high value on discretion. That is why a video-based solution should be as discreet as possible. "In a jewellery shop like ours, a video system is part of the basic kit, for insurance purposes for starters. The MOBOTIX cameras have an elegant design, so that at first sight, they aren't even visible on the ceiling," says Meiller. Evaluation made easy in suspicious cases The MOBOTIX cameras are based on a decentralised concept. In this decentralised concept, each camera functions as a high-performance computer. Both data and image processing, as well as the encoding, are performed by the camera itself. The recording can be stored to the camera's SD card at Meiller Jewellers and transferred to a network storage device. It is only viewed in concrete cases of suspicion. Compared to a centralised system, up to ten times more cameras per server can be connected this way. Furthermore, no additional computers or software are necessary. This is another key advantage, since the old analogue cameras required an expensive hard drive recorder. In the workshop separate from the store, there is a computer on which live feeds from the jewellery shop can be viewed. In this way, employees always know what is going on in the shop, while as a result, the jeweller has a video surveillance system that ideally ensures quick identification and arrest of the culprits in the case of theft or burglary.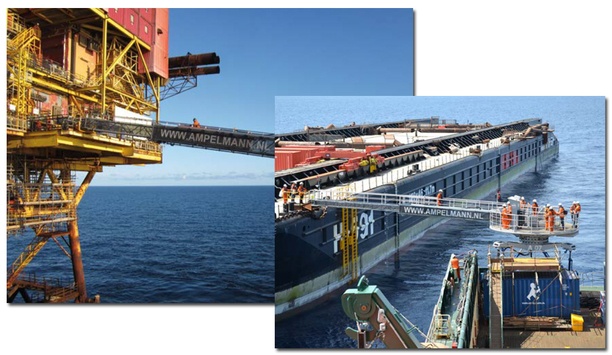 MOBOTIX cameras safeguard Ampelmann offshore gangways
Ampelmann provides solutions that allow people to safely disembark from ships onto offshore structures. The company has equipped all of its systems with high-resolution MOBOTIX cameras for visual access control, on the recommendation of JB Systems, Ampelmann's industrial automation partner. High-tech offshore transport Ampelmann was founded in 2008 as a spin-off of the Delft University of Technology. The company developed an innovative platform that compensates for the motion of the sea, allowing people to disembark from ships at sea onto offshore structures – even when there are heavy waves. The company strives to make disembarkation from ships at sea as easy as crossing a street on land. Safety requirements and legislation for the offshore sector are constantly becoming stricter. To keep up with these developments, Ampelmann has grown significantly over the past few years and now numbers over 300 employees. The company initially focused on providing systems to customers working in the North Sea. Ampelmann went on to broaden its horizons and has installed approximately 45 of its systems around the world to date. "We were invited to work on developing a control solution for the Ampelmann prototype shortly after the company was founded," reports Cor Blok, Sales Engineer at JB Systems. "We were very interested in taking on this project, since we greatly prefer using our expertise and experience to help our clients develop innovations instead of simply providing them with standard systems." Visual access control Each Ampelmann system consists of a telescopic gangway and a stabilising platform. The systems are installed on ships – offshore workers can safely and easily board offshore structures to perform the necessary installation and maintenance work. The disembarkation point lies roughly 20 metres away from the ship's control console, which calls for an additional visual control closer to said point. "MOBOTIX cameras areparticularly easy for us tointegrate as they are high-resolution, all-in-one videosolutions with sound,memory, processors andcomprehensive video software" "The disembarkation point represents our greatest potential safety hazard. High-resolution cameras let us carefully observe it from a distance," Blok continues. "To find the right camera for the job, we conducted tests comparing ones made by various brands. A MOBOTIX camera emerged as the clear winner. It's a compact all-in-one solution that perfectly withstands the weather conditions on the high seas. The cameras made by other brands were all larger and heavier than this one, since they were made to withstand dust and water in industrial environments. We've integrated the MOBOTIX camera that we chose into all of the Ampelmann systems – it's mounted onto a signal light pole located right in front of the disembarkation point. That way, it lets us see whether it's safe to disembark. By the way, this signal light pole – this 'Ampelmast' – is where Ampelmann got its name." Integration with industrial controls JB Systems is a MOBOTIX partner based in Vlaardingen, Netherlands, that specialises in industrial automation applications. The company belongs to the Hoogendoorn Group, a subsidiary of the privately held company Batenburg Techniek, and employs a total of 850 people. JB Systems planned and developed the electrical control for Ampelmann's entire system, including the hydraulic drive. "We use joysticks and Siemens HMI software on an industrial computer screen to deploy and install each Ampelmann system," explains Blok. "The live feed from the MOBOTIX camera is also displayed in a special window on this HMI screen. The operator can enlarge this image as necessary or expand it to a full-screen view. We worked with M12D cameras in the beginning. We switched over entirely to M15D models after they came onto the market, since they feature both day and night lenses. MOBOTIX cameras guarantee that employees of Ampelmann's customers can disembark safely "As a partner of both large and small companies with critical processes, we pay a great deal of attention to the quality of all the products we use. MOBOTIX has had an excellent reputation in its field for many years. Moreover, MOBOTIX cameras are generally maintenance-free, which allows our customers to save on operating costs throughout the entire product lifetime." Safe disembarkation guaranteed "For our company, the best thing about using MOBOTIX cameras is that they provide our operators with a good view of the end of the gangway," says Johan Holster, Manager of Motion Control Operations at Ampelmann. "As such, the cameras help us guarantee that our customers' employees can disembark safely. Speaking from personal experience, I can confirm that the cameras really hold their own against the rough weather conditions in the offshore area, and that the day/night switchover works very well. Generally speaking, the cameras we've installed worked perfectly, which is exactly what we wanted." JB Systems also provides MOBOTIX cameras for Ampelmann's cargo transfer systems. These systems consist of combined transfer and lifting systems. The high-resolution cameras make it easy to closely follow loads as they are lifted. "They're particularly easy for us to integrate as they are high-resolution, all-in-one video solutions with sound, memory, processors and comprehensive video software," says Blok. "Moreover, each MOBOTIX camera can work fully automatically as well as with other IP cameras in a network, which increases the number of potential applications. For example, we've installed an ATEX version with a special housing for potentially explosive industrial and offshore environments."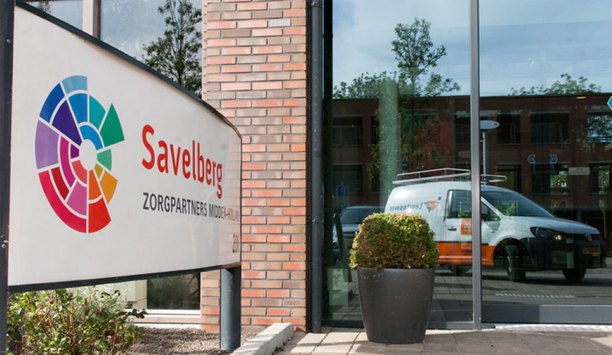 MOBOTIX cameras utilised in Conview Care solution for Savelberg nursing home, Holland
The Savelberg nursing home has implemented smart domotics to provide elderly people affected by dementia with a wider range of movement. Depending on individual abilities, residents can move freely within three living zones. Savelberg has chosen the Conview Care solution from Leertouwer, which uses MOBOTIX cameras. Integrating residential and care services Savelberg in Gouda is part of Zorgpartners Midden-Holland. Zorgpartners is a full-service organisation offering diverse residential and care options for elderly people in the Central Holland region. A lot of attention is paid to integrating independent living and care provision.Conview Care is a complete care solution for organisations that wish to improve their processes with the help of technology One of the fifteen centres, Savelberg is managed by Irene Feenstra, who said: "We have been investing for years in care for elderly people affected by dementia in order to increase their quality of life. In late 2014, prior to commencing the planned renovation of two sections that house elderly people affected by dementia, we started looking for a new call-for-assistance system. "Zorgpartners Midden-Holland have been using the IQ Messenger communication platform for some time, which is one of the reasons why, after comparing several solutions, we decided on Conview Care from Leertouwer." Conview Care is a complete care solution for organisations that wish to improve their processes with the help of technology. It stands out in the market due to its open integrability, vendor-neutral technology, and ease of management. Video and audio care solution As soon as a resident ventures outside their allowed living zone, the care givers are notified through a message on their smartphone" "Here at Savelberg, the care solution includes video surveillance, sound and motion detection and electronic wristbands", says Jasper Coppes, Care & Technology specialist at Leertouwer. "This combination automatically informs the staff if one of the residents exits the approved living zone. "High resolution Q25 MOBOTIX cameras function as smart video and audio sensors. In addition, an infrared ring developed by Gold-IP is provided thus allowing for night-time surveillance. This naturally happens with the consent of the customers or their direct family, and without saving any images." "Each residence is equipped with a smart sensor with camera which automatically sends a message once a resident gets out of bed," says Feenstra. "If the person returns to bed after going to the toilet, there is no problem and nobody needs to go and check on them. If said resident needs help, the care giver in charge notices immediately, enabling them to react adequately." 24/7 wander detection Using the Conview Care solution, Leertouwer has created three living zones for Savelberg, allowing for 24/7 wander detection. The innermost zone consists of the floor where elderly people affected by dementia live. Within this zone, they can move with a greater feeling of freedom, as the previous boundary using air-lock doors has been removed from near the elevator. The second living zone consists of the entire building with nine floors and all shared areas, while the third zone has an additional open terrace and garden. "Since we removed all physical boundaries our dementia patients have visibly thrived," says Feenstra. "As soon as a resident ventures outside their allowed living zone, the care givers in charge are notified through a message on their smartphone. If a resident leaves the outermost zone and thus our premises, we can immediately bring him or her back."We plan to work with Leertouwer to equip all flats with Conview Care and smart MOBOTIX cameras over the coming years." New domotics give more freedom Although Feenstra prepared a business case for the new solution in late 2014, the greater freedom for all residents and the staff are more important than financial savings. "Our employees no longer need to do unnecessary night-time rounds which may disturb the sleep of residents, but can nevertheless immediately intervene if there really is a problem. Moreover, they feel that the new domotics ensures a lighter and happier atmosphere in the ward, which helps them enjoy their work more. "Approximately 40 flats over two floors have currently been equipped with a MOBOTIX Q25 camera connected to Conview Care. Until now, they have been working flawlessly. Implementing them was easier than expected and our care givers are also remarkably enthusiastic about and happy with them. They perceive it as a new way of working which increases the well-being of our residents. "Given these positive experiences, we plan to work with Leertouwer to equip all flats with Conview Care and smart MOBOTIX cameras over the coming years."
Featured white papers
Physical security supports a future-proof cyber security strategy
Download
Combining systems intelligence and human insight for superior security
Download
Three reasons for adopting open architecture access control solutions
Download