IP cameras Comparison: IndigoVision, LILIN
(4)
| | | | | |
| --- | --- | --- | --- | --- |
| | IndigoVision Fixed IP Camera | LILIN LR7022E4 | LILIN IPR-7424ELSX3.6 | LILIN IPR722ES4.3 |
| Chip Inch Size | 1/4 | 1/3 | -- | 1/3 |
| Colour Type | Colour / Monochrome | Colour / Monochrome | True Day / Night | Colour / Monochrome |
| Resolution | 540 | 1080p | 1024 pixels | 1080P |
| Specialist Type | Infrared | Network | Infrared | -- |
| Sensitivity Lux | 0.05 | 0.4 | -- | 0.15 |
| Auto Iris | ✔ | ✔ | -- | -- |
| Direct Drive | ✔ | -- | -- | -- |
| Voltage | 24V AC/DC | 12 V DC | 24 V AC | 12 V DC |
| Lens Mount | CS | -- | -- | -- |
| Focal Length mm | 5 ~ 50 | 4 | 3.3 ~ 12 | 4.3 |
| Mount Type | Wall, Ceiling | -- | -- | -- |
| Picture Elements HxV | 752 x 582 | 1920 x 1080 | -- | 1920 x 1080 |
| Image Frame Rate | 25/30 fps | -- | -- | -- |
| Back Light Compensation | ✔ | ✔ | -- | ✔ |
| Auto Gain Control | ✔ | ✔ | -- | ✔ |
| White Balance | ✔ | ✔ | -- | ✔ |
| Gamma Correction | 0.45 | -- | -- | -- |
| Electronic Shutter Range | 1/50 ~ 1/100,000 | 1/30(25)s ~ 1/8000s | -- | 1/30(25) ~ 1/8000 |
| Synchronisation | Internal | -- | -- | -- |
| Signal Mode | PAL, NTSC | -- | -- | -- |
| Digital (DSP) | -- | ✔ | -- | -- |
| Motion Activated | -- | ✔ | -- | -- |
| Wide Dynamic Range | -- | ✔ | -- | ✔ |
People also viewed these products
Featured security companies
Related Videos
3M Scott V320 Thermal Imager
vcore 1.5 lets users bookmark and share videos securely
Ajax security systems display how protecting a property from attacks is an art IndigoVision's integrated IP security system secures premises of Vancouver Island mall
Vancouver Island's leading fashion focused shopping destination has invested in an IndigoVision integrated IP video security system, in what is believed to be the first mall in Canada to deploy a surveillance solution with 100% IP cameras. The 93-camera system, which covers the public areas inside the mall as well as the car parks and surrounding areas, was designed and installed by IndigoVision's approved partner Laser Star Systems Ltd in partnership with Hoffman & Company Security Management Consultants Inc. "One of the benefits of the new surveillance system is that it has helped us create an excellent partnership with local law enforcement," explains Barry Greening, the centre's Operations Manager. "Due to the exceptional quality and easy accessibility of the video, the local police force has shown an increasing interest in recorded footage from the system. They often analyse the system to see if 'known individuals' have been in an around the mall and have used exported evidential video in a number of investigations."When planning for the new surveillance system the shopping centre realised that an IP networking solution was the future of video security and ensured budget was made available for IT projects that would support the required network infrastructure. This forward thinking in combination with IndigoVision's low-bandwidth technology allows the IP video system to share network resources with access control, HVAC, Voice-over-IP and general IT traffic. One workstation with four monitors running 'Control Center', IndigoVision's security management software, is used in the central control room to monitor and analyse live and recorded video. Commenting on its use Greening said: "It is remarkably good and inherently intuitive. The site plan is amazingly simple and easy to use and you can just drag and drop cameras into view. The ability to synchronise cameras and quickly access historical video is invaluable to us and the local police. IndigoVision also took on board our ideas for new features and included them in a future release of the software free-of-charge!"All cameras are continuously recorded for a minimum of 30 days using IndigoVision's Windows Network Video Recorder (NVR) software running on a custom built iSCSI server with 26TB of Raid 6 storage. IndigoVision's class-leading compression technology in combination with a unique feature called Activity Controlled Frame rate (ACF) helps reduce the overall storage requirement. ACF, which is built into IndigoVision's IP cameras, has been deployed on a number of cameras located in hallways and storage areas. When the scene is inactive the camera streams video at a lower frame rate and instantaneously ramps to maximum configured frame rate when motion is detected. This feature is also enabled on many cameras based on time of day, e.g. when the centre is closed. IndigoVision's technology allows the IP video system to share network resources with access control, HVAC, Voice-over-IP and general IT traffic A combination of 26 PTZ and 67 fixed IndigoVision IP cameras were installed inside and outside the mall. The fixed cameras are Power-over-Internet (PoE) compliant allowing them to be powered from the network. This helped reduce the overall installation costs as only a single CAT-6 cable was required to connect the camera to the network. Mayfair is now considering using the surveillance system for more than just security. Retailers are increasingly harnessing the power of high-quality video for marketing purposes. This can be an invaluable tool for analysing merchandising and promotions and monitoring the total number and movement of customers visiting the centre and individual stores.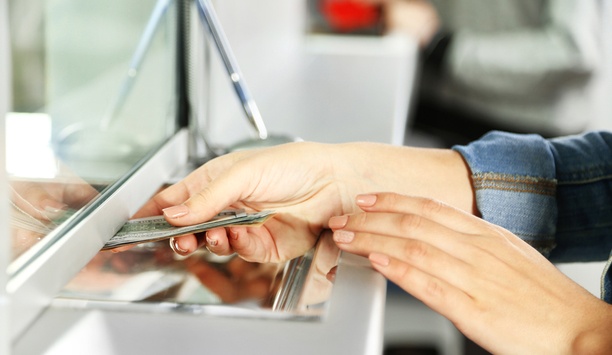 LILIN bank surveillance solutions protect against threats such as robbery, fraud & violence through cutting-edge functionality
LILIN can equip all branches with the best-of-breed video surveillance security equipment and systems. Teller windows, processing rooms, ATM's, parking lots, lobbies and common areas are all monitored by high-quality video cameras for the safety of customers, employees and staff. The company offers a large selection of IP cameras for use with bank location, and the surveillance video can be searched by date, time, camera location or any combination of these. Zone Entering technology is able to accurately report the real-time data continuously from the bank head office or directly in branch. IP video surveillance systems with advanced video analytics such as Face Detection is helping to fight the problem of check fraud at banks by recording transaction data and capturing images of offenders. Benefits of LILIN bank surveillance solutions: Instant playback 24/7 day and night operations Live viewing Deter robberies Motion detection and event deployment Stay ahead of fraud and violence Monitor multiple branches from a central location or mobile location Video redundancy – multiple backup systems provided LILIN Covert series IP camera IPC0122 provides miniature IP video surveillance to enhance Automatic Teller Machine (ATM) operations and security. It is the perfect discreet camera solution to provide well-thought-out video surveillance in ATM environments. The FD2452V 360-degree Panoramic model is ideal for wide open spaces, including bank lobbies giving user a complete coverage to effectively monitor a large space from a single camera. LILIN UHG1182 4K UHD / SG1122 60fps S series /ZG1232X Auto Focus 3-megapixel security cameras are great tool to monitor each transaction at process rooms or teller windows. LILIN full HD IP cameras increase security at prime intelligence agency of Bangladesh
The main gate of SB HQ premise in Malibagh, Dhaka has been covered by PTZ camera IPS4204E Upgrading analogue to IP The Special Branch, or SB, is the prime intelligence agency of Bangladesh. This is the only intelligence outfit of Bangladesh which works in all strategic, operational, and tactical levels. Some people threw bomb in Special Branch (SB) headquarters premises situated in Malibagh, Dhaka, Bangladesh, during a strike throughout the country. The existing analogue CCTV system they utilised was unable to find out the culprit. SB authority therefore turned to a partner of LILIN – AA Technology Ltd, a professional CCTV solution provider in Bangladesh, to upgrade to a high resolution IP surveillance system. AA Technology Ltd showed SB security team the IP surveillance system by LILIN, which they liked so much and decided to deploy LILIN system at SB. Security equipment used LILIN 2MP outdoor PoE bullet camera; Model#: LR7022×15 LILIN 2MP 20X outdoor PTZ camera; Model#: IPS4204E×1 LILIN 1080P 16CH standalone NVR; Model#: NVR400L×1 LILIN multi-function keyboard with NAV Client; Model#: PIH-931D×1 Cisco 16-port PoE switch×2 Transcend 64GB Micro SD Card×16 Elsy 03 KVA True Online UPS×1 NAV Client PC with 40" display×3 04 TB Western Digital surveillance HDD×3 Solution All cameras are being monitored and controlled 24/7 from three different locations using LILIN NAV Client, and all video data are being recorded for 30 days in LILIN NVR using WD surveillance hard-disk. A twenty-four hour uninterrupted power supply has been ensured with the use of Elsy True Online UPS system. The main gate of SB HQ premise in Malibagh, Dhaka has been covered by 20x full HD PTZ camera IPS4204E, and the whole branch has been secured using LILIN Full HD IP based bullet cameras LR7022.
Featured white papers
6 questions to ask when choosing a security system
Download
Boosting on-site safety and security
Download
Optimise your business with analytics and AI
Download