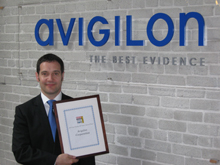 Alexander Fernandes, President and CEO of Avigilon, with the Red Herring North America 100 Award
Avigilon
, the performance and value leader in high definition and megapixel video surveillance systems, announced it has been named to the Red Herring's North America 100 list, a prestigious list honouring the year's most promising private technology ventures in North America.
The Red Herring editorial team selected the most innovative companies from a pool of thousands from across North America. Winners of the 2010 edition of the Red Herring 100 North America award are selected based upon their technological innovation, management strength, market size, investor record, customer acquisition, and financial health. Red Herring's annual lists of top private companies are an important part of the company's tradition of identifying new and innovative technology companies and entrepreneurs. Past winners such as Google, eBay, and Skype were spotted in their early days by Red Herring editors and touted as leaders that would change the way we live and work.
"This year was especially difficult,"
said Alex Vieux, Publisher and CEO of Red Herring.
"Despite the global economic situation, there were many great companies producing really innovative and amazing products that we had a difficult time narrowing the pool and selecting the winners. Avigilon shows great promise and therefore deserves to be among our list of winners. We know that this year's crop will grow into some amazing companies that are sure to go far."

"Avigilon has been selected as a Red Herring 100 winner out of a pool of thousands of applicants,"
said Alexander Fernandes, President and CEO of Avigilon.
"Technology industry executives, investors, and observers regard the Red Herring 100 list as an invaluable instrument to discover and advocate the promising companies that will lead the next wave of innovation. We are honoured to be named to this high profile list."

Download PDF version