CCTV camera mount products updated recently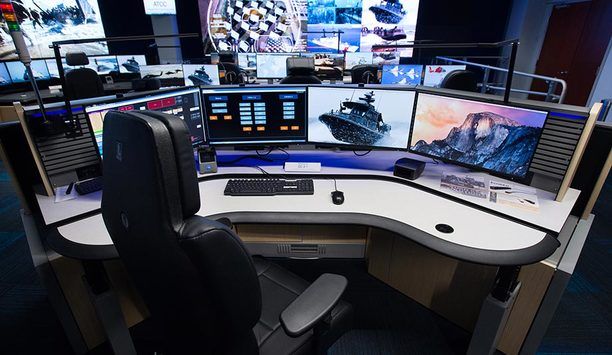 Ergonomic standards increase control room productivity
Ergonomics are a critical, but often misunderstood aspect of designing control rooms for security. Ergonomics have a deep impact on the integrity of an operation, and the issue goes beyond the control room furniture. Matko Papic, Chief Technology Officer of Evans Consoles, divides ergonomics into three areas: physical (reach zones, touch points, monitors); cognitive (the individual's ability to process information without overlooking a critical element) and organisational (how the facility operates in various situations; e.g., is it adequately designed for an emergency event?). He says the Evans approach is to determine the precise placement required for each element an operator needs, and then to design and build console furniture to position it there. Basically, the idea is to tailor the control room to the operation. What tasks must an operator perform? Are they manageable or should they be divided up among several operators? Control room design should accommodate the need to collaborate, and be flexible enough to adapt to various situations. It all begins with understanding the information that needs to be processed, says Papic. Increased productivity in the workplace Because personnel are often stationed at a specific console, desk or workstation for long hours, physical problems and productivity issues can result, says Jim Coleman, National Sales Manager, AFC Industries. Ergonomically designed furniture and related products have been proven to increase productivity and alleviate physical stress in the workplace. Ergonomic furniture solutions are crafted for the ultimate in safety, adaptability, comfort and functionality. Coleman says AFC Industries can tailor furniture to specific needs and environment. For example, a height-adjustable workstation can be combined with adjustable monitor arm mounts to create a relaxed, comfortable environment. Furniture offers modern designs, comfortable ergonomics, and comprehensive features. Rugged materials withstand the 24/7 use of command control centres. Health benefits of ergonomic workstations A sedentary office environment is often an unhealthy one. "For people who sit most of the day, their risk of heart attack is about the same as smoking," says Martha Grogan, Cardiologist at the Mayo Clinic. Ongoing research and studies have shown that a change in posture (i.e., using ergonomic sit-to-stand workstations) is an effective means to combat these negative health issues. Using sit-to-stand workstations helps to eliminate musculoskeletal disorders caused by long-term sitting. They can also improve productivity and focus from the increased blood flow. Energy levels can rise and employees burn more calories. Control room design should accommodate the need to collaborate and be flexible enough to adapt to various situations "The ergonomic environment we create for control rooms involves considering every need of the staff at each workstation and their equipment, as well as workflow within the entire room," says Coleman. "From the proper setting of screen focal lengths to sound absorption and glare reduction, each requirement and phase of a control room design is a necessary process to ensure the protection and safety of people and property." Emergency operations centre "The military has figured out that you are more alert when you are standing," says Randy Smith, President of Winsted, and the realisation is guiding emergency operations centre (EOC) design toward sit-stand. "As soon as there is an emergency, everybody stands up," Smith adds. Designing EOC environments also requires systems be integrated with annunciating signal lights to facilitate communication among operators. Winsted's sit-stand consoles can be combined with a motorised M-View monitor wall mount, enabling a 60-inch wall monitor to be raised and lowered to match the positioning of the sit-stand console. Larger, wall-mounted screens are easier to use for operators, since a larger monitor size can make it easier to read text on a screen, for example. Combining the larger monitor with sit-stand capabilities provides the best of both options. Many operators today stand for 50 percent of their day, says Smith. Ergonomic standards guide the design of Winsted's control room consoles, including ISO 11064 standards for the design of control centres. The furniture also is designed to accommodate industrial wire management (larger wire bundles), unlike furniture that might be bought in an office supply store. Read part 3 of our Control Rooms series here {##Poll37 - How well do you incorporate ergonomics into your control rooms?##}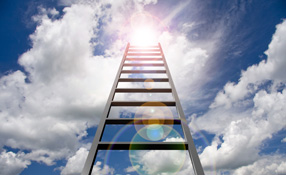 Improving security system installations with Acceptance Testing
Significant technological advancements have created endless possibilities in how security is not only deployed, but also leveraged by the end user – the customer. For example, customers can now view surveillance at eight different offices in eight different states from a single, central location. A security director can manage an enterprise-wide access control system, including revoking or granting access control privileges, for 10,000 global employees from a company's headquarters. However, with that increased level of system sophistication comes an added level of complexity. After successfully completing the installation of a security system, integrators are now expected to formally and contractually prove that the system works as outlined in the project specification document. Tom Feilen, Director of National Accounts for Koorsen Security Technology explains that this formal checks and balance process is gaining momentum in the security industry. The step-by-step process of Acceptance Testing is more commonly being written into bid specifications, especially for projects that require the expertise of an engineer and/or architect. Simply put, it is a way for the end user to make sure the system they paid for works properly and is delivered by the integrator as outlined in the project's request for proposal. While Acceptance Testing can be a time consuming process, it is a valuable industry tool. It is estimated that at least 95 per cent of integrated security systems today have been brought through the Acceptance Testing process. Security systems have become more complicated in recent years. The introduction of IP-based, enterprise-wide and integrated solutions have all opened the door to more sophisticated access control and surveillance systems than ever thought possible. This process can vary depending upon the size of the project, but for a larger scale project, it is not uncommon for Acceptance Testing to take several weeks from start to finish. This timeline can be especially lengthy when the project involves hundreds of devices, such as access control readers, surveillance cameras, video recorders, intrusion sensors, and intercom systems. Most integrated security systems today have been brought through the Acceptance Testing process What is involved in the Acceptance Testing process? While the specific process can vary from integrator to integrator, many follow a similar process with their customer to ensure the system works accurately and that the customer has the proper certification documentation. The initial part of the process typically involves generating a report of each device installed as part of the system. This list enables the systems integrator to systematically test each device ensuring that individual devices are not specific points of failure for the overall system. For example, in a building equipped with a system that automatically releases the egress doors upon the fire alarm activation, it is important to make sure each door's electro-magnetic locking system is operating properly. The systems integrator would not only test that a door releases when the fire alarm sounds, but also to make sure the access control system is notified if the door is propped open or held open longer than in normal usage parameters. For a door that is also monitored by a surveillance camera, part of the testing would also involve making sure that an image being transmitted to a video monitor is coming from the correct surveillance camera and that the actual angle of the image is what the customer has requested and is correctly labelled as such. If a device does not function as it should, it is then added to a punch list that would require the systems integrator to repair that device within a certain period of time. Once repairs are made, the system integrator would then submit a letter to the client stating that every device has been tested and works properly. It is also important for the integrator that once the testing process is complete to obtain a customer sign off (Certificate of Acceptance) on all systems tested and documentation provided. This limits liability once the system is turned over. From a safety perspective, Acceptance Testing is also used to verify that T-bars and safety chains are installed on cameras that are mounted in drop ceilings. It can confirm that panels are mounted in a room that is properly heated and cooled to avoid major temperature swings. Also, as part of the Acceptance Testing checklist, it can insure that power supplies that drive all the security systems are properly rated with the recommended batteries for back-up. And, that emergency exist devices or card readers are not mounted more than 48-inches above ground. An Acceptance Testing process serves to protect the end user's investment After the project is complete, Acceptance Testing protects both parties involved against liability issues. One example is if the building has a fire and the functionality of the life safety system comes into question. Acceptance Testing can be used to prove that the system was able to function as specified and dispel any concerns about its performance. At that time, all close out sheets are turned in, along with as-built drawings and a manual providing a complete listing of each device and system installed. Today, these manuals not only come in paper form as part of a large binder, but also digital files saved to a disc. The benefit of providing the customer with a binder or documentation of the system is that should the end user/customer replace the person who manages security at the company, valuable information will not leave with that former employee. While this checklist to close out a project may appear trivial at first, it is an important part of the security project process. By implementing an Acceptance Testing program, it serves to protect the end user's investment, ensuring that the systems integrators hired for the project is knowledgeable and provides quality work. For the integrator, it helps towards the end goal of a satisfied customer.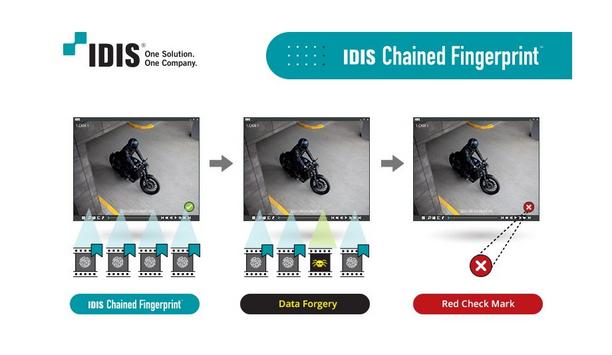 IDIS suggests users to use their fingerprint algorithm to protect the integrity of the recorded video
Growing concern about deep-fake videos will make it increasingly important to be able to demonstrate the integrity of video evidence, warns South Korea's largest in-country video tech manufacturer IDIS. Rapid advances in digital video manipulation techniques, and a rise in alleged deep-fake celebrity videos being reported in the news, will put pressure on both video tech users and on prosecutors to demonstrate the integrity of any footage they use. Internal disciplinary proceedings "As we look ahead, wherever video is presented for use as legal evidence, or as part of internal disciplinary proceedings, we will see more attempts to assert that footage is not genuine. Courts will dismiss evidence where tampering cannot be ruled out," says Dr. Peter Kim, Global Technical Consultant, IDIS. It will be vital that users can demonstrate beyond doubt that their footage has not been tampered" "Any challenge to the integrity of video evidence, if not countered, risks undermining the value of the entire video solution. This is particularly true in applications where investigating and prosecuting wrongdoing is a key function of the camera system. So, it will be vital that users can demonstrate beyond doubt that their footage has not been tampered with in any way." IDIS, which supplies complete, end-to-end video solutions for applications ranging from high-risk critical infrastructure to commercial settings, has created protection of video footage integrity through its patented Chained Fingerprint™ algorithm. Exported video data IDIS recorders use Chained Fingerprint to ensure the integrity of the recorded and exported video data. Each frame is assigned a unique numerical 'fingerprint', calculated by relating its own pixel value to the fingerprint of the previous frame. This means that every single image frame of the video is linked by an encryption 'chain' with its neighbouring image frames. The encrypted chain is stored as part of the video data when the video is recorded or exported as a video clip using the IDIS ClipPlayer. Before playback, the ClipPlayer scans video and recalculates the fingerprint chains of the video data. If any part of the image frame is tampered with, the fingerprint chain will be broken and will not match the chain value calculated at the time of video export, prompting a flag. "As organisations look to upgrade or invest in new video solutions, protecting themselves against claims of video evidence tampering should be high on their priority list," Kim adds.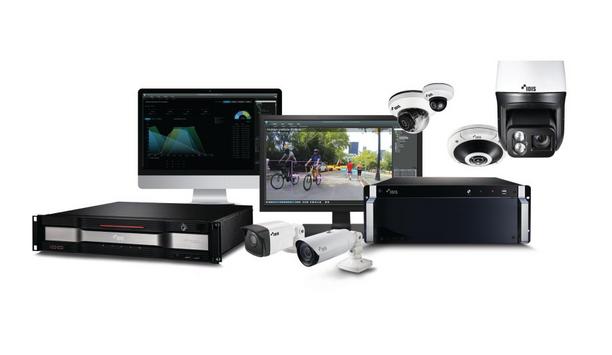 IDIS contributes to major customer achievements in a hotly contested year for awards
IDIS features twice in the 2021 OSPA security awards, with shortlisting in two key categories: Outstanding Security Equipment Manufacturer and Outstanding In House M anager. Following a highly competitive selection round, the finalists have been praised by the organisers for making a significant impact at the highest level within the industry. "The OSPAs are growing year on year and really have become the ultimate accolade for everyone working in security, whether a buyer or supplier," says founder of the OSPAs, Professor Martin Gill, describing the 2021 awards as a bumper year. "With such stiff competition, I can honestly say that every finalist is a winner." High performance surveillance IDIS's shortlisting as manufacturer of the year recognises the company's commitment to delivering affordable, end-to-end video solutions that give end-users and systems integrators everything they need for trouble-free, high performance surveillance. Judges noted that IDIS continues to innovate, developing advanced deep learning analytics, powerful mobile tools, and practical solutions to help customers face emerging challenges, including operating during pandemic conditions, and preparing for the future beyond. And pioneering use of IDIS video tech is recognised in a second award category, with Tracey Edwards of Southern Health NHS Foundation Trust being shortlisted as manager of the year. Her work, and her use of IDIS video tech, has helped improve care outcomes for children and young people with complex mental health needs. Improve clinical standards IDIS has been partnering with several leading systems integrators to deliver these projects An ambitious programme of video infrastructure upgrades across the Trust's facilities, using end-to-end solutions from IDIS, began in 2018. The series of projects included both new builds and refurbishments. By ensuring that a complete, high-definition video record of events could be reliably stored and easily searchable, incident investigations were made easier, and that has helped to improve clinical standards. IDIS has been partnering with several leading systems integrators to deliver these projects, companies including Galeco, ISD Tech, and Triple Star Fire & Security. The completed end-to-end solutions have included 12MP fisheye cameras, full HD IR domes, and failover-protected, cyber secure storage. As a result, comprehensive area recording has transformed surveillance - with no events missed and no blind-spots - without the cost of 24/7 live monitoring. Best surveillance solutions Tracey Edwards' OSPA nomination comes hot on the heels of her being named as Security Manager of the Year in the Security & Fire Excellence Awards. Both accolades also recognise her voluntary contributions to the wider field of mental healthcare security, and her efforts to improve understanding of mental healthcare issues with various police forces. Jamie Barnfield, Sales Director, IDIS Europe, welcomed the latest OSPAs recognition: "IDIS and our integration partners are working hard to deliver the most effective and best value surveillance solutions to our customers. And we are committed to the long-term success of all our projects and to providing the highest standards of ongoing support."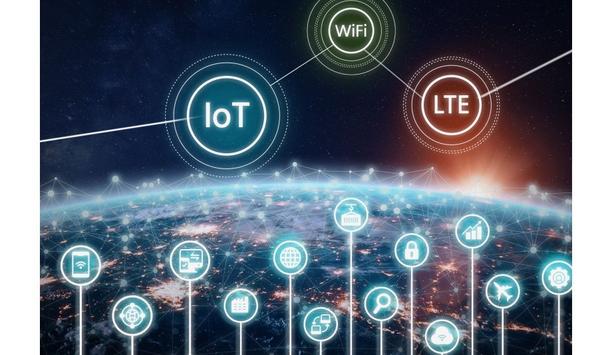 IDIS to extend secure mobile communication and IoT capability with the acquisition of KT Powertel
IDIS, South Korea's largest in-country video security technology manufacturer, has acquired a controlling (44.84%) stake in KT Powertel, the radio communications subsidiary of telecoms giant KT Corp. The move will strengthen IDIS's offering in the security and safety sectors, with customers to benefit from powerful push-to-talk over cellular (PoC) communications solutions, and an emerging generation of advanced safety and security systems encompassing a range of IoT devices. KT Powertel has been leading the development of LTE broadband wireless radio technologies in Korea's renowned domestic market. The acquisition will now enable IDIS to capitalise on this expertise in South East Asia and expand its capabilities globally. The move will strengthen the company's position as a provider of complete, end-to-end video solutions that are easier to install and that offer true flexibility and ease-of-use, and deliver on the promise of low total cost of ownership. Advanced video applications "In Korea's highly competitive and advanced home market KT Powertel has been a mobile communications leader for over 35 years, with more subscribers nationally than any other provider, delivering consistently strong sales and profits," says IDIS, Chief Executive Officer, Y.D. Kim. KT Powertel developed one the world's first blind spot-free LTE radio services, Power Talk, and PoC communications solutions. PoC radios support advanced functions including instant group calling, messaging, GPS location tracking, and emergency notifications. This, combined with LTE cellular networks, provides the bandwidth necessary for advanced video and data applications. Video surveillance solutions The move will further boost IDIS's R&D capabilities in crucial growth areas including IoT KT Powertel's depth of expertise in communications technology aligns well with IDIS's focus on video surveillance and analytics solutions operated through a choice of video management systems and controlled via authorised access to client software or mobile applications. The acquisition, from KT Corp, will strengthen IDIS's position in key markets including critical infrastructure applications, and both government and commercial sectors. The move will further boost IDIS's R&D capabilities in crucial growth areas including IoT. Recent analysis estimates that the number of businesses using IoT technologies has risen from 13% in 2014 to around 25% today, with rapid acceleration now expected. Growth will be driven by the introduction of new and more capable sensors, more computing power, and more reliable mobile connectivity. IoT and wireless technology As sensor technology becomes more powerful and affordable, it will become easier to expand and adapt security systems with a growing toolkit of remote add-on devices. "As we look forward, video solutions will need to be increasingly convenient for customers to use on the move, and they'll need to be more flexible to install and extend with IoT and wireless technology. In all these specialisms, IDIS's acquisition of KT Powertel will extend its expertise as it develops leading-edge solutions to increase security and safety in a range of applications," added Mr. Kim.