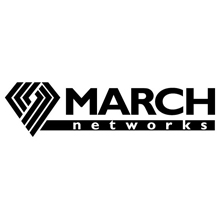 The bank upgraded its existing March Networks surveillance systems across 1,300 banking branches and offices
March Networks®, a global provider of intelligent IP video solutions, recently announced that Fifth Third Bancorp has initiated an upgrade program of its existing March Networks' video surveillance systems across more than 1,300 full-service retail banking branches, data centers, corporate offices, and operations and cash handling facilities. One of the top 15 banks in the U.S., Fifth Third Bank has already started deploying 12,000 new March Networks IP and analog cameras, and will upgrade to new 4332 C Hybrid Network Video Recorders (NVRs) nationwide. The bank is also piloting the March Networks Searchlight portfolio of intelligent data analytics to proactively detect and reduce losses from fraud at ATMs and teller lines.
"The March Networks video surveillance solution has consistently delivered solid results for us," said Mike Neugebauer, Vice President and Senior Manager, Safety and Security at Fifth Third Bank. "The new hybrid platforms offer impressive IP performance and work with our existing March Networks video management software, making the transition simple and cost-effective. We're also very interested in the Searchlight applications, which would allow us to securely correlate our surveillance video with transaction data, license plate data, and facial images. We believe these banking analytics could help us identify fraud earlier and gather evidence more quickly to significantly reduce losses."
The orders follow a recent industry report by IMS Research that recognises March Networks as the No.1 provider of banking surveillance systems in the Americas. Worldwide, more than 450 banks and credit unions currently use the company's proven financial solutions, citing scalability, unparalleled reliability and centralised video management as key system benefits.
Fifth Third Bank will upgrade to the 4332 C Hybrid NVR, which will double its existing IP camera support and expand evidence storage. It is also deploying a mixture of March Networks MegaPX WDR MiniDome IP cameras and WDR Indoor Dome cameras throughout its retail bank and critical infrastructure facilities. The cameras' Wide Dynamic Range feature balances scenes with both low and bright light - guaranteeing clear images even in challenging environments such as retail banking branches, where sunlight streaming through large windows can cause subjects in a surveillance scene to appear silhouetted against the bright backdrop.
The March Networks Searchlight portfolio combats two of the most significant exposures financial institutions face today: ATM skimming and bank card fraud, which amount to an estimated $1 billion in losses annually. Searchlight Financial Transaction Investigation software synchronises ATM and teller transaction records with detailed video evidence. This streamlines search and case management processes, improves investigator performance and reduces associated costs. Searchlight Skimming Detection, Image Tracker and License Plate Tracker applications speed investigations and strengthen case evidence to help banks more effectively combat ATM skimming, cash harvesting and other fraudulent incidents. (Watch a Searchlight video overview)
"Financial institutions around the world have selected March Networks video and data systems to gather better business intelligence and maximise returns," said Net Payne, Chief Marketing Officer, March Networks. "The decision by Fifth Third to upgrade with our financial solution further underlines the bank's confidence in our ability to provide a superior return on investment."
Download PDF version