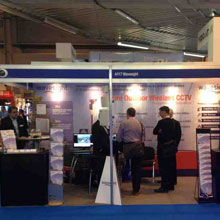 Visitors were given chance to see the new range of powerful N-spec point-to-point and multipoint links at the event
After a very busy week at the NEC in Birmingham, Wavesight has reported a very positive response from existing customers to the company's latest product range, coupled with a large number of customers seeking an alternative supplier to the one they've been using and switching to Wavesight for all their outdoor wireless links and networks.
This year, visitors were also given the chance to see the new range of powerful N-spec point-to-point and multipoint links at the event. The WaveSPRINT N150, WaveSPRINT N300, WaveFLOW-N and WaveMAX-N will now add to Wavesight's already impressive portfolio of ruggedised, outdoor wireless transceivers.
The WaveMAX-N, suitable for use with high-resolution megapixel cameras, is currently in stock, while the WaveFLOW-N, WaveSPRINT N150 and WaveSPRINT N300 will be shipping at the end of September 2013.
For those of you unable to attend IFSEC this year we've made available for download a seminar presentation by Chris Tuckwell, Wavesight's Export Sales Director, on the "Do's and Don'ts in an Urban System – a Wireless Perspective."
In addition to this, Wavesight successfully launched a really handy remote monitoring and performance device at IFSEC allowing users to check the status of any wireless radio on the network using a standard web browser interface. In addition to providing link status, radio signal integrity, data throughput and overall network activity, WaveNMS enables the remote configuration and reboot of any Wavesight wireless link connected to that network segment.
These next-generation, high performance wireless N-spec links provide an unmatched combination of speed of installation, flexibility and bandwidth to meet increasingly demanding communications requirements. They eliminate the cost, planning delays and disruption associated with installing cable or leasing lines, delivering a faster return on investment while providing a readily re-deployable asset.
Download PDF version