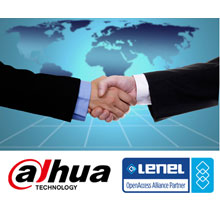 Dahua IP cameras and network speed domes have been successfully integrated with Lenel OnGuard
Dahua Technology Co.,Ltd., has officially announced the establishment of a partnership with Lenel. Dahua 3.0Mp IP cameras & 1.3Mp network speed domes have been successfully integrated with Lenel OnGuard 6.4.500.
Dahua's network cameras deliver superb image quality at H.264/MJPEG video codec by adopting image sensors of various sizes and advanced TI (Texas Instruments) DaVinci DSP. The IP cameras support dual-stream encoding, which ensures that video streams can be separately transmitted for different purposes. The supported SD card also removes the inconvenience incurred by Internet interruption. The various camera shapes and sizes further enrich the range of choices for the customer. In addition, the customised functions, such as dual power supply, PoE, Wi-Fi, etc. are tailored to the needs of the customer.
And in recent years, Dahua has invested more to develop its Speed Dome Cameras. For example, the DH-SD658x covers the range from 1.3MP to 2MP domes, with either Dahua in-house block cameras or that of Sony or HITACHI. All cameras in this dome series are easy-installed. Dahua is also about to launch its first intelligent dome camera.
Lenel is a reputed corporation providing enterprise software, integrated systems and access control systems to manage multiple security systems, real-time intelligent video content analysis, biometric access, smart card applications, and visitor management systems for corporate and government security customers. Lenel is part of UTC Climate Controls & Security Systems, a unit of United Technologies Corp.
"I'm looking forward to see Dauha remain active in the program, certify with new OnGuard releases, and add more cameras to the certified cameras list." Gidon Lissai, the director of Strategic Alliances expressed. "We are so glad that we have such a good beginning", Peter, Dahua's IPC manager commented, "as is known; Lenel is very experienced in providing professional software solutions and we Dahua is also reputed in product R&D and manufacturing. We both realise the significance of cooperation, especially for the feature market, only with this can we create and offer even better solutions for customers at both sides. And we do hope that Lenel and we can further work hand in hand and bring about win-win outcome in tapping the global market together."
Download PDF version
Download PDF version