AxxonSoft Access control systems & kits
(1)
Browse Access control systems & kits
Access control system products updated recently
We have the technology to make society safer – how long can we justify not using it?
While the application of facial recognition within both public and private spheres continues to draw criticism from those who see it as a threat to civil rights, this technology has become extremely commonplace in the lives of iPhone users. It is so prevalent, in fact, that by 2024 it is predicted that 90% of smartphones will use biometric facial recognition hardware. CCTV surveillance cameras Similarly, CCTV is a well-established security measure that many of us are familiar with, whether through spotting images displayed on screens in shops, hotels and offices, or noticing cameras on the side of buildings. It is therefore necessary we ask the question of why, when facial recognition is integrated with security surveillance technology, does it become such a source of contention? It is not uncommon for concerns to be voiced against innovation. History has taught us that it is human nature to fear the unknown, especially if it seems that it may change life as we know it. Yet technology is an ever-changing, progressive part of the 21st century and it is important we start to shift the narrative away from privacy threats, to the force for good that LFR (Live Facial Recognition) represents. Live Facial Recognition (LFR) We understand the arguments from those that fear the ethics of AI and the data collection within facial recognition Across recent weeks, we have seen pleas from UK organisations to allow better police access to facial recognition technology in order to fight crime. In the US, there are reports that LAPD is the latest police force to be properly regulating its use of facial recognition to aid criminal investigations, which is certainly a step in the right direction. While it is understandable that society fears technology that they do not yet understand, this lack of knowledge is exactly why the narrative needs to shift. We understand the arguments from those that fear the ethics of AI and the data collection within facial recognition, we respect these anxieties. However, it is time to level the playing field of the facial recognition debate and communicate the plethora of benefits it offers society. Facial recognition technology - A force for good Facial recognition technology has already reached such a level of maturity and sophistication that there are huge opportunities for it to be leveraged as a force for good in real-world scenarios. As well as making society safer and more secure, I would go as far to say that LFR is able to save lives. One usage that could have a dramatic effect on reducing stress in people with mental conditions is the ability for facial recognition to identify those with Alzheimer's. If an older individual is seemingly confused, lost or distressed, cameras could alert local medical centres or police stations of their identity, condition and where they need to go (a home address or a next of kin contact). Granted, this usage would be one that does incorporate a fair bit of personal data, although this information would only be gathered with consent from each individual. Vulnerable people could volunteer their personal data to local watchlists in order to ensure their safety when out in society, as well as to allow quicker resolutions of typically stressful situations. Tracking and finding missing persons Another possibility for real world positives to be drawn from facial recognition is to leverage the technology to help track or find missing persons, a lost child for instance. The most advanced forms of LFR in the market are now able to recognise individuals even if up to 50% of their face is covered and from challenging or oblique angles. Therefore, there is a significant opportunity not only to return people home safely, more quickly, but also reduce police hours spent on analysing CCTV footage. Rapid scanning of images Facial recognition technology can rapidly scan images for a potential match Facial recognition technology can rapidly scan images for a potential match, as a more reliable and less time-consuming option than the human alternative. Freed-up officers could also then work more proactively on the ground, patrolling their local areas and increasing community safety and security twofold. It is important to understand that these facial recognition solutions should not be applied to every criminal case, and the technology must be used responsibly. However, these opportunities to use LFR as force for good are undeniable. Debunking the myths One of the central concerns around LFR is the breach of privacy that is associated with 'watchlists'. There is a common misconception, however, that the data of every individual that passes a camera is processed and then stored. The reality is that watch lists are compiled with focus on known criminals, while the general public can continue life as normal. The very best facial recognition will effectively view a stream of blurred faces, until it detects one that it has been programmed to recognise. For example, an individual that has previously shoplifted from a local supermarket may have their biometric data stored, so when they return to that location the employees are alerted to a risk of further crimes being committed. Considering that the cost of crime prevention to retailers in recent years has been around £1 billion, which therefore impacts consumer prices and employee wages, security measures to tackle this issue are very much in the public interest. Most importantly, the average citizen has no need to fear being 'followed' by LFR cameras. If data is stored, it is for a maximum of 0.6 seconds before being deleted. Privacy Privacy is ingrained in facial recognition solutions, yet it seems the debate often ignores this side of the story Privacy is ingrained in facial recognition solutions, yet it seems the debate often ignores this side of the story. It is essential we spend more time and effort communicating exactly why watchlists are made, who they are made for and how they are being used, if we want to de-bunk myths and change the narrative. As science and technology professionals, heading up this exciting innovation, we must put transparency and accountability at the centre of what we do. Tony Porter, former Surveillance Camera Commissioner and current CPO at Corsight AI, has previously worked on developing processes that audit and review watch lists. Such restrictions are imperative in order for AI and LFR to be used legally, as well as ethically and responsibly. Biometrics, mask detection and contactless payments Nevertheless, the risks do not outweigh the benefits. Facial recognition should and can be used for good in so many more ways than listed above, including biometric, contactless payments, detecting whether an individual is wearing a facemask and is therefore, safe to enter a building, identifying a domestic abuse perpetrator returning to the scene of a crime and alerting police. There are even opportunities for good that we have not thought of yet. It is therefore not only a waste not to use this technology where we can, prioritising making society a safer place, it is immoral to stand by and let crimes continue while we have effective, reliable mitigation solutions.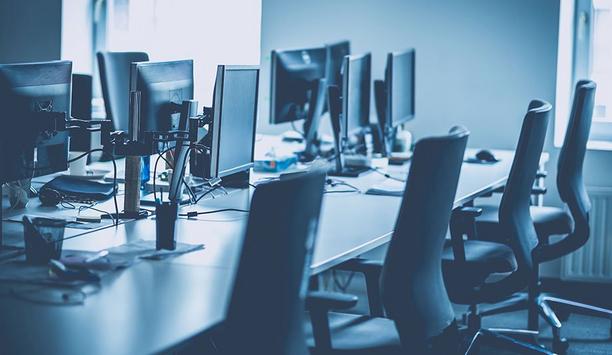 Securing empty premises: Product performance is everything
Since the start of the pandemic, almost a quarter of UK businesses have been forced to temporarily close, pause trading, or work remotely, with very little notice. Now nearing the 12th month of the crisis, the country is currently enduring its third national lockdown, with an unspecified timeframe. Most workers are being urged to remain at home and only venture out for essential travel. This means a huge number of premises across the board, from recreational venues such as theatres, pubs and leisure centres, to office buildings, and storage facilities, will remain empty. It's likely that security has been scaled back, so many buildings could be vulnerable to attack for the foreseeable future. Just recently we've seen empty pubs in London targeted by opportunistic illegal rave organisers. Physical security strategy Even rural areas aren't exempt from the problem, as burglars have reportedly targeted beauty salons, etc Even rural areas aren't exempt from the problem, as burglars have reportedly targeted beauty salons, food stores and vehicle hire premises this winter. Vandalism and burglary remain very real threats, therefore it is vital that facilities managers and property owners ensure the physical security of these empty buildings is maintained to the highest standard to protect property and the assets within. Below we outline key considerations when evaluating a physical security strategy for an empty building. Assess the risk We would urge facilities managers and building owners to carry out regular, thorough checks of the building and the perimeter to assess any obvious factors which would elevate the risk of attack. This includes assessing the location. Is the crime rate high? How visible is the property? Are the contents of the property on show? How secure is the access or perimeter boundary? View the premises from a potential intruder's perspective, and when you can't be at the site in person, use photographs, notes and drawings to identify potential weaknesses. For example, there may be high security fencing at the front of the premises, but make sure it is not at risk of being compromised at the back. Conducting regular maintenance Retain and maintain quality Inspecting the fence line may seem obvious and straightforward, but it needs to be a deliberate, scheduled event Conducting regular maintenance is even more essential while premises are left empty, as it is much easier for any issues to appear and escalate undetected. We highly recommend regularly inspecting your fencing for disrepair or damage as this can affect the perimeter's integrity. Alternatively, choosing high quality galvanised and preferably powder coated steel fencing with a 25-year guarantee will offer longer-lasting protection against rust and corrosion. Inspecting the fence line may seem obvious and straightforward, but it needs to be a deliberate, scheduled event. Take time to check the perimeter on both sides. As you inspect the fencing, keep an eye out for any attempted breaches and note if foliage, weather conditions, or topography changes have affected security integrity. Check all fixtures and fittings are in good working order, look for damage and corrosion, and clear all litter and debris away. Huge security risk Quality investments In a time when businesses are already stretched, it can be tempting to opt for quick, inexpensive fixes. However, poorly executed design or cheap, low quality products can lead to costly, long-term remediation or worse, significant loss to the business. Make wise, informed decisions and specify solutions based on your organisation's security needs first and foremost. While generic steel palisade is a popular option, owing to its intimidating aesthetic, it is easily compromised. Steel palisade fencing has inherent weaknesses that undermine performance. Its wide pales can obstruct surveillance, while the bolted construction is a huge security risk. Simply removing or breaking the lower fixing on one or two pales would allow them to swing aside to give repeated access to the site without leaving an easily visible sign that the perimeter has been breached. It's a false economy, as the initial lower price is offset by the costs and inconvenience incurred by regular repairs. Performance classification system The standard works via a performance classification system, and even considers the tools that an intruder may use Specifying a higher quality product that's fit for purpose makes more sense both in the short and long term, and it adds little to the original cost. Fortunately, there are a number of security accreditations that facilities managers and building owners can refer to when specifying security measures at their site, helping them choose effective solutions to combat the risks the property faces. Proven performance Certifications and approvals, such as The Loss Prevention Certification Board's (LPCB) LPS 1175 and the British Standards Institution's (BSI) PAS, prove a product has been thoroughly tested to a specific standard. They prove the strength and durability of the item in multiple different situations. It is worth noting also that investing in effective perimeter protection can actually deliver a positive return by reducing the incidence of burglary and vandalism, and their associated costs. The technical evaluation work carried out by LPCB is extremely thorough. The product is subjected to rigorous quality audit processes, to certify the security products tested by BRE deliver verified levels of protection. All LPS 1175 rated products are vigorously tested before receiving an accreditation. The standard works via a performance classification system, and even considers the tools that an intruder may use. Intrusion detection system Our law enforcement teams are stretched to capacity and coping with reduced workforces due to illness By predicting a likely toolset, specifiers can construct multiple defensive layers to maximise how much time a facility has to respond to an attack. Different levels of security are crucial for the '5D defence' concept, whereby a quintet of security assets work together to prevent access to your site, resulting in a strategy that will: Deter, Detect, Deny, Delay and Defend unwanted access from intruders. 360° security There is no single solution when it comes to securing a building. Every situation must be considered on an individual basis, starting with a full risk assessment. We recommend an integrated approach where appropriate. Along with a secure perimeter, this might also include effective lighting in shaded areas and at doors, gates, and vulnerable windows, Perimeter Intrusion Detection Systems (PIDS) and well-placed CCTV. These measures can hinder entry and escape, or increase the chance of discovery and detection. Domestic burglaries While domestic burglaries have become less attractive as many of our homes are now occupied around the clock, commercial properties have become increasingly more vulnerable. Our law enforcement teams are stretched to capacity and coping with reduced workforces due to isolating and illness. Therefore it has never been so important for building owners and facilities managers to assess the properties they're responsible for to ensure they're protected effectively in the event of an attack.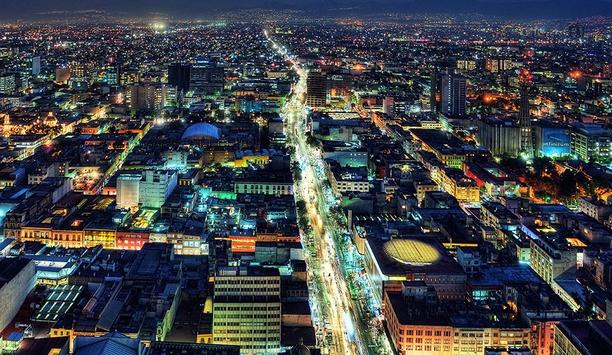 Safety in smart cities: How video surveillance keeps security front and centre
Urban populations are expanding rapidly around the globe, with an expected growth of 1.56 billion by 2040. As the number of people living and working in cities continues to grow, the ability to keep everyone safe is an increasing challenge. However, technology companies are developing products and solutions with these futuristic cities in mind, as the reality is closer than you may think. Solutions that can help to watch over public places and share data insights with city workers and officials are increasingly enabling smart cities to improve the experience and safety of the people who reside there. Rising scope of 5G, AI, IoT and the Cloud The main foundations that underpin smart cities are 5G, Artificial Intelligence (AI), and the Internet of Things (IoT) and the Cloud. Each is equally important, and together, these technologies enable city officials to gather and analyse more detailed insights than ever before. For public safety in particular, having IoT and cloud systems in place will be one of the biggest factors to improving the quality of life for citizens. Smart cities have come a long way in the last few decades, but to truly make a smart city safe, real-time situational awareness and cross-agency collaboration are key areas which must be developed as a priority. Innovative surveillance cameras with integrated IoT Public places need to be safe, whether that is an open park, shopping centre, or the main roads through towns Public places need to be safe, whether that is an open park, shopping centre, or the main roads through towns. From dangerous drivers to terrorist attacks, petty crime on the streets to high profile bank robberies, innovative surveillance cameras with integrated IoT and cloud technologies can go some way to helping respond quickly to, and in some cases even prevent, the most serious incidents. Many existing safety systems in cities rely on aging and in some places legacy technology, such as video surveillance cameras. Many of these also use on-premises systems rather than utilising the benefits of the cloud. Smart programming to deliver greater insights These issues, though not creating a major problem today, do make it more challenging for governments and councils to update their security. Changing every camera in a city is a huge undertaking, but in turn, doing so would enable all cameras to be connected to the cloud, and provide more detailed information which can be analysed by smart programming to deliver greater insights. The physical technologies that are currently present in most urban areas lack the intelligent connectivity, interoperability and integration interfaces that smart cities need. Adopting digital technologies isn't a luxury, but a necessity. Smart surveillance systems It enables teams to gather data from multiple sources throughout the city in real-time, and be alerted to incidents as soon as they occur. Increased connectivity and collaboration ensures that all teams that need to be aware of a situation are informed instantly. For example, a smart surveillance system can identify when a road accident has occurred. It can not only alert the nearest ambulance to attend the scene, but also the local police force to dispatch officers. An advanced system that can implement road diversions could also close roads around the incident immediately and divert traffic to other routes, keeping everyone moving and avoiding a build-up of vehicles. This is just one example: without digital systems, analysing patterns of vehicle movements to address congestion issues could be compromised, as would the ability to build real-time crime maps and deploy data analytics which make predictive policing and more effective crowd management possible. Cloud-based technologies Cloud-based technologies provide the interoperability, scalability and automation Cloud-based technologies provide the interoperability, scalability and automation that is needed to overcome the limitations of traditional security systems. Using these, smart cities can develop a fully open systems architecture that delivers interoperation with both local and other remote open systems. The intelligence of cloud systems can not only continue to allow for greater insights as technology develops over time, but it can do so with minimal additional infrastructure investment. Smart surveillance in the real world Mexico City has a population of almost 9 million people, but if you include the whole metropolitan area, this number rises sharply to over 21 million in total, making it one of the largest cities on the planet. Seven years ago, the city first introduced its Safe City initiative, and ever since has been developing newer and smarter ways to keep its citizens safe. In particular, its cloud-based security initiative is making a huge impact. Over the past three years, Mexico City has installed 58,000 new video surveillance cameras throughout the city, in public spaces and on transport, all of which are connected to the City's C5 (Command, Control, Computers, Communications and Citizen Contact) facility. Smart Cities operations The solution enables officers as well as the general public to upload videos via a mobile app to share information quickly, fixed, body-worn and vehicle cameras can also be integrated to provide exceptional insight into the city's operations. The cloud-based platform can easily be upgraded to include the latest technology innovations such as licence plate reading, behavioural analysis software, video analytics and facial recognition software, which will all continue to bring down crime rates and boost response times to incidents. The right cloud approach Making the shift to cloud-based systems enables smart cities to eliminate dependence on fibre-optic connectivity and take advantage of a variety of Internet and wireless connectivity options that can significantly reduce application and communication infrastructure costs. Smart cities need to be effective in years to come, not just in the present day, or else officials have missed one of the key aspects of a truly smart city. System designers must build technology foundations now that can be easily adapted in the future to support new infrastructure as it becomes available. Open system architecture An open system architecture will also be vital for smart cities to enhance their operations For example, this could include opting for a true cloud application that can support cloud-managed local devices and automate their management. An open system architecture will also be vital for smart cities to enhance their operations and deliver additional value-add services to citizens as greater capabilities become possible in the years to come. The advances today in cloud and IoT technologies are rapid, and city officials and authorities have more options now to develop their smart cities than ever before and crucially, to use these innovations to improve public safety. New safety features Though implementing these cloud-based systems now requires investment, as new safety features are designed, there will be lower costs and challenges associated with introducing these because the basic infrastructure will already exist. Whether that's gunshot detection or enabling the sharing of video infrastructure and data across multiple agencies in real time, smart video surveillance on cloud-based systems can bring a wealth of the new opportunities.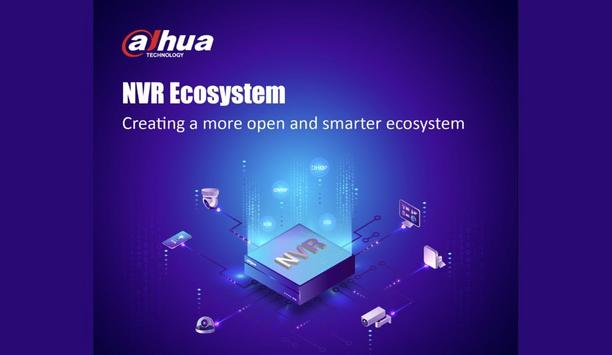 Dahua Technology collaborates with third-party VMS suppliers to build an open and smart NVR Ecosystem
Driven by the development of AI (Artificial Intelligence) and IoT (Internet of Things) technology, Network Video Recorder/NVR is no longer just the traditional data storage centre in CCTV systems today. From initial connection demands of third-party IPC and PTZ suppliers and docking demands of alarm sensor and platform manufactures, to alliance demands of algorithm and app developers, NVR (Network Video Recorder) is playing an increasingly significant role in connecting front-end devices, alarm sensors and other equipment. Open integration of NVR As a globally renowned video-centric smart IoT solutions and service provider, Dahua Technology has been actively cooperating with third-party software and hardware partners around the world through open integration of NVR, aiming to build an open and smart NVR ecosystem. The NVR Ecosystem also brings technology partners together to explore more possibilities While jointly creating value for customers and users, the NVR Ecosystem also brings technology partners together to explore more possibilities. Making NVR available to third-party devices and platforms enables third-party cameras and software/hardware manufacturers to connect to NVR through ONVIF and CGI/SDK, respectively. Furthermore, it also allows users to customise GUI style, run their own algorithms and develop apps on NVR, as per their needs and budgets. NVR DHOP Fully considering the system development demands of customers, Dahua Technology released NVR DHOP to allow third-party applications to be downloaded and installed on Dahua NVR hardware. Equipped with strong and powerful AI functions, Dahua Technology's NVR DHOP boasts advantages such as flexible operation, safety guarantee, reliable quality and strong support, which brings business growth opportunities to algorithm and app developers, who lack hardware devices and those with customisation requirements for NVR GUI. Encrypted data storage and transmission In order to protect the interests of customers, all embedded third-party applications will pass legal verification and the data in storage or transmission will be encrypted. In addition, Dahua Technology's professional R&D team provides continuous support in the whole process. Combining video with traditional alarm enables linkage between alarm signals and video footages Furthermore, the expanded application of the security field has also prompted the cooperation between NVR and traditional alarm manufacturers. Combining video with traditional alarm enables linkage between alarm signals and video footages, which can help warn-off intruders when an alarm is triggered. At the same time, it also allows users to search for relevant alarm videos stored in the NVR, achieving visual and intelligent alarm. Integration with third-party VMS suppliers By far, Dahua NVR (Network Video Recorder) has already completed integration with a number of third-party VMS suppliers, such as Milestone, AxxonSoft, Digifort, etc. Aside from general video storage and query functions, NVR can also assist third-party platforms in improving business operations and management with smart video analysis. Dahua NVR has been successfully integrated with the Milestone platform, providing temperature monitoring statistics reports during the COVID-19 pandemic and realising efficient management of people with abnormal temperature. Enabling a safer society Adhering to the concept of openness, Dahua Technology will continue to embrace the diversity and inclusiveness of the AIoT (AI-IoT combined) era and build an ecosystem that provides customers with all-win success through open and interconnected cooperation, enabling a safer society and smarter living.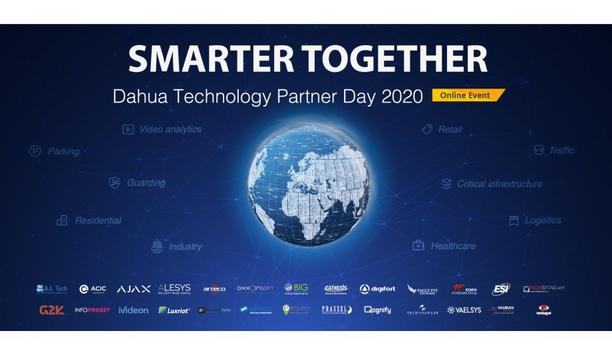 Dahua Technology to host Dahua Technology Partner Day 2020 online with 26 technology partners
Dahua Technology, a renowned video-centric smart IoT solution and service provider, will hold its online Dahua Technology Partner Day 2020 on 1st of December. The event will be a perfect occasion to get a taste of the Dahua ECO system in the EMEA region. 26 technology partners will bring solutions in the field of security and IoT. Smarter Together is the central theme of the Dahua Technology Partner Day 2020. A total of 26 distinguished Dahua partners will gather to share their knowledge and expertise on the development of security and IoT applications for a variety of vertical markets. This online event will serve as a technological and commercial hub for end-users and system integrators from different markets, ranging from Logistics, Traffic and Infrastructures to Healthcare, Retail and Residential. Attendees can Register free of charge and tune in to all the partner keynotes. Explore business opportunities In the partner hub, participants can chat with technology partners, explore business opportunities or technical challenges and get the latest product information. The event will kick off with an opening speech by Mr. Jason Zhao, Dahua VP & General Manager of Overseas Business to introduce how Dahua Technology and its technology partners become smarter together. 26 Partners will showcase their solutions in a main auditorium and six different break out rooms, including Axxonsoft, Qognify, Ivideon, TechnoAware, Vaelsys, A.I. Tech, Optex, Eagle Eye Networks who joined in the 2019 offline partner day and gained much exposure and business opportunities last year. Global security industry We are moving the Partner day to an online event in order to sustain the opportunity of getting together" Integrated solutions developed by both Dahua Technology and its partners will be displayed during the event, which will surely raise spectators' interest as they meet different needs of system integrators and end users with greater versatility."The 2019 Partner Day held on September 26th at Estadio Wanda Metropolitano, Madrid was a success with many of our partners' participation. However, 2020 is challenging because of COVID-19." "We are moving the Partner day to an online event in order to sustain the opportunity of getting together. During the event, leading representative companies in global security industry and IoT industry will have the chance to present their insights into the latest Security Application and also reflect on current challenges in the industry", says Mr. Jiaqi Gao, Overseas Marketing Director at Dahua Technology. Smart integrated security solutions "The attendees will have the chance to meet security players in the market and create new and diverse business opportunities." Committed to its mission of "Enabling a Safer Society and Smarter Living," Dahua Technology will continue to adhere the core value of "customer-centred" and provide the market with smart integrated security solutions, systems, and services to create value for city operations, corporate management, and consumers.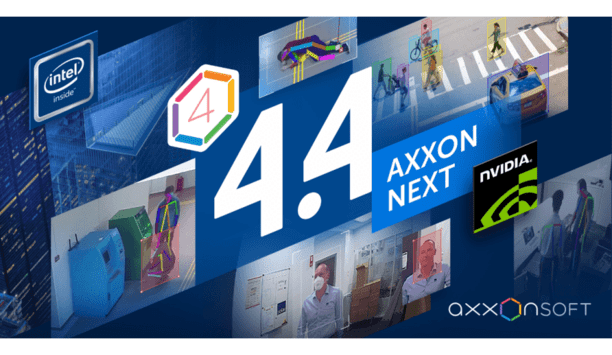 AxxonSoft announces the launch of the 4.4 version of Axxon Next intelligent Video Management System
AxxonSoft has launched version 4.4 of the Axxon Next intelligent VMS. This version includes new functions of neural analytics and camera management, enhanced GUI and Web Client, and many other enhancements and improvements. Supported body temperature measurement with a number of thermographic camera models. Measurement results appear as captions over video and are saved to an archive. Upon discovering an individual with abnormal body temperature, the camera creates an alarm event, and sends it to Axxon Next. The user can set up an auto response scenario to notify operators or responsible staff, start video recording, etc. Based on alarm events, the user can quickly find videos of individuals with elevated body temperature. Mask detection - Based on neural network algorithm for facial recognition, this tool detects the presence or absence of a mask on a face. Social distancing violation detection - Based on Behavior Analytics, close-standing people detection helps in social distancing enforcement. Along with non-contact body temperature measurement and mask detection, this function is included in a dedicated anti-pandemic solution. Video analytics The neural network analyses video and generates data on the postures of people in the FOV AI analytics - Neural tracker recognises and tracks moving objects of a specified type, e.g., individuals or vehicles. The user can further apply Scene Analytics to recognised objects to detect their motion, stopping or lingering in an area, crossing a line, etc. Detection based on the neural tracker can be applied to complex scenes with a large amount of non-relevant detail, whereas classic motion detection would be drowned out by numerous false alarms. In a specified time interval, the neural tracker counts objects of a specified type within a pre-defined area, and generates an alarm event upon reaching/exceeding a specified limit. Posture detection The neural network analyses video and generates data on the postures of people in the FOV. This data is processed by analytical algorithms which are capable of detecting specified postures, such as crouching, man-down, shooting, or raised arms. Posture detection helps recognise potentially dangerous scenarios, such as: an individual crouched down next to an ATM could be a burglar an individual(s) in a shooting position and other(s) with raised arms - could be an armed robbery Handrail holding detection helps in labour safety enforcement at production facilities, construction sites, working at height, etc. Posture detection–based counter tracks the total number of individuals within a specified area, and notifies staff upon reaching/exceeding the pre-defined limit. Update required analytics Network hardware acceleration - Added support for neural network acceleration in NVIDIA and Intel GPUs, including Mustang-V100-MX8 (HDDL), Neural Compute Stick 2 and Intel HD Graphics Water level detection - This tool reads water level values from measurement scale video. Its output is represented in the Camera window with a colour-coded level indicator and, as an option, a numerical value. The user can use water level detection to monitor levels of any liquid in any basin or container. Facial recognition - Facial recognition now operates in real-time. Use the AxxonNet cloud service to create lists of Facial Templates and synchronise them across all Servers connected to the user's AxxonNet account. Upon detecting a face, a list-specific response scenario is launched. The user can use this option to create lists of VIP and/or unwanted visitors, and automatically notify retail and security staff on their entry. DetectorPack - Axxon Next detection tools are now grouped by type (core, AI, facial, LPR) and compiled into a separate DetectorPack module, subject to independent continuous development and delivery. This makes it possible to download and update required analytics between point releases of VMS. Axxon Next 4.4 includes DetectorPack 3.4.0. Web client The new Web Client functions include: Simultaneous search on multiple camera channels for specified faces, vehicle numbers, detection events, or time interval Criteria- (MomentQuest) and time-based (TimeSlice) search Building a motion heat map Alarms panel displays all active alarms across the Axxon domain H.265 playback is supported (in the Edge browser with hardware acceleration set to on) The user can select one of the two H.264 display modes: all frames, or I-frames only Select the default layout to be displayed after the Web Client launch The user can now group cameras, create camera lists and sort cameras within a list by their names or IDs Camera management Recording on motion from embedded VMD - When the user adds a camera to their system, they can now quickly set up motion-based recording from on-board Video Motion Detection. For each added camera, the system automatically creates a VMD tool and a rule for automated recording to the specified file. When VMD triggering ends, video recording stops. Adding links to other cameras - Users can now include links to other cameras in a camera window. Clicking a link brings the user to the linked camera. This function facilitates object tracking between different camera FOVs. User Interface Videowall management - A video wall is a set of display monitors physically and logically connected to act as a single screen. A video wall may include any monitor connected to any Client within the Axxon domain. In Axxon Next 4.4, the users can set up a video wall via a WYSIWYG GUI: monitor images on screen now match their physical layout. User rights now include an option to manage other Clients' monitors, not only local ones. On each monitor, users can set up layouts and quickly add cameras by dragging their icons from the Objects panel (Devices tree) or interactive Map. Hot keys for video walls control were added as well. Geo Map management - The user can specify coordinates of a camera: latitude, longitude, and bearing. When they add a camera to a geo map, its icon appears in a location that corresponds to its coordinates. On the map, the user can now search geo objects by their names. These functions will be useful for large-scale and distributed systems, including Safe City projects. Temporary layout in archive mode - The user can now create a temporary layout that includes cameras selected for Archive (video footage) viewing. This is a convenient tool for simultaneous viewing of multiple camera feeds for event analysis. When another layout is selected, the temporary layout is automatically deleted. Fast access to detection triggering events - The users can now quickly access detection triggering events on any layout with the newly introduced events panel to the right of the camera window. The panel contains the list of most recent detection events from tools created for this particular camera.
Related white papers
Physical access control in higher education
11 considerations for embedded system RFID readers
Beyond security: access control for multi-tenant sites