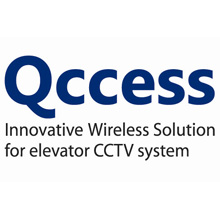 Qccess' Air@-EL300 system provides much clearer screen images and reduced noise
There are lots of high-rise residential buildings "Apartments" in Seoul, Korea. The majority of Seoul citizens, 54.6%, live in Apartments.
At Youngpoong Apartment in Seoul, a 12-building apartment complex (627 households / 24 stories) built in July 2002, CCTVs were installed in all elevators 3 years ago with an aim at preventing crimes.
However, the CCTVs frequently experienced the problem of cut-off of the coaxial cable, which in effect halted the transmission of video images. In each case when this happened, the elevators had to be stopped for repair.
In response to the apartment office's protest concerning the quality of workmanship, the elevator company, ThyssenKrupp Elevator Korea, replaced the coaxial cable with the wireless optical CCTV video transmission system Qccess' Air@-EL300 in a total of 19 elevators.
"We used to be constantly bothered by problems caused by the cutoff of the coaxial cable. Now, with the installation of Air@-EL300 system, those kinds of problems are things of the past. Besides, the screen images are much clearer and some noise has disappeared. We're quite happy," said Park Su-chang, in charge of mechanical/electrical facilities at Youngpoong Apartment.
Download PDF version