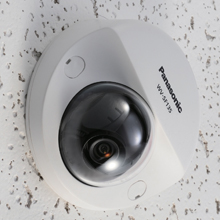 The new Panasonic surveillance cameras provide high definition resolutions
For transportation applications in buses, trains, subways, ambulances, taxis and armoured cars, Panasonic System Networks Company of America announced a line of low-profile, compact dome network cameras. Despite their small size and discreet appearance, the new cameras provide High Definition (HD) resolutions of up to 720p at 30 frames-per-second (fps) and other features such as multiple H.264/JPEG video streams, high-sensitivity day and night functionality and SD/SDHC recording. The new cameras, being debuted at the ASIS International 2011 tradeshow at Panasonic booth #3909, also fit ATM and elevator applications in addition to retail and financial environments.

Panasonic's i-PRO SmartHD WV-SW155 is a vandal-resistant Super Dynamic HD compact dome network camera combining full-frame 1,280x960 H.264 images with Super Dynamic and ABS technologies to deliver 128x wider dynamic range when compared to conventional cameras. The Face Super Dynamic Range technology allows for clear capture of facial images.

The Panasonic i-PRO SmartHD WV-SF135 is a HD dome network camera providing full frame transmission of 1280x960 images using a 1.3 megapixel high-sensitivity MOS sensor.
Additional features of the WV-SW155 and WV-SF135 include light sensitivity with day and night (electrical) function of 0.8 lux (colour) and 0.6 lux (black-and-white[B/W]) at F2.2. The cameras provide up to 16x electronic sensitivity enhancement and Variable Image Quality on Specified areas (VIQS), a technology that allows a designated area to retain higher image quality while excluding areas that have decreased image quality to lower the image file size and bit rate. Zoom (2x) is controlled by the browser, with a 2x extra zoom (4x) available under VGA resolution.

Panasonic's WV-SW152 is a vandal-resistant Super Dynamic camera providing SVGA resolution (800x600), light sensitivity of 0.6 lux (colour) and 0.4 lux (B/W) at F2.2, and auto electronic sensitivity enhancement of 8x. Both the WV-SW152 and WV-SW155 cameras can operate in a wider temperature range, comply with IP66 environmental rating and offer shock resistance compliant with IEC 60068-2-75. Panasonic's WV-SW155M and WV-SW152M provide an M12 pigtail instead of a standard RJ-45 connector.

The Panasonic WV-SF132 is a VGA compact dome camera providing 640x480 H.264 images using a 0.32 megapixel high-sensitivity MOS sensor, with light sensitivity of 2.0 lux (colour) and 1.3 lux (B/W) at F.2.9. Other features are similar to the WV-SF135.

"Our new compact dome product line is packed with functionality for important applications in transportation as well as uses by retail and financial customers," said Bill Taylor, President, Panasonic System Networks Company of America. "These new products excel in a location where you need a small, discreet camera to provide dependable performance and high-quality images."

Panasonic's UniPhier® proprietary System LSI platform provides multiple H.264 (high profile) streams and JPEG streams to ensure simultaneous real-time monitoring and high-resolution recording. Adaptive Black Stretch (ABS) technology delivers a wider dynamic range compared to conventional cameras. Face detection function detects the position of a human face and sends the information by XML or a video stream. Meta data for video motion detection (VMD) works with Panasonic's WJ-ND400 network video recorder's VMD function.

The JPEG image compression ratio can be changed by the alarm function to provide higher-quality images. Prioritised stream control can prioritise one video stream when multiple recorders or client PCs are accessing the camera so that a recorder or client PC can maintain the frame rate. The SD/SDHC Memory Card slot provides manual recording, alarm recording or backup JPEG recording if the network fails. Bit rate control provides flexible network traffic management and frame rate priority mode controls bit rate and compression ratio to provide a specified frame rate.

The WV-SW150 and WV-SF130 series cameras will be available in October 2011.
Download PDF version