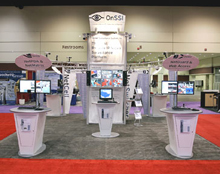 OnSSI will exhibit at ISC East
Today's large video systems can provide a deluge of data, but it takes intelligence to make sense of it all. Specifically, it takes intelligent, scalable, easy-to-use video control and an open-architecture, non- proprietary, video-centric PSIM (Physical Security Information Management) software platform to transform boundless video data into usable information.
Two sessions at ISC East presented by Gadi Piran, president of On-Net Surveillance Systems, Inc. (OnSSI), will provide an overview of the technological advantages of IP video surveillance and emphasize the value of an intelligent video control and delivery system to allow users to view, manage and record video from an unlimited number of surveillance cameras.
The presentation, "Why is everyone migrating to intelligent IP video surveillance?", will be presented on October 29th and 30th from 10:15 to 11:15 a.m. each day in Theatre 1 on the show floor at ISC East. The International Security Conference and Exposition (ISC East) will be held October 29th to 30th at the Jacob Javits Convention Center in New York.
IP technology innovator OnSSI will provide the answer at ISC East sessions
The OnSSI presentation will also cover why non-proprietary open architecture systems are important, video analytics and the value of intelligent video delivery, and the implications for scaling and managing large video surveillance systems. The session will emphasize the enhanced security and reduced costs enabled by intelligent IP video surveillance and speak to the migration path IP provides, the value IP systems deliver, and the opportunities IP offers to integrate new technologies in the future.
Ocularis from OnSSI is a platform for IP video surveillance that endows users with unprecedented control and scalability and features a unique user-intuitive interface.
Download PDF version