IP Dome cameras Comparison: MOBOTIX, Avigilon
(4)
| | | | | |
| --- | --- | --- | --- | --- |
| | MOBOTIX MX-D15Di-Sec-DNight-D20N20-FIX-6MP-F1.8 | Avigilon 8.0MP-HD-DOME-180 | Avigilon 2.0W-H3PTZ-DP20 | Avigilon 2.0-H3-D1 |
| Chip Inch Size | 1/2 | 1/4 | 1/2 | 1/3 |
| Colour Type | Colour / Monochrome | Colour / Monochrome | Colour / Monochrome | Colour / Monochrome |
| Resolution TVL | 6MP | 8 MP | 1920 x 1080 | 2 MP |
| Sensitivity lux | 0.001 ~ 0.1 | 0.6 | 0.04 | 0.02 |
| Indoor/Outdoor | Outdoor | -- | Indoor/Outdoor | Indoor |
| Voltage | PoE | 12 ~ 24 V DC, 24 V AC, PoE | 12 V DC / 24 V AC / PoE | 24 V AC |
| Focal length | 3.6mm | -- | 4.7 ~ 94 | 3 ~ 9 mm |
| Compression | MJPEG, MxPEG | JPEG2000 | H.264, Motion JPEG | H.264, MPEG-4, JPEG |
| Mount Type | -- | In-ceiling | Pendant | Surface |
| Back Light Compensation | -- | ✔ | -- | -- |
| White Balance | -- | ✔ | ✔ | ✔ |
| Electronic Shutter range | -- | 2 to 1/30000 sec | 1/6 ~ 1/8000 | 1/6 ~ 1/8000 s |
| Built-in IR LED | -- | ✔ | -- | ✔ |
| Dome Type | -- | -- | PTZ | PTZ |
| Pan Speed o/ sec | -- | -- | 0.05 ~ 450 | -- |
| Tilt Speed o/ sec | -- | -- | 0.05 ~ 360 | -- |
| Rotation Angleso | -- | -- | 360 pan, 186 tilt | -- |
| Presets | -- | -- | 100 | -- |
| Signal Mode | -- | -- | NTSC, PAL | NTSC/PAL |
| Digital (DSP) | -- | -- | -- | ✔ |
People also viewed these products
Featured security companies
Related Videos
Hikvision demonstrates DeepinMind behavioural analysis
Dahua Images and Graphics Business
Dahua launches PoE 2.0 switch Arden Fair deploys the Avigilon HD surveillance system and succeeds in retail security
Located in Sacramento, California, Arden Fair Mall serves a diverse market that spans a 25-mile radius and includes over 1.1 million residents. With its retail mix led by Nordstrom and a wide selection of more than 165 top apparel and specialty shops, Arden Fair Mall is merchandised to capture this dynamic market's large core of affluent and middle class shoppers. Managed by Macerich, a leading owner, operator, and developer of major retail properties across the United States, Arden Fair Mall has created a well-designed and maintained shopping and entertainment environment to meet its customers' changing needs. Committed to excellence in customer service, Arden Fair has taken the industry lead by developing an advanced, cutting-edge security programme that is anchored by the Avigilon HD Surveillance System to ensure an enjoyable retail experience. A leader in retail security A former Sacramento Police Department officer, Steve Reed joined Arden Fair Mall in 2000 as director of security and guest services and was tasked with revamping the mall's security programme. "The mall wasn't adequately monitored, with only 19 VHS-based cameras to monitor the entire 77-acre property", explained Reed, who brought security in-house and created a more effective security environment. "Macerich is now uniquely positioned as the only mall operator in the United States to have security operations in-house, demonstrating its commitment to the safety and security of its patrons." And amongst Macerich properties, Arden Fair takes the lead for its use of advanced security solutions. In early 2007, Arden Fair upgraded from a VHS-based surveillance system to an analogue DVR-based system for greater coverage. At the same time, the mall installed license plate readers on two staff vehicles to monitor activity in its parking lots. "We are the only private security group in the nation with wireless access to the Department of Justice database of 220,000 stolen license plates", explained Reed, who has successfully leveraged the system to track stolen vehicles. But even with the advanced license plate readers and analogue DVR-based system, image clarity and reliability was inadequate. "After an impressive demonstration by Avigilon, I was immediately sold on the system's image quality and advanced management features." Reed enlisted the support of Delta Wireless & Surveillance Solutions, a local provider of integrated wireless and surveillance solutions to upgrade to the Avigilon HD Surveillance System for even better coverage and results. The Avigilon advantage "Arden Fair is a diamond in the rough-sandwiched between a high crime area to the west and a more affluent area to the east, presenting significant security challenges", noted Reed. Logging more than one thousand man-hours each week, Arden Fair security guards protect the mall's 10 million annual shoppers on foot, Segways, bicycles, and by car. Under the watchful eye of Nick Novo, Assistant Security and Guest Services Manager, the Avigilon HD Surveillance System is key to the mall's success in reducing risk and preventing incidents. "While all our security personnel have access to the system, Nick has taken the lead in its design and is the real system expert, keeping us at the top of our game," added Reed. "With Avigilon, we have reduced auto theft by 60 percent and have a 90 percent prosecution rate..." Arden Fair manages the Avigilon HD Surveillance System using Avigilon Control Center Enterprise Network Video Management Software (NVMS) with HD Stream Management, which was built from the ground up to manage HD surveillance video. The mall installed Avigilon HD 2 MP cameras to monitor entrances, several Avigilon HD 16 MP cameras to monitor parking lots and all access points, an Avigilon 180° Panoramic HD Dome Camera to monitor the play area, and an Avigilon HD 5 MP camera to monitor the security and guest services area - the mall's hub. Avigilon analogue video encoders were installed to improve the performance of the mall's existing analogue cameras, though Reed has plans to transition the entire system over to Avigilon as budget allows. Three Avigilon Network Video Recorders store 40 days of continuous surveillance footage-a big improvement over the previous solution, which could only store one to three weeks of footage. A 90 percent prosecution rate According to Reed, Avigilon's top selling feature is its superior image quality. "Even when we zoom into the smallest detail from hundreds of feet out, the clarity is amazing-it's like watching HD TV", claimed Reed, who noted the importance of image clarity for successful prosecution. Arden Fair relies on the Avigilon HD Surveillance System to capture the detail that its analogue cameras miss. "If we capture an incident in our parking lot with one of our analogue cameras but can't discern the details, we can track the vehicle with one of our Avigilon HD 16 MP cameras using Avigilon Control Center software and retrieve clear, readable plates for indisputable evidence." In fact, before Arden Fair deployed the Avigilon HD Surveillance System, the mall experienced an extremely high rate of auto theft-incidents that were either missed entirely or if captured, were so grainy that the footage was inadmissible. "With Avigilon, we have reduced auto theft by 60 percent and have a 90 percent prosecution rate." Superior low-light performance Reed and his team have also been impressed with Avigilon's superior performance in low-light conditions-a critical requirement for the mall, which relies on its surveillance system 24x7. "With our analogue-based system, footage captured at night was virtually unusable because of its poor quality", commented Reed. "With Avigilon, images are totally clear and retrievable, providing much better coverage at all times of the day or night." Exceptional time syncing and mapping The Avigilon HD surveillance system's zooming capabilities delivers top quality, valuable evidence to the police As the primary user of the Avigilon HD Surveillance System, Novo has found its time syncing capabilities particularly useful because he can review up to 36 cameras at once to effectively locate a suspect, determine the direction of travel, and track actions in real-time. "With Avigilon's excellent time syncing abilities, I can instantly view an incident in real-time or recorded mode to gain a complete picture for faster resolution", Novo stated. Leveraging Avigilon's advanced mapping feature, Novo created a map overview of the mall's cameras to further improve his ability to quickly locate the information he needs. The power of 'observe and report' security For Reed, one of the great advantages of the Avigilon HD Surveillance System is that it delivers the irrefutable evidence needed to quickly and effectively resolve conflicts, using an 'observe and report' model. "By deploying a security programme based on the most advanced technologies, like the Avigilon HD Surveillance System, my staff is extremely successful without having to be hands on" explained Reed. "We get a lot of satisfaction in delivering top quality, valuable evidence to the police to help them in their investigations." Having helped recover 47 stolen vehicles leading to 40 prosecutions over the past couple of years, Arden Fair has become a role model for mall operators across the country. "We travel the country showcasing our security programme and have won several industry awards for our success". Fighting crime with indisputable evidence Using the advanced management features of Avigilon Control Center Enterprise NVMS, Reed and his team were able to successfully identify a purse-snatcher. "After combing through our footage and leveraging the system's zooming capabilities to capture facial and license plate details, we were able to locate the individual with the stolen purse, which he had hidden under a pizza box, as he entered his vehicle", said Reed. "We handed over the footage to local law enforcement and the suspect is now being prosecuted." "...the Avigilon HD surveillance system has clearly raised the bar as far as surveillance goes..." A true partnership A firm believer in partnerships for success, Reed has been very impressed with the level of support he has received from Avigilon. "Avigilon is the most supportive vendor we have dealt with", he said. With the help of Delta Wireless, installation and training have also been smooth and problem-free. "The learning curve is much faster than it was with our previous solution-the Avigilon HD Surveillance System is very user-friendly." Spreading the word "As part of our security initiative, we spend a lot of time marketing our advanced solutions and practices to increase awareness within the industry and deliver peace of mind to our shopping public", concluded Reed. "We are very excited to show off the Avigilon HD Surveillance System, which has clearly raised the bar as far as surveillance goes, and leaves a strong impression with everyone who sees it."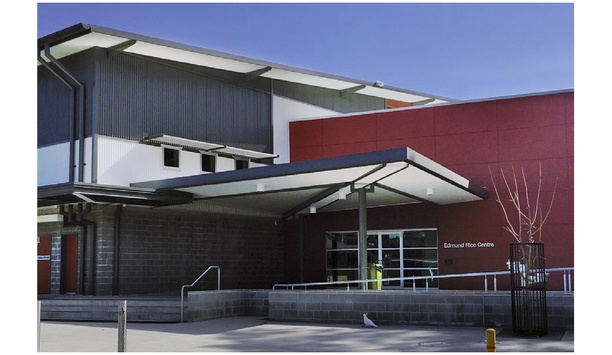 MOBOTIX video surveillance solution protects Edmund Rice College, Sydney
Edmund Rice, formally Christian Brothers College, was established in 1926 and is an independent Catholic high school for boys located in the heart of the picturesque Illawarra district, to the south-west of Sydney. The founder of the Christian Brothers, Edmund Rice, lends the school its present-day name. Installation of new surveillance system Since 2013 Edmund Rice College has invested millions to bring cutting-edge facilities to their students, including a first-class sports hall, state-of-the-art computing facilities, and new learning spaces both inside and out. The school's current 1980s analogue security system was only semi-operational and not up to the essential task of protecting these assets. Only authorised members of staff have access to review or download foot­age, with neither students nor teachers able to do so So, the headmaster called in Dean Scanlen from Forcefield Security to carry out repairs. Dean knew that continuing to repair the increasingly defunct technology was not a long-term solution: "I suggested, why not include the installation of a brand-new security system in the Sports Hall into the construction cost? I explained the savings that would be seen in the long term and how it was a perfect time to incorporate into the larger project." The decentralised design of the MOBOTIX cameras with intelligent low bandwidth requirements allowed integration into the school's existing network and MOBOTIX hemispheric technology meant fewer cameras cover larger areas. With licence-free regularly upgraded firmware, and cameras built to last and to stringent quality standards, MOBOTIX technology offered an economical long-term solution and was perfect for the school. Furthermore, as many areas to be covered were internal, the competitive pricing of the indoor range brought even greater savings upfront. "In order to convince them, I suggested that they try out one MOBOTIX camera. They used it for a month, and came back more than happy and ready to go ahead with the entire installation," Dean explains. MOBOTIX video surveillance solutions A combination of M15s and D15 easily protected the exterior of the building and only a single i25, MOBOTIX hemispheric indoor camera, was needed to cover the entire sports hall arena A modern alarm system was fitted in the Sports Hall and MOBOTIX cameras were installed around the outside and inside of the building. A combination of M15s and D15 easily protected the exterior of the building and only a single i25, MOBOTIX hemispheric indoor camera, was needed to cover the entire sports hall arena. Positive results were seen quite soon afterwards, with the access reliable footage acting to reduce incidences of bullying and fighting. Extremely happy with the installation, the school were eager for the newly refurbished library to be secured next. By this stage the VMS (video management software) had been upgraded to the newly released MxMC (MOBOTIX Management Centre), making installation even simpler. In spite of its size, the library only required 2 indoor hemispheric c25 cameras to monitor the whole area. Q25s and D15s were installed to keep a watchful guard on the entrance and exterior respectively. Thanks to MxMC's intelligent sorting of all parameters, which supports visual control and drag&drop, installation time was significantly cut. Pros of MOBOTIX decentralised technology MOBOTIX decentralised technology keeps bandwidth requirements extremely low, allowing a secure subnet to be installed on the school's existing network without causing any extra burden. Indeed, at busy times, such as during class when students are using computer equipment, the cameras delay sending footage, storing it in a buffer designed specifically for this purpose. "IT didn't even see an imprint of MOBOTIX on their network," Dean explains. Edmund Rice College can now look to the future with reassurance, knowing that they have a scalable, flexible security system built to last Live monitoring takes place in a local control room performed by security staff, and only authorised members of staff have access to review or download foot­age, with neither students nor teachers able to do so. Further measures were taken to protect the privacy of students in view of the new system, by disabling all microphones on the cameras during teaching hours. However, at night time, the microphones are switched on through a custom setting, so that the control room can speak to anyone on site using remoteGUARD. Protection against vandalism The cameras have already had their first major win protecting computer equip­ment from vandalism. "Someone had been swapping the letters over on the keyboards in the computer room," Dean explains. "Using MxMC, we reviewed the recordings and found perfect footage of the culprits in action. They were repri­manded and asked to pay for new keyboards. It had happened in the past and the school hadn't been able to catch them, until now." Edmund Rice College can now look to the future with reassurance, knowing that they have a scalable, flexible security system built to last. MOBOTIX decentral­ised technology made installation simple, with no new cabling nor additional infrastructure required. This, along with the great coverage provided by hemispheric technology and the lower price point of indoor cameras, meant a sophisticated security system was also affordable. And, because MOBOTIX firmware is licence-free and regularly updated, the school have the reassurance of knowing the system will remain cutting-edge for many years to come.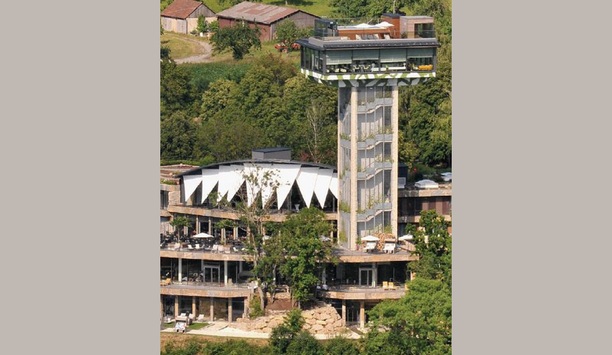 MOBOTIX cameras ensure relaxation in nature at the Mawell Resort, Langenburg
A total of ten MOBOTIX cameras have been installed at the Mawell Resort in Langenburg, Germany Arrive. See. Feel. Dive in. This is the concept of the 5-star wellness hotel Mawell Resort, which has been carved into the cliff in an exposed setting at the entrance to the German town of Langenburg. This wellness resort nestled in natural surroundings is sure to impress: The concealed entrance hides a 150-metre long underground path to the reception. Guests have plenty of chances to be thoroughly pampered in the massage and treatment rooms and the large wellness area. An outdoor forest pool suspended over the valley offers a breathtaking view. A highlight of the luxury resort is the approximately 30-metre high tower that provides a panoramic view of the Jagst valley, the Langenburg castle and over the Hohenlohe plains. The hotel also features a bar, pool and sauna. The 55 luxuriously-designed hotel rooms are split across five separate floors. The individual buildings are connected to one another via the underground path. A total of ten MOBOTIX cameras have been installed at the entrances, parking lots, the foyer and along the underground paths in order to guarantee the security required for the resort. Robust and weatherproof video systems "The security concept was already planned during the construction phase so that the necessary cables and connections could be laid directly," explains Oliver Köhler, the Technical Director responsible for camera implementation at Mawell Resort. Firstly, the areas in need of special surveillance were identified and the necessary requirements for the cameras were defined. For example, the video systems needed to be very robust and weatherproof in outdoor areas. The camera in the entrance area needed to be capable of night recording. A lot of value was also placed on the video system's high resolution. Further criteria included being able to store the recordings on an NAS (network attached storage) system. Another request was that the security solution be POE (Power over Ethernet)-compatible, meaning that it could be supplied with power via an Ethernet cable. The right cameras for each area After testing various systems, the choice was made for cameras from the German manufacturer MOBOTIX. "We chose MOBOTIX cameras because they fulfilled all of our requirements and are also incredibly flexible to install," explains Köhler. What's more, the cameras from the manufacturer, based in the Palatinate region of Germany, stand out thanks to their decentralised system. Recording takes place both internally on an SD card and externally on a USB stick or on NAS hard drives via the IP network, offering nearly unlimited storage capacity. The number of cameras per server can be up to ten times higher than the central VMS-based recording offered by competitors thanks to this decentralised recording via the network using the cameras themselves. Fewer cameras are required than would be needed with analogue or standard IP systems, due to dual images and hi-res No PC or additional software is required. Even if there are a large number of cameras recording, this decentralised solution can considerably cut down on storage requirements, as each camera can reduce the video to the frame rate and image size required for storage, independent of the live video. Hemispheric technology to eradicate blind spots The M24M Allround video systems and T24 Door Station are quick and easy to install, and guarantee the necessary security for different entrance areas. The T24 IP Video Door Station relieves the night porter's workload in particular as a solution for door communication and entrance control. The camera module stores all activities outside the entrance door, triggered by the doorbell, movements in the image area or electrical contacts. Hemispheric technology allows the camera to cover the entire entrance area from wall to wall and from floor to ceiling without any blind spots, and without ever needing to mechanically tilt or pan. The parking lot and the various service passages are secured with DualDome D14 cameras. With a 90 degree viewing angle and telephoto lens, the cameras make it possible to monitor the path and parking lot in wide range while simultaneously recording details with the telephoto lens. The digital sensor switching function of the D14 day/night camera is particularly suited to this task as it is also equipped with one colour and one black/white module. This ensures strong colour accuracy during the day and high sensitivity at night. Instant alert notifications Constant surveillance from a video control centre is not necessary as the camera also features motion detection, which can trigger recording and alert notifications via e-mail or VoIP telephone call with two-way communication. "Our workload is significantly lightened by the fact that MOBOTIX cameras are equipped with motion detectors and we are immediately alerted if any movement occurs. This means that employees are no longer required to constantly sit in front of a screen and view the recordings," explains Köhler. "If and when an alarm is triggered, we view the frames and react accordingly." Furthermore, like all MOBOTIX cameras, it is very robust, requires little maintenance and is highly weatherproof. It can be installed in areas with temperatures between -30 to +60 (-22°F to +140°F) degrees without any problems. Benefits for security personnel The DualDome D15 camera, installed in the reception area, also features this motion detection. The integrated MxActivitySensor is particularly beneficial to the security personnel at the Mawell Resort. This new video motion analysis is integrated into all cameras with 5-megapixel technology and significantly reduces the number of false alarms. For example, shadows or plants moving in the wind, which are in the camera's viewing screen, are no longer classified as relevant events, something that would not be possible in systems without this technology. Only relevant events, such as people entering the area, trigger an alarm. Two separate areas or rooms can be monitored simultaneously without any blind spots thanksto the hemispheric dual lens The camera's new 5-megapixel technology impresses with clear colour images even under low light conditions thanks to enhanced light sensitivity. This presents a major advantage due to the changing light conditions in the foyer. The image sensor technology ensures top-quality dual images of 2 × 5 megapixels, meaning that the reception area can be secured with a single camera. Because of dual images and high resolution, fewer cameras are required to record the necessary image sections than would be needed with analogue or standard IP systems. This reduces the number of cameras required for the Mawell Resort, thereby saving on costs. Discreet Security guaranteed an S15 FlexMount was installed in the entrance area for deliveries. The compact video system can be installed universally and is suitable for concealed mounting. The weatherproof IP camera has two miniature sensor modules, which are each connected to the camera housing with a two-meter cable. For example, two separate areas or rooms can be monitored simultaneously without any blind spots thanks to the hemispheric dual lens. "We are really impressed by the video systems currently installed in the entrance areas. They provide us and our guests with the necessary security," says Wolfgang Maier, Director of the Mawell Resort. "This puts our guests completely at ease and guarantees a relaxing time at the idyllic wellness hotel." The Mawell Resort plans to soon install a further three S15 cameras. These should ensure even more security for the other entrance areas.