IP Dome cameras Comparison: Dedicated Micros, Messoa
(4)
| | | | | |
| --- | --- | --- | --- | --- |
| | Dedicated Micros DM/CSD/18C | Messoa SPD970 | Messoa NDR891PRO | Messoa NDF831 |
| Colour Type | Colour | Colour / Monochrome | True Day / Night | Colour |
| Resolution TVL | 470 | 3 MP | 1920 x 1080 | 1280x 960 |
| Sensitivity lux | 1 | 0.05 | 0.06 | 0.5 |
| Digital (DSP) | ✔ | ✔ | ✔ | ✔ |
| Indoor/Outdoor | Indoor | Outdoor | Outdoor | Indoor/Outdoor |
| Voltage | 230 V AC | 24 V AC | 12V DC | 12V DC / 24 V AC, PoE |
| Focal length | 4.1 ~ 73.8 | 4.7 ~ 84.6 mm | 3 ~ 9 mm | 3 ~ 9 |
| Rotation Angleso | 2.8 x 48 | 360 | -- | 31.8 ~ 90 (H) x 23.9 ~ 66.2 |
| Presets | 99 | 128 | -- | -- |
| Signal Mode | PAL / NTSC | NTSC, PAL | -- | PAL/NTSC |
| Chip Inch Size | -- | 1/3 | 1/3 | 1/3 |
| Dome Type | -- | PTZ | PTZ | -- |
| Pan Speed o/ sec | -- | 0.1 ~ 120 | -- | 350 |
| Tilt Speed o/ sec | -- | 0.1 ~ 90 | -- | 150 |
| Mount Type | -- | Pendent, Wall , Corner, Pole | surface | -- |
| Compression | -- | H.264,MJPEG | H.264, MPEG-4, MJPEG | M-JPEG, JPEG, MPEG-4 |
| Back Light Compensation | -- | ✔ | ✔ | ✔ |
| Auto Gain Control | -- | ✔ | ✔ | ✔ |
| White Balance | -- | ✔ | ✔ | ✔ |
| Electronic Shutter range | -- | 1/10000 ~ 1/7.5 s | 1/10000s ~ 1/3.75s | 1/30; Support long shutter 1/7.5~4 |
| Built-in IR LED | -- | -- | ✔ | ✔ |
| Synchronisation | -- | -- | -- | Internal |
People also viewed these products
Featured security companies
Related Videos
'5 Minutes With' Video Interview with Joe Young from G4S
'5 Minutes With' Video Interview with Thomas Cook from Hanwha Techwin America
Vaion vcore video management system with embedded video analytics Alnet Systems demonstrates mobile applications with MESSOA network camera
Alnet Systems (Alnet), a MESSOA solution partner, is a leading digital recording system developer with its headquarters based in Poland since 1989. In light of the prevalence of smartphones, the company has developed a CMS Mobile application, designed for mobile phones that run on iOS, Windows or Android platforms. Integrated with IP network technology, the application allows real-time remote access to mobile surveillance from IP cameras via their server sites. To demonstrate its advanced mobile solution, Alnet included live demonstration within the free application to provide customers a hands-on of how good the control and the performance are on their mobile devices. One of the live video feeds comes from the two cameras set up on the roof of Alnet's overseas headquarters in Boca Raton, Florida overlooking Federal Highway. Mobile users could then simply log on the applications and check out these live images at their fingertips. MESSOA transcends in image performance For the cameras installed at the live demo site, Alnet chose MESSOA NDF831 network dome camera to provide superior video quality that helps bring out the performance of the CMS mobile application. Alnet also installed another camera from a competing brand adjacent to NDF831 to get live view from an alternative angle. By putting the two video side by side, Alnet was impressed with the NDF831 as it by far outperforms its counterpart in terms of camera sensitivity, image sharpness and low light vision. The NDF831 is a cutting-edge 1080p camera equipped with mechanical (ICR) day/night switch for 24/7 surveillance. Powered by MESSOA's proprietary Lumii™ image processing technology, the NDF831 performed exceptionally well in low-light settings with the enhanced light sensitivity and image noise reduction. Completely vandal-proof and IP67 water-proof, along with an optional heater, the NDF831 is able to withstand the harsh weather conditions down south in Florida. Mobile users could then simply long on the applications and check out live images at their fingertips MESSOA trusted by Alnet to secure headquarters in US Having been working closely with numerous camera providers, Alnet has seen a wide range of cameras from different brands and their performances in practice. Among all, they believe the MESSOA cameras really stand out in terms of image quality from a mass of competitors after years of comparison. That is also why Alnet itself has chosen MESSOA network cameras, namely NDR891, NCR875, and NDR890, for securing its own overseas headquarters in Florida. MESSOA helps maintain security at Presidential Pavilion in Kinshasa Congo (DCR)
Situated by the Congo airport, sits President Pavilion. This hotel has VIPs from all over the world stay with them. The MESSOA Speed Dome and 2MP IP cameras have been chosen to protect the Presidential Pavilion. Tight security at all points Guest security was of the utmost importance. A guard station checked every vehicle that entered through the gate. With such a high emphasis on security, only the cutting edge in surveillance security would do. That's the reason Democratic Republic of Congo government chose to use MESSOA IP security cameras. High quality indoor and outdoor IP cameras were both required. The MESSOA NCR870 IP camera and SDS750PRO speed dome were chosen to secure the outside perimeter The MESSOA NCR870 cameras were installed outside. The NCR870 was chosen because the camera is a ready to go out the box infrared (IR) camera that is able to see even in total darkness. 24 high quality IR illuminators built around the lens reveal crystal clear pictures even in the darkest night as far as 25 meters (82 ft). With IP67-rated all-weatherproof, aluminum casing, the NCR870 ensures reliable operation in any environment. This camera proved ideal for the hot Congo weather. The MESSOA SDS750PRO cameras were installed outside The SDS750PRO is a speed dome security camera with low lux capabilities. A Sony EXview CCD, 128X Wide Dynamic Range and Day/Night function with ICR ensures 24 hour monitoring in even the most difficult conditions. An LED Illuminator was added for long distance illumination of up to 160 meters (525 ft.). The MESSOA total IP solution with NDF820 and NDF831 were installed inside The MESSOA IP D/N Vandal IP Dome cameras -NDF820 were placed throughout the inside of the building. The NDF820 IP camera is a cost-effective full HD camera designed to show extremely detailed images. It features Lumii™ technology that significantly increases light sensitivity to deliver crisp image in the dark. Motion detection and day and night functionality ensures that all visitors can be recorded at any time. The MESSOA NDF831 IP Dome cameras with WDR and ePTZ was also installed at the entrance. The premium NDF831 is a cutting edge 1080p camera equipped with mechanical (ICR) day/night switch for 24/7 surveillance. As part of MESSOA MegaSmart™ IP products family, the NDF831 features intelligent detection capabilities including motion, audio, blur and network disconnection detection. Completely vandal-proof and IP67 water-proof, along with an optional heater, the NDF831 can withstand even the harshest of conditions. Security and government officials have been pleased Speaking from the main control room, a security official who did not wish to be identified said that these new cameras were unlike any he had seen before. Pictures were sharp and the features were helpful. Smiling, he said this would make his job just a little bit easier.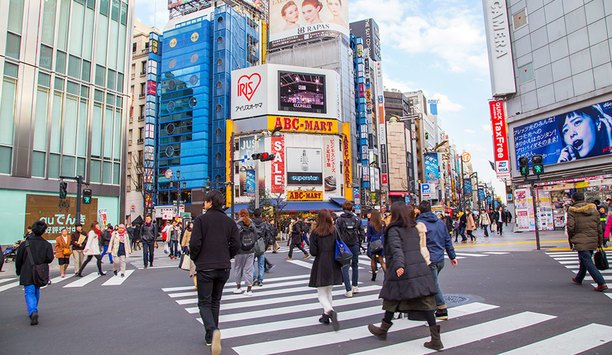 MESSOA Maven IP cameras secure Tokyo shopping district
The shopping District, or Shoutengai, in Koto-Ku, Tokyo is located next to a busy train station that gathers many restaurants, shops, and sake bars together in this newly vibrant neighbourhood. As the area becoming more commercially alive, there was an increasing concern for crimes taken place within the district, especially during late nights. For the purpose of crime prevention, the Shopping District Association began to consider deploying surveillance cameras at the crime hot spots as a way to strengthen the public safety in the neighbourhood. Yet with its limited finances, the association had to look for an effective solution at a lower cost that would cope with its tight budget. Solution With the help from MESSOA, more than 60 Maven series NCR365 IR bullet cameras and a dozen of NOD385 IR dome cameras were introduced in this project. Equipped with a 3MP CMOS sensor and removable IR-cut filter for 24/7 monitoring, these cameras deliver exceptional image quality for accurate identification at crime-prone spots. Both cameras support onboard memory with microSD card slot that utilises edge recording technology. Up to 64GB of HD quality CCTV footage can be recorded locally on each camera without the need of installing NVRs, saving a significant amount of installation costs. Structure-wise, both the NCR365 and NOD385 are IP67 certified, featuring built-in heater and weatherproof enclosure to ensure the cameras are capable of withstanding any harsh environments in Japan, particularly in winter times. Result By utilising the edge-based recording technology, the whole project eliminated the need for a centralised recording server or storage, helping the association saving a great deal of costs as planned. This solution did not compromise reliability thanks to SD card's solid state without any moving parts like a hard drive. The files can be securely stored and easily retrieved when needed. The motorised lens with auto focus of the NCR35 provided benefits to the project as well by drastically facilitating the time-consuming installation. Technicians were able to get the job done fast with easy by taking advantage of remote configuration with simple mouse clicks. The simplified set up cut the installation process short and saved lots of labour costs as result.
Featured white papers
Building a safe ecosystem for visitors post COVID-19
Download
Smart security cameras: excellence in retail
Download
5 reasons to integrate mobile technology into your security solution
Download