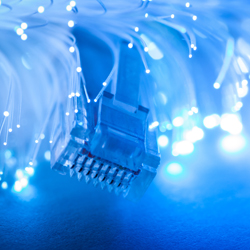 PoE has redefined how security professionals design and deploy systems
The migration from analogue infrastructure to networked systems continues to gain traction at a rapid pace given all the inherent benefits networked technology provides for video surveillance and security applications. However, there are costs involved and they can be significant, especially if the move to networked infrastructure requires the removal of existing wiring and the installation of new Ethernet cabling. One of the greatest challenges involves the distribution of power to various edge devices. In this article, Ronnie Pennington, National Accounts Manager of Altronix Corporation, explains how PoE technology is capable of addressing such challenges and has helped to increase the trend towards networked system.

It's no surprise that more and more system designers and installers are realising the advantages of Power over Ethernet (PoE). First used for voice-over-IP telephones, PoE technology has gained popularity as a means of introducing power safely to other network devices via the same CAT5 or higher cable that transmits Ethernet data. In security and surveillance systems, power up to 15.4 watts can be supplied to network cameras and other devices using the original IEEE 802.3af PoE standard. The newer IEEE 802.3at standard, also known as PoE+, supplies up to 25.5 watts to accessories like power heaters and blowers and infrared illuminators, among other devices.
By employing IP-over-coax Ethernet adapters, it is possible to upgrade legacy systems from analogue to IP without having to rewire a facility.
In just a few years, PoE has already redefined how security professionals design and deploy systems. Rather than using standard-type power supplies, integrators are increasingly employing PoE network switches or incorporating PoE midspan devices, which inject power into an Ethernet cable after it leaves the switch and before it reaches the network device. This is an ideal solution given that Ethernet cabling is already in place, or planned for a new installation, but the edge devices sitting on the network also need to have the ability to accommodate PoE, and many IP cameras, access control and related devices installed and on the market today have PoE functionality built into them. Then there is the issue of legacy coax infrastructure which was not initially intended to accommodate IP devices, let alone PoE.

Ethernet adapters open the network gateway
Here's where the development of new PoE Ethernet Adapters solve the issue of deploying IP devices using coax cabling, and now make virtually any edge device PoE capable. The fact is there are literally millions of existing analogue systems installed today that use RG59 and 18/2 cabling infrastructure for video and power. By employing IP-over-coax Ethernet adapters, it is possible to upgrade legacy systems from analogue to IP without having to rewire a facility.
Let's take a closer look at how using Ethernet over Coax/PoE Adapters can save installation costs. The accompanying chart shows an approximated cost comparison based on list pricing and average installation charges typical of a large integrator. This example also excludes costs for recording equipment, switches, cameras, camera mounts, etc.
Cost of IP Installation vs.

Ethernet over Coax/PoE

*

IP/Network
Ethernet over Coax/PoE
Savings
Number of technicians
2
1
Technician hourly rate
$100
$100
Setup time
90 min
20 min
70 min
Setup time rate
$300
$35
$265
Cable run to camera:
Average time per technician**
1 hr.
n/a
1 hr.
Average rate
$200
n/a
$200
Hardware installation
including camera (time)
30 min
30 min
–
Hardware installation
including camera (rate)
$100
$50
$50
Additional hardware costs (including
expendable tools, wire, fire stop,
wire trays, etc.)
$300
$391***
($91)
Total 1st

camera cost

$900
$476
$424
8-camera installation
(Setup time first camera only)
$5,100
$3,563
$1537
16-camera installation
(Setup time first camera only)
$9,900
$7,091
$2,809
*Costs do not include time to lay out the project with new wiring.
**Cable run time estimation does NOT assume any time for mounting wire trays, straps, removing old wire (a requirement in many jurisdictions), etc.
***MSRP for Altronix eBridge1PCRT receiver and transceiver kit
It is clear to see the savings using IP-over-coax Ethernet Adapters and existing coax infrastructure. They enable transmission of IP video, data and power over existing coax with high cost efficiency and signal integrity, and they minimise installation costs. This latest product innovation will undoubtedly continue to fuel the installation of networked systems by providing users with the perfect combination of cost-efficiency and performance they need to improve their video surveillance and security operations.
Download PDF version