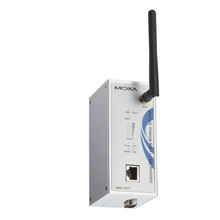 The Moxa AWK-1127-PoE provides key wireless benefits and is suitable for tightly spaced applications
Moxa, a provider of hardened networking and communication solutions for factory automation, took home an Honorable Mention for its AWK-1127-PoE Wi-Fi Client in the 2013 Engineers' Choice Awards sponsored by Control Engineering magazine.
Now in its 26th year, the Control Engineering Engineers' Choice Awards shines a light on 29 categories of control, instrumentation, and automation products, revealing the best of those introduced in 2012 as chosen by its readers based on technological advancement, service to the industry, and market impact.
"We are very pleased that our AWK-1127-PoE has received recognition from the knowledgeable readers of Control Engineering," said Ariana Drivdahl, Product Marketing Manager for Moxa Americas, Inc. "This vote of confidence underscores Moxa's growing leadership in the North America factory automation market, as well as in 60 countries around the globe."
As described in Control Engineering, the AWK-1127-PoE "offers superior convenience, value, and performance," and is an "industry-leading device due to its unique combination of cost-effective, industrial form factor, compact size, special software features, and support for serial (RS-232/422/485) and Ethernet to Wi-Fi."
Designed to stand up to harsh industrial environments, the AWK-1127-PoE provides key wireless benefits like mobility, flexibility, wider coverage, and high cost-effectiveness, and is specifically designed for hard-to-wire, tightly spaced applications. Moxa's Turbo Roaming is supported on the AWK-1127-PoE, making wireless roaming so speedy that connectivity gaps are effectively eliminated for latency-sensitive applications like automatic guided vehicles (AGV) in factory automation systems.
Download PDF version