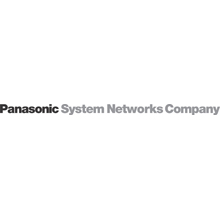 Panasonic will demonstrate PTZ cameras with privacy protecting "eyelids" that open only when alerted
Panasonic System Networks Company of America is focusing on integrated solutions at ASIS International 2011, highlighting a range of innovative systems providing affordability and lower total cost of ownership (TCO). Panasonic is introducing several new products and solutions at the Panasonic booth (#3909) including the new i-PRO WV-ASM200 Video Management System (VMS) designed for large scale deployments, and a wide assortment of new cameras.
Vertical market solutions on display incorporate various technologies from partners enrolled in Panasonic's Solution Developer Network (PSDN). Additionally, Panasonic is also highlighting its corporate green initiative to emphasise the growing importance of environmental conservation in manufacturing and energy consumption, as well as the role of security and video surveillance systems to help realise these objectives.
"The excellent performance and versatility of Panasonic video surveillance solutions provides the core imaging platform for a wide range of specialised systems tailored to meet the needs of vertical markets," said Bill Taylor, President, Panasonic System Networks Company of America. "As we continue to develop new and innovative video surveillance products with open architecture, we are working more closely than ever with companies that specialise in applications for specific markets."
For the education vertical, the Panasonic booth will demonstrate Panasonic PTZ cameras with privacy protecting "eyelids" that open only when alerted, guaranteeing student and teacher privacy except in the event of an emergency. When a teacher discreetly activates the system using a panic button on the Panasonic pendant microphone (also used for classroom audio), the camera's eyelids open to allow emergency responders and authorities to see into the classroom.
For the retail vertical Panasonic will exhibit the WJ-NV200 NVR with the addition of the WJ-NVF20 software package geared toward facial detection, age, and gender estimation for the retail environment, which can also serve as an important management solution.
To showcase the functionality of Panasonic products, retail partner service software being demonstrated include a quick service software that is integrated with Panasonic surveillance cameras and POS workstations to provide video-on-demand of any transaction. Also being showcased is a POS video auditing solution that enables retailers to quickly identify losses caused by operational errors, promotion execution, systemic errors and associate fraud.
For the stadium vertical, the new i-PRO SmartHD weather-resistant cameras include high-end, pan-tilt-zoom (PTZ) dome cameras offering 720p HD resolution, Mega Super Dynamic image processing, 36x optical zoom, smooth PTZ control and advanced auto-track functionality useful in additional applications such as casinos and airports. A new 360-degree panomorph lens is integrated with Panasonic cameras to virtually eliminate blind spots on live or recorded surveillance video, increasing surveillance coverage and heightening security personnel's situational awareness.
Panasonic's green initiative begins with the corporate "eco ideas" commitment to produce energy-efficient products, reduce CO2 emissions in manufacturing and encourage the global growth of environmental activities. Panasonic has achieved ISO 14001 certification for environmental management of its manufacturing sites by reducing emissions, employing materials recycling procedures and developing manufacturing practices that produce low material waste. Panasonic is also certified RoHS-compliant, representing a significant reduction in the use of lead and other hazardous materials in manufacturing. Panasonic cameras and other system components are designed to consume less power, reduce materials usage, and enable simplified system design.
New video surveillance products on display from Panasonic include the new i-PRO WV-ASM200 Video Management Software, which can unify hundreds of network and analog cameras, network and analogue recorders, and encoders into a centralised control platform. Even multi-recorder, multi-site systems are easy to manage using the WV-ASM200's intuitive operation, camera, alarm and recorder icons, and map display.
New Panasonic analogue cameras include all-in-one PTZ domes featuring 36x zoom and Super Dynamic 6 technology, and a line of cost effective boxed and fixed dome analogue cameras. Panasonic will also display a new line of compact POE network cameras with recording on SD Memory Cards that are ideal for discreet operation on buses as well as trains, subways, elevators and at ATMs.
"Our new network and analogue cameras and expanded VMS solution on display here at ASIS deliver the performance and functionality that the industry has come to expect from each new generation of Panasonic products," continued Mr. Taylor. "In addition to protecting customers' assets, property and people, they are engineered and manufactured to help protect our global environment."
Download PDF version