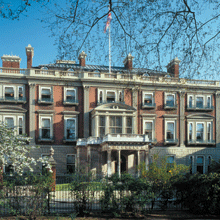 Aperio locking system from Assa Abloy has been installed and interfaced to the system at Wallace collection in London
ASSA ABLOY Access Control's innovative Aperio locking solution has been installed and interfaced to the current Access System by Secure Access Technology Limited at the Wallace Collection in central London to secure its Conservation Department. The Wallace Collection is a national museum in a Grade II Listed historic town house in the capital with over 25 rooms and galleries. The Conservation Department carries out specialist repair and conservation on works of art.

As part of an overall upgrade to the security of this dedicated area, ASSA ABLOY's Aperio smart technology was recommended to enable wireless links to the existing access control system, without any need to modify the doors. John Power, Head of Security at the Wallace Collection said: "The Wallace Collection is home to one of Europe's finest collections of works of art, paintings, furniture, arms, armour and porcelain. Therefore we take its security very seriously, especially when pieces are being conserved."

"Secure Access together with ASSA ABLOY Access Control demonstrated the advantages of Aperio and we were particularly impressed with its seamless integration into our existing security systems, negating the need for any additional software or duplication of card holder information or access rights."

Specifically, the Aperio wireless locking solution allows free egress via the lock handle when required and the use of existing card credentials on additional online doors. This provides real-time audits and instant updates of access restrictions through the existing access control system. Tony Richards of Secure Access added: "Aperio was really quick and easy to install, instantly upgrading the security of the Department. It integrated into the existing system, allowing a full audit trail of card activity on both the new and existing secure areas. And because it is from ASSA ABLOY, the locking quality is second to none, ensuring longevity and excellent protection of the Wallace Collection's Conservation Department."

David Hodgkiss, Sales Manager of ASSA ABLOY Access Control, concluded: "The Wallace Collection contains unsurpassed collections of art and really needed a state of the art smart technology to secure the Conservation Department."

"Aperio is the perfect technology to enable this and also solve key management issues. Plus, by utilising the existing access control system in place, the installation costs are minimised. Aperio's smart design also does not mean a compromise on aesthetics or style." A wireless evolution for online door control, Aperio is a convenient and cost-effective enabling technology, providing end users with an intelligent way to raise the security level of their premises.
Download PDF version