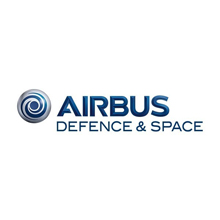 Secure Land Communications (SLC), is a subsidiary of Airbus Defence and Space
Airbus Defence and Space, a leading solutions provider of secure communications for mission-critical users in the civil and defence markets, will be displaying its latest products and features at the Critical Communications World (CCW) exhibition in Amsterdam from May 31st to June 2nd, 2016.
The company invites journalists to a press briefing breakfast at booth D 42, hall 8, in the RAI Exhibition and Convention Centre Amsterdam, on June 1st, 2016 at 9 a.m.
Tactilion Suite broadband products
Secure Land Communications (SLC), a subsidiary of Airbus Defence and Space, will be presenting its broadband services and products consolidated under the family brand name Tactilon Suite:
The new Tactilon Dabat radio is both a Tetra radio and a smartphone. It integrates a complete Tetra handheld and a rugged smartphone in one device. The new radio will be shown at the CCW for the first time.


The Tactilon Cell, a new stand-alone tactical cell, offering transportable LTE services to those who need to set-up a small LTE network within a few minutes.


The application Tactilon Agnet, previously known as Tactilon TSA, now has LTE Quality of Service management and multimedia capabilities, such as photos and videos, compliant with 3GPP standards.


Tactilon Secure Mobile Virtual Network Operator (MVNO) solutions, which enables end-users to access broadband commercial networks in a secure and controlled environment.
Mobile communications system
In addition, a new compact and mobile Tetra communications system is ready for the market. Airbus Defence and Space will introduce the Claricor Cell, a stand-alone small communications network based on Tetra technology which can be quickly set up for vehicle convoys and firefighting or rescue operations in remote regions.
New desktop solution
Airbus Defence and Space is also introducing a new desktop solution for its latest Tetrapol terminal, the TPH900 desktop adapter. Police commanders and firefighters using mission-critical Tetrapol networks can communicate via adapter more flexibly.
In addition to these new developments, CCW visitors can also experience established products, such as the TH1n, the P8GR pager or the TPH900, at the Airbus Defence and Space booth.
Download PDF version