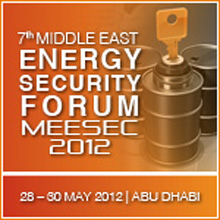 Security professionals discuss on global energy issues at the 7th MEESEC in Abu Dhabi
Over the past year, the recent turn of events in the Middle East has radically altered the thought process of security professionals. Turmoil in Egypt, Libya, Yemen, Bahrain and to a certain extent Kuwait and Oman has forced businesses to rethink their strategies, exercise security, business continuity and emergency response frameworks within a relatively short span of time.
Following the overwhelming success of its 6th edition, the 7th Middle East Energy Security Forum is back again this year to be held on 28 - 30 May in Abu Dhabi - UAE. Seventh in a series of successful annual forums, the event will provide an unparalleled platform for global security professionals in energy sector, highlighting latest strategies and technologies which can be implemented to effectively mitigate threats.
Companies participated in 2011 were Saudi Aramco • Sabic • China National Logging Corporation • Petro Energy • Advanced Petroleum • QAFAC• Occidental Oman • Kuwait Petroleum Corporation • BAPCO • ADNOC • Petronas • Shuaibah Water and Electricity company • Hunt Oil • Maersk Oil • OMV and Sudapet. More than 100 security professionals in energy sector attended the three day forum and took home beneficial learning.
MEESEC 2012 aims to evaluate new security technologies, discuss strategies, solutions, products and services that could help safeguard energy infrastructure. The event will convene leading key speakers from renowned organisations like BP Turkey, Baker Hughes, PetroPars, Addax Petroleum, RasGas, Department of Energy, GAIL and American University of Sharjah to name a few.
The three day conference promises to be even bigger this year with finely crafted sessions in support of distinguished panel of advisors who are expert leaders in regional and international security sector. The delegates can look forward to interactive panel discussions, insightful case studies, pre-conference workshops together focusing on critical security issues like: effective Security operations through integrated business processes, examine emerging industry standards and best practices to maximise the performance of your security programme, security threats to critical energy infrastructure and mitigations and many more.
The 7th edition of MEESEC will be an educational platform that ensures the energy sector is well equipped for the future with new strategies, latest technology know-how, business intelligence and making right contacts.
Download PDF version