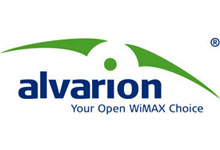 Beamforming is a method of directing the radio beam to optimise the signal reception by the subscriber device
Alvarion Ltd.
, the world's leading provider of 4G networks in the Broadband Wireless Access (BWA) market, and Open Range Communications Inc, announced the commercial deployment of Beamforming technology in Open Range's network as one of the first 4 Transmit (4TX) Beamforming network in the world. Open Range is a broadband wireless provider using WiMAX technology to deliver wireless broadband to un-served and underserved rural American communities. Alvarion's implementation of Beamforming in the Open Range network showcases enhanced wireless broadband experience through extended capacity and higher data speeds in a single frequency network or in an interference environment. The new feature is enabled through Alvarion's 4Motion solution through a simple software upgrade and is planned to be implemented in most of Open Range's sites.
Beamforming is a method of directing the radio beam to optimise the signal reception by the subscriber device based on the location of device, thus increasing device throughput and sector capacity for enhanced user experience. Beamforming improves the business case of operators by enabling a larger capacity per given area that can result in reduction of base stations. Alvarion enhanced Beamforming implementation is based on dynamic and advanced directivity methods for accurate device location with best performance.
"Open Range is focused on continuously improving the performance of the network for a better user experience,"
said Keith Paglusch, EVP Network Development and Operations, for Open Range Communications.
"We are excited to have Beamforming deployed in our network and look forward to experiencing the capacity gains that are associated with this new product as we provide quality service to our customers."

"With this implementation of Beamforming by Open Range, Alvarion continues to show its technology leadership,"
said Eran Gorev, President and CEO of Alvarion.
"High network capacity, enhanced coverage and better quality of service are important attributes for successful rollout of broadband services. With the flexibility to integrate MIMO and Beamforming technologies, Alvarion enables service providers around the world to be leaders in their markets."
Download PDF version