Compare IFS08D2OCWIT with ADCi610-D011
(2)
| | | |
| --- | --- | --- |
| | Illustra IFS08D2OCWIT | Illustra ADCi610-D011 |
| Chip Inch Size | 1/2 | 1/2 |
| Colour Type | True Day / Night | True Day / Night |
| Resolution TVL | 8MP | 2 MP |
| Sensitivity lux | 0.0003 ~ 0.03 | 0.1 |
| Digital (DSP) | ✔ | ✔ |
| Indoor/Outdoor | Outdoor | Indoor |
| Voltage | 24 V AC, PoE | 12 V DC |
| Focal length | 3.4 ~ 9mm | 3 ~ 9 mm |
| Compression | H.264, H.264+, H.265, MJPEG | H.264 / MJPEG |
| Back Light Compensation | ✔ | -- |
| Auto Gain Control | ✔ | -- |
| White Balance | ✔ | -- |
| Electronic Shutter range | 1/4 ~ 1/10,000 sec | -- |
| Signal Mode | PAL | -- |
| Built-in IR LED | ✔ | ✔ |
People also viewed these products
Featured security companies
Related Videos
Milestone gives a demo of 360 dewarping
Milestone demonstrates the use of smart map feature in XProtect Smart Client
Milestone demonstrates how to navigate PTZ camera within the XProtect Smart Client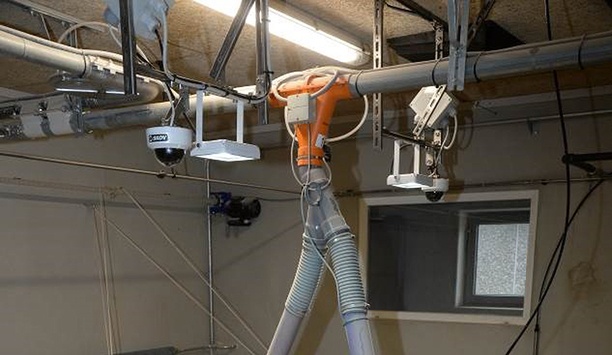 Hikvision partners with SKOV to create smart farm management solutions
Hikvision cameras and a specially designed SKOV VMS allows handlers to monitor the pigs Hikvision worked with farm management solutions provider SKOV to bring the art of weighing pigs into the 21st Century, with the help of mini-dome cameras and a bespoke VMS system. The pig is one of the most populous large mammals in the world, with an estimated 986.6 million pigs at any one time. This also means, of course, that piggeries are big business, as pork is the most commonly meat consumed worldwide. Part of managing a piggery is to ensure that each pig is able to grow to its full potential. The average weight of a pig at market is 275 lbs, but keeping an eye on the weight of individual animals can be tricky. If a pig is smaller than it pen-mates, it is likely to be pushed away when it comes to feeding time. This means it will not grow to its full size. In this situation, pig farmers may move the smaller pigs into a separate pen, so they can get to the food and 'catch up' with their larger brothers and sisters. Methods and challenges But how do you weigh a pig? Traditional methods involved a tape measure and many hands and were, of course, very time consuming to complete. And that was without the math part at the end! Later methods saw farmers installing weighing apparatus, which was costly, and also time consuming with handlers needing to 'persuade' individual pigs onto the scales. Another issue with this system was that accuracy could be affected, as it was hard to tell if the scales had just one pig on them. "The pig handlers need to drag the pigs physically to the scales, which is not only very hard, time-consuming work, but also stresses the pig out", said Kasper Ronn Christensen, Strategic Purchaser at SKOV. "Stressed pigs don't eat, which also affects their growth rate." Hikvision cameras and SKOV VMS solution Enter a whole new innovative solution, using Hikvision cameras and a specially designed SKOV VMS. After testing various cameras, SKOV approached Hikvision because of the competitive price and clear, reliable pictures even at only 2MP resolution. That, combined with the ability to build a firmware specifically for their needs, persuaded SKOV to work with Hikvision. Between four and eight 2-line mini-dome cameras (DS-2CD2142FWD-I (4mm)) are placed in the pigpens, to allow handlers to see what's going on and to monitor the growth progress of the pigs. These specific cameras were chosen because of the low amount of spare space in a pigpen and the importance of an affordable solution. Weight calculation and monitoring "We were looking for a solution that could be used by piggeries all over the world", says Kasper Ronn Christensen. "That meant we needed to make it simple, practical and affordable. The fact that, even at a relatively low resolution of 2MP, clear actionable pictures were consistently available made these cameras a smart choice." Connection to the SKOV VMS means that the pigs' weights can be calculated and so monitored. The VMS also gives alarms if a pig doesn't follow the required growth rate, so steps can be taken. The success of the project in Denmark means it can be replicated all over the world to help piggeries to manage their pigs and make sure they maximise their potential. SKOV is offering the solution to all regions with piggeries, including in Thailand, where they have a subsidiary. Digitalised smart farming systems "The cameras are integrated and working as expected, so we can look to the future", says Kasper Ronn Christensen. "We are really impressed with the way Hikvision adapted their firmware to our needs. I also love the innovative approach - who would have thought that a technology that was designed to help spot intruders could be used to ensure pigs grew to the correct weight!" Peter Guan, Channel and Marketing Director at Hikvision Europe, said: "We are heading to a future where traditional farming is digitalised into smart farming, where surveillance cameras are not only used for crime prevention at the farms, but also as useful tools for farmers. Hikvision's ecosystem partner program allows easy software and hardware integration so that end users can benefit from an innovative and more powerful complete solution."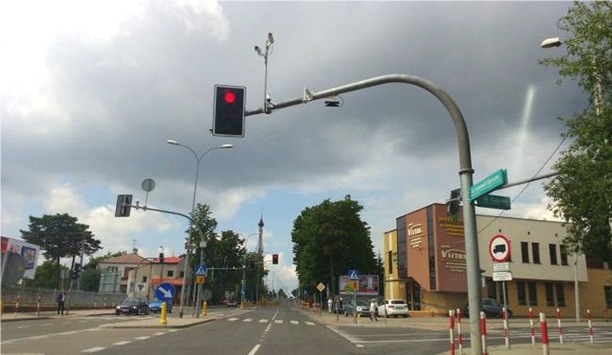 VIVOTEK fisheye network cameras help Bialystok update municipal traffic monitoring system
Bialystok, a beautiful historic city of 300,000 in the northeast of Poland, is one of the nation's major population centres. Devastated in World War II and languishing for a long period afterward, the city has seen a renaissance in recent years, with restoration of its beautiful architecture and modernisation of infrastructure as the Polish economy has boomed. One particular change that has come upon this serene city with unexpected rapidity is the increase in car ownership, which has more than tripled in Poland since 2005. Over the last decade, the growing need for an up-to-date, comprehensive traffic monitoring system has become increasingly apparent. Surveillance enhancement for traffic surges The growing need for an up-to-date, comprehensive traffic monitoring system has become increasingly apparent Cameras were the most costly item within the traditional traffic surveillance system originally deployed in Bialystok. To capture as many angles as possible, large numbers of cameras were required, often several at each intersection. As well as being an eyesore, this also meant that the cost of linking and synchronising the array of cameras to the central surveillance system was exorbitant. To avoid impacting traffic, which is heavy during the daylight hours, installation and construction work was usually carried out at night. The restricted hours for installation caused long delays in camera setups. Worse, the system itself no longer met the needs of the rapidly developing city. Despite the large numbers of cameras, the field of view of individual cameras was too narrow and when accidents happened it was difficult to try to piece together footage from several cameras in an attempt to reconstruct the incident. Often, there was no way to determine from the footage just who was at fault. A better solution was needed. Seamless collaboration to seamless implementation Zarzad Dróg Miejskich (ZDM), the municipal unit responsible for the road system in Bialystok needed to revamp, simplify, and upgrade their inefficient traffic camera system, so they worked with systems software manager Siemens and engaged VIVOTEK's local distributor Suma Solutions to come up with an answer that would meet their needs. Siemens developed the system software around technology provided by VIVOTEK, a provider of IP surveillance solutions, offers dedicated traffic surveillance and management solutions, and has recently released its remarkable FE8174V H.264 5-megapixel fisheye network camera.The hemispherical images captured on camera can be automatically retooled to conventional projection specifications for easy viewing The FE8174V is VIVOTEK's fisheye network camera. This vandal-proof, WDR-enhanced, day/night camera features a detailed 5-megapixel resolution sensor with superior image quality. Its fisheye lens captures a 180° panoramic view when wall-mounted, and a stunning 360° surround view with no blind spots when mounted overhead. With its choice of display layouts—surround view, panoramic view, and regional view—it is the perfect solution for those who need coverage of wide, open areas as well as a high degree of flexibility. With the advanced image processing capabilities, the hemispherical images captured on camera can be automatically retooled to conventional projection specifications for easy viewing. As the camera's primary application is outdoors and demands reliability in all conditions, a weather-proof IP66-rated and vandal-proof IK10-rated housing keeps the camera body clear of rain and dust and maintains functionality in all types of weather. The VIVOTEK FE8174V features a removable IR-cut filter, which is unquestionably the best choice for those who need a hardy, all-weather, 24/7 system with a full range of coverage. Enhanced resolution means better traffic safety ZDM installed 130 VIVOTEK FE8174V cameras at intersections throughout Bialystok. Now, with far fewer cameras, traffic controllers can get a clear, sharp overview of the whole field without any blind spots. VIVOTEK's fisheye camera dewarping capabilities allow monitors to adopt different presentation modes A single VIVOTEK FE8174V provides the coverage of four outdoor bullet cameras in one image, and has resulted in cost savings at the same time as providing more complete coverage. Fewer cameras has also meant a decrease in costs associated with the backend management platform, network communications equipment, and storage equipment; it has also protected the aesthetic properties of the city by decluttering the skyline. Further, VIVOTEK's fisheye camera dewarping capabilities allow monitors to adopt different presentation modes. Now, Management Center operators can easily monitor and verify traffic incidents and use the image recognition software to increase traffic control efficiency. The city of Bialystok has finally achieved a traffic management and surveillance system that can keep pace with its rapid growth while remaining in harmony with the local culture and architecture.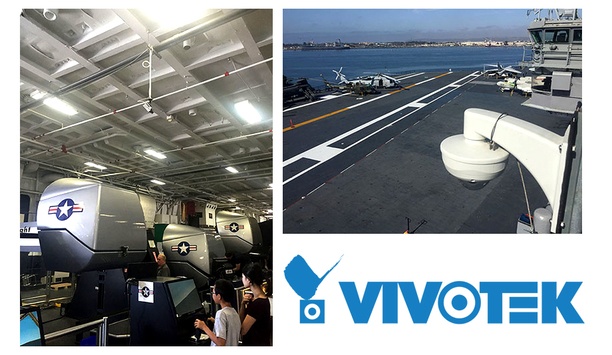 VIVOTEK delivers optimal security coverage at USS Midway Museum in San Diego, California
Decommissioned in San Diego, California, the USS Midway served from 1945 until 1992, as the longest-serving American aircraft carrier of the 20th century. The historic naval ship museum opened to the public for tours on June 10th, 2004, and receives 1,000,000 visitors annually. The USS Midway's mission is to preserve, inspire, educate, and entertain visitors as well as serve as America's living symbol of freedom. Video surveillance system Throughout USS Midway's 47 years of service, the aircraft carrier played key roles in the Cold War, served with the Atlantic Fleet, was combat deployed in Vietnam as well as the Arabian Gulf for Desert Storm, and many other operations throughout the world. The aircraft carrier is home to flight simulators, a gift shop, café and a theatre, measures 1,001 feet long, and contains 18 decks. The large number of tourists, volunteers, and museum staff occupying the facility, along with the many events held on-board on any given day, make safety and surveillance a top concern for the museum's Board of Directors. Earlier this year, Director of Safety and Security, Bill McClurg, with the full support of the CEO and the museum's board, led a team of USS Midway department directors including information technology, finance, and operations, and launched a project designed to update and improve the museum's existing video surveillance system. The process culminated in the selection of VIVOTEK's valued partner, Layer3 Security Services, a systems integration company headquartered in San Diego that serves companies, government agencies and institutions throughout Southern California. Network cameras The new video surveillance system features dozens of VIVOTEK network cameras including fixed domes, box cameras, and Pan Tilt Zoom models. "There were many reasons for selecting VIVOTEK for this demanding application," said Dario Santana, President of Layer3 Security Services. "These include the breadth of VIVOTEK's product line, the high degree of integration with ExacqVision's VMS platform, and the products' superior price and performance. In the end, it only made sense to select VIVOTEK for the USS Midway upgrade," concluded Dario. In the end, it only made sense to select VIVOTEK for the USS Midway upgrade" VIVOTEK's FD8365HV and FD8338-HV fixed dome network cameras were also positioned in areas in need of surveillance. Both camera models are able to withstand inclement weather and the IP66 and IK10-rated housing protects the unit against acts of vandalism, making these units a great selection for installation aboard the aircraft carrier. A variety of camera models were chosen to monitor specific areas of the museum and surrounding areas. VIVOTEK's FD8373-EHV fixed dome network cameras were installed throughout the premises due to the 3-megapixel wide dynamic range CMOS sensor's excellent ability to adjust to challenging lighting conditions. The WDR Pro feature allows the camera to capture both the dark and bright areas of an image and combine the differences to generate a highly realistic representation of the original scene. Zooming capabilities Working closely with Layer3, Bill McClurg also chose SD8364E, speed dome network cameras for the zoom capabilities in parking lot as well as ship deck monitoring and IP8155HP, box network cameras. VIVOTEK's SD8364E 1080p full HD resolution speed dome delivers superb image quality with its 30x optical zoom lens, perfect for monitoring wide open spaces. SD8364E's IP67 and NEMA 4X-rated housing protects against rain, dust, and corrosion as well as operates under extreme weather conditions making it suitable for San Diego's climate. The IP8155HP professional box network camera offers 1.3-megapixel resolution and WDR Pro II providing extreme visibility in high contrast environments. "Layer3 Security Services and VIVOTEK far exceeded our expectations with the installation of our new upgraded surveillance system. Layer3's ability to translate our needs into a workable design and their recommendation of VIVOTEK's superior yet efficient product line led to a successful deployment. Effective video surveillance on a museum, whose mission is to be, 'America's Living Symbol of Freedom,' is an essential element in preserving it for generations to come," said Bill McClurg, Safety Director.