Compare WV-SW598E with WV-SW559
(2)
| | | |
| --- | --- | --- |
| | Panasonic WV-SW598E | Panasonic WV-SW559 |
| Chip Inch Size | 1/3 | 1/3 |
| Colour Type | True Day / Night | True Day / Night |
| Resolution TVL | 2.4 MP | 1280 x1080 |
| Sensitivity lux | 0.004 | 0.06 |
| Dome Type | PTZ | PTZ |
| Pan Speed o/ sec | 0.065 ~ 120 | -- |
| Tilt Speed o/ sec | 0.065 ~ 120 | -- |
| Digital (DSP) | ✔ | -- |
| Voltage | 24 V AC | 12 V DC |
| Focal length | 4.3 ~ 129.0mm | 2.8 ~ 10 |
| Presets | 256 | -- |
| Compression | H.264, JPEG | -- |
| Auto Gain Control | ✔ | ✔ |
| White Balance | ✔ | ✔ |
| Electronic Shutter range | 1/30 ~ 1/10,000 | 1/10,000 |
| Signal Mode | PAL, NTSC | -- |
| Indoor/Outdoor | -- | Outdoor |
| Back Light Compensation | -- | ✔ |
| S/ N (Signal/ Noise) Ratio dB | -- | 52 |
| Built-in IR LED | -- | ✔ |
People also viewed these products
Featured security companies
Related Videos
3M Scott V320 Thermal Imager
vcore 1.5 lets users bookmark and share videos securely
Ajax security systems display how protecting a property from attacks is an art Genetec's Omnicast video surveillance platform improves security at Light Rail Transit line, Canada
In 1981, the city of Calgary in Alberta, Canada opened the first leg of the Light Rail Transit (LRT) line for the city's visitors and residents. Today, the LRT has more than doubled the number of stations, added two additional legs, and boasts around 95 million passengers per year. The system is now commonly referred to as the "CTrain" and includes 38 stations connecting 46 km of track. The three legs operate on 7th Avenue through the city's downtown area, and the resulting ten-station stretch in this high-density area is a Free Fare Zone that reduces transportation congestion in the heart of the city. The business challenge When the CTrain system was first built, a CCTV system was installed comprising a matrix of analog cameras transmitting analog video to tapes, and eventually DVRs, which processed and archived the footage. In addition to being technologically outdated and providing a limited user interface, Calgary recently determined the system to be at end-of-life, and concerns of system failure caused key decision makers to seek a new solution. There are inherent challenges to monitoring and providing safe passage to CTrain's customers. A transit environment is necessarily fast-paced and must aim to ensure security without hindering a timely travel experience. In addition, the disparate location of various stations requires a system that can efficiently pipe data to a single position to enable effective monitoring and evaluation of the CTrain system as a whole. End-user needs In searching for a suitable replacement for the CTrain's video surveillance system, several qualities were paramount. Calgary needed an open-platform system to maximise flexibility under strict procurement models, as well as a mature and proven piece of software that could easily integrate with their large monitor wall and run across multiple work stations. The CTrain also required a multitude of software configuration options and the ability to easily scale the system as needed based on the addition of new transit stations to the CTrain's constantly growing lines. An IP solution was deemed most suitable, providing reduced infrastructure costs for a system that would be spread across a number of physical locations (i.e., stations), as well as increased system security. An added benefit would be the creation of a robust network. This would not only house the security platform, but also facilitate an evolution in the transit organisation. The network would provide a technologically advanced backbone on which all aspects of the CTrain's management could rely and interplay smoothly. Calgary issued an RFP (request for proposal) to learn about the options available. After evaluating Calgary's needs and the difficulties faced in a transit environment, Contava, a Genetec Unified Elite security integrator, submitted a bid based on Genetec's Omnicast video surveillance platform. Following careful evaluations, Calgary selected Contava to design and implement their new security solution. The perfect solution Once the project was approved, the CTrain's Omnicast system was designed, the stations were retrofitted and cameras were installed all inside of nine months. "Given the solution delivered in this short timeline, this has to be the most successful security project of all time," remarked David Sime, Director of Operations at Contava. Omnicast was installed as a stand-alone video surveillance system within the Security Center, Genetec's unified security platform to provide a seamless user interface with maximum expansion options, including potential for access control in the future. Omnicast installed as a stand-alone video surveillance system within the Security Center The CTrain system employs 471 Panasonic megapixel WV-NW502S cameras with vandal-proof domes, which are capable of H.264 recording. An additional 23 Panasonic WV-NW964 outdoor-rated PTZ (pan tilt zoom) cameras round out the arsenal. Panasonic WJ-GXE500 IP encoders with H.264 compression capabilities are used where needed, allowing Calgary to save funds by making use of existing analog cameras leftover from the previous solution. The system is hosted on Dell R510 and R410 servers, which allow for distributed archiving throughout the stations, and feature a significant amount of recording capacity - 30 FPS (frames per second) for 30 days for the whole network. In addition, the downtown City Hall Information Technology Data Center houses centralised failover archiving of video and redundant directories, and the core network layer itself is redundant and configured in a multiple ring architecture. While the CTrain is open for business, three operators monitor the system's vast collection of camera feeds in real-time from a centralised location that features a two by nine array of 46-inch bezel-less Mitsubishi VS-L46SM70U LCD monitors. System data can also be accessed from the OCC (Operations Control Centre) in Calgary's public safety office to track operators, and law enforcement can use this facility to request surveillance data for investigations. The system also has the capacity to provide offsite video access to law enforcement for increased response time, and privacy impact assessments are being conducted to investigate viability of this option. Citrix access is set up to allow remote maintenance of the system. "One of the major advantages of choosing Omnicast is its flexibility," said Colin Adderley, Project Manager and Engineer at the City of Calgary for the CCTV system. "The flexibility in architectural design of the system has allowed us to minimise single points of failure along all portions of the system. And the open architecture allows us to use our 'flavour of the day' cameras to accommodate vendor competition through different product life cycles. Plus, the whole system is cheaper on a per-camera basis so we can maximise our coverage with allocated funds." The Omnicast platform integrates with a number of other systems to streamline the CTrain's operations. Active Directory is integrated to efficiently manage administration and organisation of user profiles; SNMP (simple network management protocol) monitoring is also enabled, to provide an extra layer of reliability by alerting both operators and Contava if any network connected device experiences a fault or performance issue. Most importantly, Omnicast has been integrated with the CTrain's SCADA (supervisory control and data acquisition) system. The SCADA system controls operator interaction with various events, often mechanical, including movement of elevators and escalators, and response to station help phones. Integrating with Omnicast means that the SCADA system will drive alerts or requests via a serial to digital interface to the videowall and operator. Omnicast will also respond to the SCADA system confirming video alerts have been received, and allowing the operator to remotely control systems via SCADA. This process is required by policy for civilian safety prior to allowing action, for example, movement of an elevator. Selecting Omnicast for their video surveillance needs has provided Calgary's CTrain with numerous advantages over their previous system. "It's like apples and oranges comparing this solution to the old system - you could say all of the features are new to the LRT," said Mr. Sime. Since training has been completed, the platform's overall usability has proven priceless in assisting the three operators with managing such a large system, which is used primarily to monitor public access to the space in real-time, as well as documenting post-incident investigations when necessary. "The flexibility in architectural design of the system has allowed us to minimise single points of failure along all portions of the system" The map interface also allows operators to quickly and easily identify where cameras are located, without cross-referencing a complicated and voluminous data sheet. Video analytics have also been integrated with the system, enabling automatic alarming to aid in monitoring such a large volume of feeds and to fine tune usage of the High-Definition video streams. Additional analytics, such as unauthorized access alarms, are under consideration for future deployment. The benefits Since transitioning from the static and non-responsive analogue system, the CTrain has been able to find strategy" in just about every direction, which is a luxury we did not have before," says Mr. Adderley. "This, plus configurability and flexibility of the system, has transformed our processes for the better, from hardware procurement to consolidation to granular permissions configuration to performance measurements." There has been extremely positive feedback to the high-quality of the images recorded by the system, as well as the ease of information retrieval. This has allowed images to be employed for operational observations, such as train arrival times or evaluating whether interlocks are working. Auxiliary strategies aside, however, the biggest win for the CTrain's new system is the improved security it has provided. Increased image resolution has been integral in assisting with the identification of individuals who have committed crimes, and the highly navigable system allows the images to be served up to law enforcement in no time. A platform that yields this type of reliability, certainty and response time is priceless to an organisation like Calgary's transit system. It provides a sense of security to the public who see the effects of an immediately responsive system and have confidence that the organization is equipped to do its utmost to keep them safe. "We have seen large-scale Genetec deployments prove successful in bustling international airports and massive shopping malls, ensuring that the platform is proven and can scale well. Moreover, in our opinion, Genetec delivers this platform using the best interface for operators to view and manage live and recorded video," said Mr. Sime. "These two factors - scalability for enterprise architecture and usability - combine to create a system that is not only perfectly fit for transit deployments, but is also simply the strongest video management platform available right now." Panasonic video surveillance now in use at West Herts College
Students and staff at the new West Herts College campus in Watford town centre are now under the protection of a comprehensive security package specified and supplied by Panasonic Premier Integrator (PPI) AIS, that includes a Panasonic end-to-end IP CCTV solution.The brand new campus, which opened in September 2010, serves some 2,000 students and 450 staff on a daily basis. With state-of-the-art facilities throughout, staff and student security were both primary considerations for its design, construction and operation. The college features leisure and social spaces alongside fully equipped working areas and classrooms that include the latest teaching tools and technology - covering a wide variety of subjects.CCTV a priorityTo complement and protect the cutting-edge building and its high-value contents, college managers were eager to employ the latest CCTV technology as part of an overall security plan at the site. Chris Brown of AIS explains: "We were given the opportunity to tender for the project via the construction company BAM, who were responsible for the build. Initially they had specified a traditional analogue installation, however, as a PPI and able to take advantage of close manufacturer support and demonstration equipment, we were able to display the key advantages of an end-to-end IP solution from the instantly recognisable Panasonic brand name."On winning the tender, we specified a dedicated fibre backbone that was installed by the building contractors, to our specification. Along with fibre links to each camera location and PoE network switches, this formed the basis of image transmission from the cameras, to an on-site equipment room that was also included in the construction."Here we installed two Panasonic WJ-ND400 network video recorders that supply images to be transferred to the college's Wide Area Network (WAN), giving key members of staff and the security team the ability to remotely monitor live, and recorded images." With state-of-the-art facilities throughout the college, both staff and student security are primary considerations Panasonic solutionThe use of an integrated Panasonic i-Pro CCTV network and fibre backbone, as opposed to a coax transmission method, meant a minimised impact on the outstanding architecture of the building, and allowed the discreet inclusion of 33 Panasonic WV-NS202A cameras and 84 Panasonic WV-NF284 cameras. These now cover all key aspects of the interior of the college; including all corridors, stairwells, reception atriums, meeting rooms, and restaurants.The modern architecture on campus features illuminated corridors opening into naturally lit, glass-sided atriums with contrasting lighting. To manage security in these conditions, WV-NS202A Cameras featuring Super Dynamic V technology were deployed - specifically able to deal with any subject within a wide variety of lighting conditions.Super Dynamic V performs gradation compensation of contrast on an individual pixel basis, ensuring detailed scenes throughout the college environment are captured and transmitted to the equipment room/security office for recording and monitoring.For easy installation and IP configuration, each Panasonic camera features Power-over-Ethernet (PoE), supplying power and transmitting images via a single cable. No separate power supply was required, allowing AIS engineers to simply connect each camera to a PoE switch. Also featured at the site, eleven Panasonic WV-NW960 Weather Resistant Network Dome Cameras and five WV-NW502 cameras cover the college's courtyard and all perimeter areas. Equipped with Super Dynamic V technology, the Panasonic WV-NW960 combines 30x optical zoom and 128x wider dynamic range, to provide continuous 24-hour surveillance. When darkness falls at the college, the camera automatically switches from colour to black and white mode for greater sensitivity. When daylight arrives, it automatically switches back to colour mode. With a minimum illumination of 0.04lux in B/W mode and 0.5lux in colour, a crystal-clear image can be captured, even in any unlit areas of the grounds.Latest learning facilitiesThe new campus also features a public street with gym, spa, café and comprehensive restaurant facilities. Social areas include spaces for relaxing and studying in groups, plus a central square where students can meet, relax and enjoy some well-earned fresh air between classes. The ability to virtually patrol the site at the touch of a button has proved an invaluable asset to the overall security The campus has modern, flexible classrooms and extensive professional facilities, including: art studios and workshops, forensic science laboratories, hair and beauty salons, IT suites, photography studios, media editing suites, sound and recording studios, a performing arts theatre complete with a sound and lighting control room, dressing rooms and green room, as well as dance studios and audience seating space for up to 120 people. The new facility complements West Herts College's Construction and Engineering Centre in Kings Langley and the Dacorum campus in Hemel Hempstead.The college's Panasonic i-Pro CCTV network is a key tool in an overall security package at the site that also includes access control and intruder alarm systems. Both of these are linked to the CCTV network and upon activation adjacent cameras are automatically selected and moved to a pre-set position to cover any event. "Whether it is a request for entry via the access control intercom or an intruder detection, the Panasonic technology automatically captures essential scene coverage via the nearest camera," adds Chris. "Instantly bringing the situation to the attention of the operator, it also ensures the circumstances of any activation by the integrated system are recorded for future investigation."The ability to "virtually" patrol the site at the touch of a button has proved an invaluable asset to the overall security structure at the college, and acts as a foundation for the college's manned guarding team, giving full and accurate reporting of any situation right from the outset.As the students enjoy the latest in academic facilities, they can do so in the knowledge that they are being protected by a passionate security team - backed by the latest CCTV technology from Panasonic. A combination that will nurture countless waves of students through their varied studies over the coming years.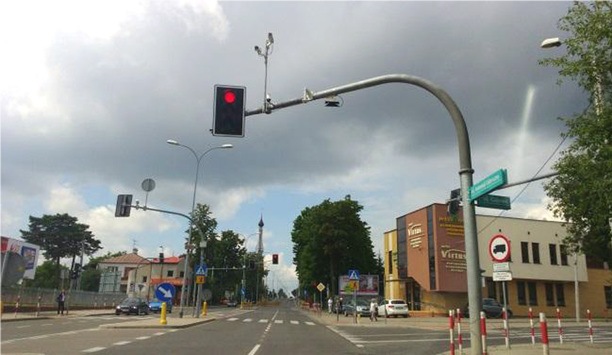 VIVOTEK fisheye network cameras help Bialystok update municipal traffic monitoring system
Bialystok, a beautiful historic city of 300,000 in the northeast of Poland, is one of the nation's major population centres. Devastated in World War II and languishing for a long period afterward, the city has seen a renaissance in recent years, with restoration of its beautiful architecture and modernisation of infrastructure as the Polish economy has boomed. One particular change that has come upon this serene city with unexpected rapidity is the increase in car ownership, which has more than tripled in Poland since 2005. Over the last decade, the growing need for an up-to-date, comprehensive traffic monitoring system has become increasingly apparent. Surveillance enhancement for traffic surges The growing need for an up-to-date, comprehensive traffic monitoring system has become increasingly apparent Cameras were the most costly item within the traditional traffic surveillance system originally deployed in Bialystok. To capture as many angles as possible, large numbers of cameras were required, often several at each intersection. As well as being an eyesore, this also meant that the cost of linking and synchronising the array of cameras to the central surveillance system was exorbitant. To avoid impacting traffic, which is heavy during the daylight hours, installation and construction work was usually carried out at night. The restricted hours for installation caused long delays in camera setups. Worse, the system itself no longer met the needs of the rapidly developing city. Despite the large numbers of cameras, the field of view of individual cameras was too narrow and when accidents happened it was difficult to try to piece together footage from several cameras in an attempt to reconstruct the incident. Often, there was no way to determine from the footage just who was at fault. A better solution was needed. Seamless collaboration to seamless implementation Zarzad Dróg Miejskich (ZDM), the municipal unit responsible for the road system in Bialystok needed to revamp, simplify, and upgrade their inefficient traffic camera system, so they worked with systems software manager Siemens and engaged VIVOTEK's local distributor Suma Solutions to come up with an answer that would meet their needs. Siemens developed the system software around technology provided by VIVOTEK, a provider of IP surveillance solutions, offers dedicated traffic surveillance and management solutions, and has recently released its remarkable FE8174V H.264 5-megapixel fisheye network camera.The hemispherical images captured on camera can be automatically retooled to conventional projection specifications for easy viewing The FE8174V is VIVOTEK's fisheye network camera. This vandal-proof, WDR-enhanced, day/night camera features a detailed 5-megapixel resolution sensor with superior image quality. Its fisheye lens captures a 180° panoramic view when wall-mounted, and a stunning 360° surround view with no blind spots when mounted overhead. With its choice of display layouts—surround view, panoramic view, and regional view—it is the perfect solution for those who need coverage of wide, open areas as well as a high degree of flexibility. With the advanced image processing capabilities, the hemispherical images captured on camera can be automatically retooled to conventional projection specifications for easy viewing. As the camera's primary application is outdoors and demands reliability in all conditions, a weather-proof IP66-rated and vandal-proof IK10-rated housing keeps the camera body clear of rain and dust and maintains functionality in all types of weather. The VIVOTEK FE8174V features a removable IR-cut filter, which is unquestionably the best choice for those who need a hardy, all-weather, 24/7 system with a full range of coverage. Enhanced resolution means better traffic safety ZDM installed 130 VIVOTEK FE8174V cameras at intersections throughout Bialystok. Now, with far fewer cameras, traffic controllers can get a clear, sharp overview of the whole field without any blind spots. VIVOTEK's fisheye camera dewarping capabilities allow monitors to adopt different presentation modes A single VIVOTEK FE8174V provides the coverage of four outdoor bullet cameras in one image, and has resulted in cost savings at the same time as providing more complete coverage. Fewer cameras has also meant a decrease in costs associated with the backend management platform, network communications equipment, and storage equipment; it has also protected the aesthetic properties of the city by decluttering the skyline. Further, VIVOTEK's fisheye camera dewarping capabilities allow monitors to adopt different presentation modes. Now, Management Center operators can easily monitor and verify traffic incidents and use the image recognition software to increase traffic control efficiency. The city of Bialystok has finally achieved a traffic management and surveillance system that can keep pace with its rapid growth while remaining in harmony with the local culture and architecture.
Featured white papers
A brief history of access control credentials
Download
6 questions to ask when choosing a security system
Download
Boosting on-site safety and security
Download