Students and staff at the new West Herts College campus in Watford town centre are now under the protection of a comprehensive security package specified and supplied by Panasonic Premier Integrator (PPI) AIS, that includes a Panasonic end-to-end IP CCTV solution.

The brand new campus, which opened in September 2010, serves some 2,000 students and 450 staff on a daily basis. With state-of-the-art facilities throughout, staff and student security were both primary considerations for its design, construction and operation. The college features leisure and social spaces alongside fully equipped working areas and classrooms that include the latest teaching tools and technology - covering a wide variety of subjects.

CCTV a priority

To complement and protect the cutting-edge building and its high-value contents, college managers were eager to employ the latest CCTV technology as part of an overall security plan at the site. Chris Brown of AIS explains: "We were given the opportunity to tender for the project via the construction company BAM, who were responsible for the build. Initially they had specified a traditional analogue installation, however, as a PPI and able to take advantage of close manufacturer support and demonstration equipment, we were able to display the key advantages of an end-to-end IP solution from the instantly recognisable Panasonic brand name.

"On winning the tender, we specified a dedicated fibre backbone that was installed by the building contractors, to our specification. Along with fibre links to each camera location and PoE network switches, this formed the basis of image transmission from the cameras, to an on-site equipment room that was also included in the construction.

"Here we installed two Panasonic WJ-ND400 network video recorders that supply images to be transferred to the college's Wide Area Network (WAN), giving key members of staff and the security team the ability to remotely monitor live, and recorded images."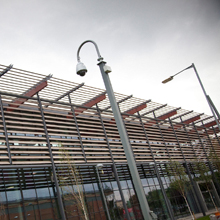 With state-of-the-art facilities throughout the college, both staff and student security are primary considerations
Panasonic solution

The use of an integrated Panasonic i-Pro CCTV network and fibre backbone, as opposed to a coax transmission method, meant a minimised impact on the outstanding architecture of the building, and allowed the discreet inclusion of 33 Panasonic WV-NS202A cameras and 84 Panasonic WV-NF284 cameras. These now cover all key aspects of the interior of the college; including all corridors, stairwells, reception atriums, meeting rooms, and restaurants.

The modern architecture on campus features illuminated corridors opening into naturally lit, glass-sided atriums with contrasting lighting. To manage security in these conditions, WV-NS202A Cameras featuring Super Dynamic V technology were deployed - specifically able to deal with any subject within a wide variety of lighting conditions.

Super Dynamic V performs gradation compensation of contrast on an individual pixel basis, ensuring detailed scenes throughout the college environment are captured and transmitted to the equipment room/security office for recording and monitoring.

For easy installation and IP configuration, each Panasonic camera features Power-over-Ethernet (PoE), supplying power and transmitting images via a single cable. No separate power supply was required, allowing AIS engineers to simply connect each camera to a PoE switch.

Also featured at the site, eleven Panasonic WV-NW960 Weather Resistant Network Dome Cameras and five WV-NW502 cameras cover the college's courtyard and all perimeter areas. Equipped with Super Dynamic V technology, the Panasonic WV-NW960 combines 30x optical zoom and 128x wider dynamic range, to provide continuous 24-hour surveillance. When darkness falls at the college, the camera automatically switches from colour to black and white mode for greater sensitivity. When daylight arrives, it automatically switches back to colour mode. With a minimum illumination of 0.04lux in B/W mode and 0.5lux in colour, a crystal-clear image can be captured, even in any unlit areas of the grounds.

Latest learning facilities

The new campus also features a public street with gym, spa, café and comprehensive restaurant facilities. Social areas include spaces for relaxing and studying in groups, plus a central square where students can meet, relax and enjoy some well-earned fresh air between classes.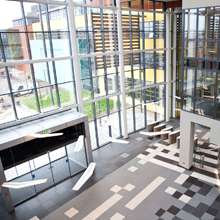 The ability to virtually patrol the site at the touch of a button has proved an invaluable asset to the overall security
The campus has modern, flexible classrooms and extensive professional facilities, including: art studios and workshops, forensic science laboratories, hair and beauty salons, IT suites, photography studios, media editing suites, sound and recording studios, a performing arts theatre complete with a sound and lighting control room, dressing rooms and green room, as well as dance studios and audience seating space for up to 120 people. The new facility complements West Herts College's Construction and Engineering Centre in Kings Langley and the Dacorum campus in Hemel Hempstead.

The college's Panasonic i-Pro CCTV network is a key tool in an overall security package at the site that also includes access control and intruder alarm systems. Both of these are linked to the CCTV network and upon activation adjacent cameras are automatically selected and moved to a pre-set position to cover any event. "Whether it is a request for entry via the access control intercom or an intruder detection, the Panasonic technology automatically captures essential scene coverage via the nearest camera," adds Chris. "Instantly bringing the situation to the attention of the operator, it also ensures the circumstances of any activation by the integrated system are recorded for future investigation."

The ability to "virtually" patrol the site at the touch of a button has proved an invaluable asset to the overall security structure at the college, and acts as a foundation for the college's manned guarding team, giving full and accurate reporting of any situation right from the outset.

As the students enjoy the latest in academic facilities, they can do so in the knowledge that they are being protected by a passionate security team - backed by the latest CCTV technology from Panasonic. A combination that will nurture countless waves of students through their varied studies over the coming years.
Download PDF version
Download PDF version