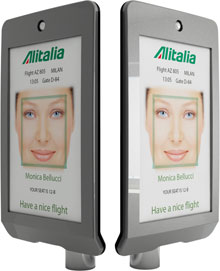 The new face recognition system assures boarding pass authentication
C-True Imaging Ltd.
(
C-True
) is introducing the C-Gate system, a boarding pass authentication solution using face recognition technology. The C-GATE system assures that ticketed passengers will be allowed to board only their proper flight.
The system was launched at IATA's AVSEC 2008 conference, in Seoul, South Korea and gained substantial interest by aviation security officials.
C-Gate offers an innovative breakthrough solution for a dangerous loophole in airport security. This solution assists the airlines to conform to IATA regulations which define the airlines responsibility in ensuring that a passenger who checked in is identical to the one who boards the plane.
Leveraging thorough expertise in flight security procedures, the C-Gate solution has been designed to enable fast, non intrusive, biometric enrollment of the passenger face image at the check-in counter and automatic face verification of the passenger identity at the boarding gate to enhance the security level. C-Gate system assures boarding pass authentication by integrating flight information and facial features onto one operational record.
The C-Gate solution integrates smoothly into the airline ground operations without averting normal operational procedures. C-Gate stipulates no need to change current boarding pass vouchers or check-in procedures.
When a passenger obtains a boarding pass or acquires an e-Ticket, C-Gate captures the passenger's face, generates a template and attaches it to the scanned Bar-Coded Boarding Passes (BCBP), as specified by IATA 792 based on 2D barcodes (PDF417). Later, when the passenger approached the gate for boarding, C-Gate captures another image of the passenger and checks for match with the passenger's face template previously acquired in the database.
If a match is found, the system enables boarding and logs the transaction. If C-gate doesn't recognize the passenger his access is denied. Denied passengers images are captured and stored in the database, and activity log is produced for further investigations.
C-Gate facial recognition passenger authentication solution will serve airports, airlines, security service providers etc. in gaining better security and facilitation of passenger. While C-Gate prime focus is on security, facilitations benefits could be quickly realized, such as: automated duty free entrance verification checks, VIP's and frequent travelers' lounges entrance monitoring, face images in air crew's passenger's lists etc.
Download PDF version