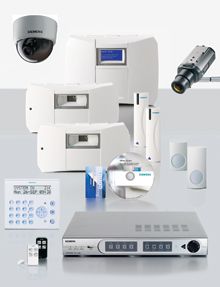 Siemens is to rationalise and consolidate a number of its products
At a time when most manufacturers are increasing prices in order to combat reducing revenues and high import costs,
Siemens Building Technologies
has taken a more strategic view, which offers direct benefits to its customers.
As a result of continually monitoring and evaluating its entire product portfolio Siemens is to rationalise and consolidate a number of its products, whilst still providing customers with the choice of 'entry level' to 'enterprise level', but in a much simpler format.
"This range rationalisation makes life easier for our installers and end users," said Alistair Enser, Sales & Marketing Director of Siemens Building Technologies Security Products: "and it is also beneficial for us, since it means that we can make significant savings in our manufacturing and distribution costs. We are therefore very happy to be able to pass these savings on to our customers, particularly at a time when almost everyone's budget is under pressure".
As an example of the changes being made by Siemens, the SiPass range of access control products and systems historically featured controllers with provision for 4, 8, 16 and 32 doors. The 16-door model has now been deleted from the range, but the price of the 32-door model has been reduced so that it is the same as that of the former 16-door unit.
This means that, for any application with between nine and 16 doors, a 32-door capacity system is provided at no extra cost, and for applications between 17 and 32 doors, the customer can enjoy substantial cost savings.
"We now believe that pound for pound our products, services and systems offer greater value than our competitors", said Alistair.
Similar rationalisation measures and price alignments apply to other ranges. The Sistore AX range of digital video recorders for small to medium applications involving up to 16 cameras has been reduced from five to three models. All of the new models combine competitive prices with increased functionality and higher specification than their predecessors.
For larger CCTV installations, Sistore MX hybrid digital video recorders are now available in two models, one of which supports 32 IP plus 16 analogue cameras, the other 32 IP plus 32 analogue cameras. Both models now incorporate a DVD recorder as standard and will shortly be upgraded to a storage capacity of 2 terabytes.
Alistair concludes: "Siemens is really working with its customers in these tough times, providing products with great functionality, for less outlay".
Download PDF version