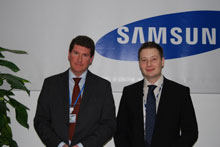 Colin Burgess and Tim Biddulph have joined the UK and Ireland sales team
Samsung Techwin's
Professional Security division has further strengthened its UK & Ireland sales team with the recruitment of Colin Burgess and Tim Biddulph.
Colin Burgess, who has spent the last four years as National Accounts Field Sales for Norbain and whose twenty-two year career has seen him gain experience working for Philips and Visimetrics, has been recruited by Samsung Techwin as Account Manager CCTV - South UK and will be responsible for developing new business opportunities by working with installers, system integrators and distributors alike.
Tim Biddulph, whose career within the electronic security industry spans fifteen years, including most recently three and a half years working for Dedicated Micros, has joined Samsung Techwin as Pre-Sales Engineer to provide clients with support in system design, tender returns and compliance and product training.
Colin and Tim will report to Simon Shawley, Senior Sales Manager UK & Ireland for Samsung Techwin's Professional Security division. Commenting on the appointments, Simon said: "Colin and Tim are both very welcome additions to our sales team. At a time when a number of CCTV manufacturers are cutting back on personnel, Colin and Tim's appointments are a demonstration of our commitment to fully support our growing list of customers throughout the UK and Ireland."
Download PDF version