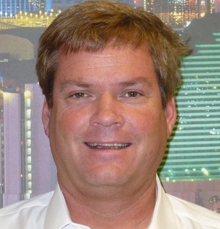 Chad Gilbert serves as point person to engage the broader NAV technical and engineering teams
North American Video (NAV), market leader in the design engineering and service of integrated security and surveillance systems, launched a vertical market sales initiative to target the transportation market. The newly launched initiative will target airports and other mass transit applications.
"Our decision to dedicate resources to the transportation security market is driven by the market trends we are seeing as well as requests from our strategic vendor partners for a go-to person for these unique opportunities," said Jason Oakley, Chief Executive Officer, North American Video. "Transportation security projects share common themes such as wide geographical areas, large perimeters and mobile technology requirements which make them a great fit for NAV's core technical competencies."
Heading up the new initiative is Chad Gilbert, who will be located in Denver, CO where NAV has recently established a presence. In this position, Chad will serve as point person to engage the broader NAV technical and engineering teams in pursuing the transportation security opportunities. "This is a great opportunity for NAV to build on our gaming reputation and leverage our expertise in a new vertical market," said Mr. Gilbert.
Mr. Oakley added: "Our approach to delivering best in class security and surveillance solutions is focused on the customer. We promise our customers the best technology to meet their needs, top notch people to help them and real attention to detail. Over the years, this approach has helped NAV to keep our customers for the long term and become a leader in the security integration business."
Download PDF version