IP Dome cameras Comparison: IndigoVision, Arecont Vision
(4)
| | | | | |
| --- | --- | --- | --- | --- |
| | IndigoVision HD Ultra X In-Ceiling PTZ | Arecont Vision MicroDome | Arecont Vision SurroundVideo Omni Cameras | Arecont Vision AV12186DN |
| Chip Inch Size | 1/3 | -- | -- | 1/3 |
| Colour Type | True Day / Night | True Day / Night | -- | True Day / Night |
| Resolution TVL | 1920 x 1080 | 2592 x 1944 | 12 MP | 8192 x 1536 |
| Sensitivity lux | 0.001 ~ 0.02 | -- | -- | 0.5 |
| Digital (DSP) | ✔ | -- | ✔ | -- |
| Mount Type | in-ceiling | -- | -- | Pendant / Wall / Corner / Pole |
| Voltage | 12 V DC | -- | -- | 12 ~ 48 VDC |
| Focal length | 4.3 ~ 170mm | 4mm | 2.8 ~ 16 | -- |
| Compression | H.265, H.264, MJPEG | H.264/MJPEG | -- | H.264/ Motion JPEG |
| Back Light Compensation | ✔ | -- | -- | -- |
| Auto Gain Control | ✔ | -- | -- | ✔ |
| White Balance | ✔ | -- | -- | ✔ |
| Electronic Shutter range | 1/1.5 ~ 1/10000 s | -- | -- | -- |
| S/ N (Signal/ Noise) Ratio dB | 50 | -- | 50 | -- |
| Dome Type | -- | -- | PTZ | PTZ |
| Pan Speed o/ sec | -- | -- | -- | 360 |
| Tilt Speed o/ sec | -- | -- | -- | 90 |
| Rotation Angleso | -- | -- | -- | 180 |
People also viewed these products
Featured security companies
Related Videos
Hikvision demonstrates DeepinMind behavioural analysis
Dahua Images and Graphics Business
Dahua launches PoE 2.0 switch IndigoVision's integrated IP security system secures premises of Vancouver Island mall
Vancouver Island's leading fashion focused shopping destination has invested in an IndigoVision integrated IP video security system, in what is believed to be the first mall in Canada to deploy a surveillance solution with 100% IP cameras. The 93-camera system, which covers the public areas inside the mall as well as the car parks and surrounding areas, was designed and installed by IndigoVision's approved partner Laser Star Systems Ltd in partnership with Hoffman & Company Security Management Consultants Inc. "One of the benefits of the new surveillance system is that it has helped us create an excellent partnership with local law enforcement," explains Barry Greening, the centre's Operations Manager. "Due to the exceptional quality and easy accessibility of the video, the local police force has shown an increasing interest in recorded footage from the system. They often analyse the system to see if 'known individuals' have been in an around the mall and have used exported evidential video in a number of investigations."When planning for the new surveillance system the shopping centre realised that an IP networking solution was the future of video security and ensured budget was made available for IT projects that would support the required network infrastructure. This forward thinking in combination with IndigoVision's low-bandwidth technology allows the IP video system to share network resources with access control, HVAC, Voice-over-IP and general IT traffic. One workstation with four monitors running 'Control Center', IndigoVision's security management software, is used in the central control room to monitor and analyse live and recorded video. Commenting on its use Greening said: "It is remarkably good and inherently intuitive. The site plan is amazingly simple and easy to use and you can just drag and drop cameras into view. The ability to synchronise cameras and quickly access historical video is invaluable to us and the local police. IndigoVision also took on board our ideas for new features and included them in a future release of the software free-of-charge!"All cameras are continuously recorded for a minimum of 30 days using IndigoVision's Windows Network Video Recorder (NVR) software running on a custom built iSCSI server with 26TB of Raid 6 storage. IndigoVision's class-leading compression technology in combination with a unique feature called Activity Controlled Frame rate (ACF) helps reduce the overall storage requirement. ACF, which is built into IndigoVision's IP cameras, has been deployed on a number of cameras located in hallways and storage areas. When the scene is inactive the camera streams video at a lower frame rate and instantaneously ramps to maximum configured frame rate when motion is detected. This feature is also enabled on many cameras based on time of day, e.g. when the centre is closed. IndigoVision's technology allows the IP video system to share network resources with access control, HVAC, Voice-over-IP and general IT traffic A combination of 26 PTZ and 67 fixed IndigoVision IP cameras were installed inside and outside the mall. The fixed cameras are Power-over-Internet (PoE) compliant allowing them to be powered from the network. This helped reduce the overall installation costs as only a single CAT-6 cable was required to connect the camera to the network. Mayfair is now considering using the surveillance system for more than just security. Retailers are increasingly harnessing the power of high-quality video for marketing purposes. This can be an invaluable tool for analysing merchandising and promotions and monitoring the total number and movement of customers visiting the centre and individual stores.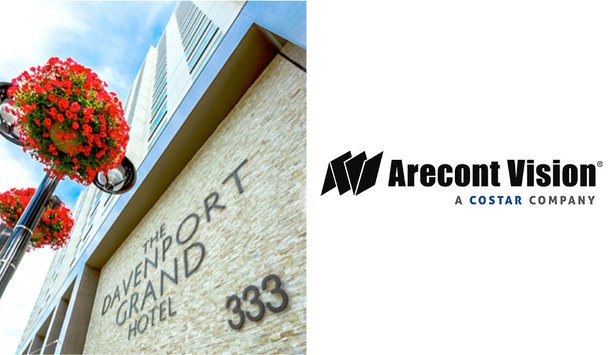 Arecont Vision enables Davenport Grand hotel to provide a safe, secure, and relaxing hotel experience
World-class service, sublime surroundings, and luxury within reach are all things you will find at Davenport Hotels in downtown Spokane, Washington. The four-hotel collection runs the gamut from classic to contemporary, full-size to boutique, and historic to modern. Guests can enjoy luxurious spa, wedding, and business facilities, as well as some of the best dining in the city. Davenport history Opened in June 2015, the new 716 room Davenport Grand Hotel offers a unique alternative for travellers who seek a reprieve from the traditional, uninspiring hotel environment. The Davenport Grand provides a lifestyle hotel experience in a highly social atmosphere rich in cutting-edge design, energy, and comfort. The management team knew from the start that an analogue surveillance system would not be sufficient Crafted to appeal to both business and leisure travellers, the Davenport Grand combines the dynamic qualities of urban living with best-in-industry services and amenities in a unique setting. The new Davenport Grand embraces the glorious past of the Davenport Hotel with a bold, modern spirit and joins the historic Davenport Hotel, Davenport Tower, and Davenport Lusso family. Move from analogue to IP Davenport Hotels had relied on an analogue video surveillance system for the existing hotel facilities and structures. For the new Davenport Grand Hotel, hotel management wanted to ensure the safety and security of its guests, employees, and visitors while helping to prevent theft and other loss. It was also important to be able to capture images of the vehicles that come and go from the public garage used by hotel guests. This would enable the hotel to better deal with potential vehicle damage claims, which is a common issue in the hospitality industry. Each of the Davenport Grand's planned camera applications would require highly detailed video, and the management team knew from the start that an analogue surveillance system would not be sufficient. "We have other hotels that have analogue cameras installed, so getting a more current system with clarity was a priority. We decided we're not going to invest in an older system," said Kevin Miller, Corporate Director of Security for the Davenport Collection of Properties. Instead, an IP megapixel surveillance camera solution would be required. Leveraging megapixel technology Hotel management had a system design in mind, which Kevin Jetton, A-TEC's President, was able to refine based on what he saw after touring the facilityWorking with Spokane-based security firm A-TEC, the hotel narrowed its potential choices down to three camera vendors, each of which submitted a bid for the video surveillance system project. After evaluating all of the products included in the bids, the hotel chose IP megapixel cameras from Arecont Vision, primarily based on image quality. Exacq was chosen as the video management software. "If we're going to build a new surveillance system, we need to make sure that if we have an incident, we can actually see who was involved," said Miller. "We wanted an innately high-quality, flexible solution, and we got it with Arecont Vision." A-TEC software solution Hotel management had a system design in mind, which Kevin Jetton, A-TEC's President, was able to refine based on what he saw after touring the facility. According to Jetton, the changes were largely based on the ability to cut the hotel's costs without sacrificing camera coverage. "We pride ourselves on determining what the areas of concern are, how we are going to address them, and what cameras will do the best job," Jetton said. "We realised we could incorporate SurroundVideo Omni and other Arecont Vision megapixel cameras to lower the camera count and increase overall views." Before moving forward with the modified design, A-TEC set up a software solution in conjunction with demo cameras provided by Arecont Vision. These were used for test shots to provide to hotel management the types of views they would be able to get with the cameras Jetton recommended. "Once we were able to get it all set up and show them what they were going to get with the reduced camera counts and increased camera views, they were definitely on board," Jetton said. "I knew what solution needed to be proposed. My partnership with Arecont Vision is unprecedented, and I knew that presenting the Davenport with this solution was going to be a success because we were all working together." Arecont Vision SurroundVideo Ombi user-configurable omni-directional multi-sensor megapixel cameras were used in the installation, such as in the Grand Bar. Arecont Vision camera families The overall installation included nearly 70 Arecont Vision cameras, all of which were deployed to suit the individual areas in which they were to be used. The installed cameras are from several Arecont Vision families. SurroundVideo® Omni user-configurable omni-directional multi-sensor megapixel cameras SurroundVideo® 180° panoramic multi-sensor megapixel cameras MicroDome® ultra-low profile megapixel dome cameras MegaBall® megapixel dome cameras A-TEC remained in close contact with Kevin Miller and hotel management to ensure that they knew the details of the project's progress MegaDome® 2 megapixel dome cameras with remote focus/zoom Throughout the installation, A-TEC remained in close contact with Kevin Miller and hotel management to ensure that they knew the details of the project's progress and to demonstrate the evolving system as cameras were deployed. Stuart Wells of A-TEC led the onsite installation and integration of the system, working with the Davenport team. "A-TEC did test shots for us before the hotel was even finished so we could see the exact depth, range, and view that we were going to get with each camera," Miller said. Megapixel solution benefits Davenport Hotels had a number of safety and security goals for its new surveillance system in the Davenport Grand. Hotel management wanted to ensure that the cameras wouldn't be the first thing guests noticed. With their high quality and their sleek, unobtrusive design, the Arecont Vision cameras have met those needs. "We certainly didn't want to give people the feeling that they're being watched throughout the hotel," Miller said. "We really like how the low profile of the cameras and the multi-sensor capabilities enabled us to use just one camera opposed to four separate ones." Shortly after the installation was completed, Jetton conducted a test to see just how unobtrusive the surveillance system was. Proactive and preventative approach to security The Arecont Vision cameras have allowed the Davenport Grand to take a more proactive and preventative approach to security "I took two visitors with me to do a walk-through of the hotel when the installation was first completed and I challenged them to find the cameras. On many different occasions they didn't even notice that they were in the camera views," he said. "People are there to relax and enjoy their time away; they don't want to feel like they are being watched by cameras." The Arecont Vision cameras have allowed the Davenport Grand to take a more proactive and preventative approach to security, something that would have been missing from an analogue surveillance system. "We can see activity and hopefully stop and report behaviour to prevent things from happening," Miller said. In terms of return on investment, the ability to avoid claims for which the hotel is not responsible has been a major benefit of the new system in the Davenport Grand. This has been particularly the case with the vehicle valet service. "With the valet service, customers will come in and claim that marks on their vehicle weren't there when they arrived, and quite honestly, they may believe that's true. With the Arecont Vision cameras, we're able to look at the video and say with confidence whether the mark was there when he or she arrived at the hotel," Miller said. Preventing theft The cameras have also helped with a number of instances of items disappearing from the exterior of the hotel. In one example, the Davenport Grand was able to provide the local police department with video which led to the items being returned and the thieves apprehended. In addition to the Davenport Grand's potential cost reduction from a lower camera count, savings were realised in other areas as a result of the new surveillance system which is monitored on the premises. "What's really nice is we can actually view the cameras from several different locations in real-time or in playback," Miller said. "These cameras help reduce our on-floor manpower and increase our effectiveness because there can be one person on the floor and another person who is watching the cameras, who can cover 10 times more area than one person can on foot." MetrôRio use IndigoVision IP Video to protect the 700,000 people who travel on its network
MetrôRio, Rio de Janeiro's metro system, has chosen IndigoVision to supply a complete IP video security solution to protect the 700,000 people who travel daily on its network and to allow for future expansion of the metro service. IndigoVision won the contract to replace MetrôRio's ageing analogue surveillance system because of the superior image quality of the IndigoVision cameras, which makes for precise identification of individuals in recorded images, coupled with the flexibility of the IP system, which can be easily scaled up as the metro network grows. Mr Newton Werneck, CIO of MetrôRio stated: "IndigoVision's image quality is excellent and the distributed architecture of the system will allow the surveillance network to grow along with the metro system." Another crucial factor in winning the business with MetrôRio is the system's highly efficient and economical storage capability. Compared with other IP video systems, storage requirements are significantly reduced thanks to IndigoVision's advanced compression technology and the use of the unique Activity Controlled Frame rate (ACF) feature, which is built into the IP cameras. ACF regulates the frame rate of the video stream according to the motion in a particular scene. When there is no activity, video is streamed at minimal frame rate; the instant any motion is detected, video is simultaneously transmitted at the maximum configured frame rate. This responsiveness provides both greater detail for analysis and also allows for economy of data storage. The IndigoVision system also provides MetrôRio with improved event archives and content distribution across its network: IndigoVision's unique distributed architecture eliminates the need for a central server, which means that the surveillance system can expand quickly and as required. IndigoVision's Brazilian partner Setha Prosegur worked with MetrôRio to create the surveillance system, which includes 141 fixed IP cameras, 21 PTZ cameras and approximately 700 existing analogue cameras that have been integrated into the system using IndigoVision encoders. An IndigoVision NVR-AS 3000 (network video recorder) is in place at each station, with back-up provided between stations. Founded in 1979 with five stations operating on one line, MetrôRio now covers 47km (29 miles) divided into two lines and 35 stations. The network continues to grow with a further line under construction and due for completion in 2016.