Compare DS-2AE7225TI-A(C) with DS-2DF8336IV-AEL(W)
(2)
| | | |
| --- | --- | --- |
| | Hikvision DS-2AE7225TI-A(C) | Hikvision DS-2DF8336IV-AEL(W) |
| Chip Inch Size | 1/3 | 1/3 |
| Colour Type | Colour / Monochrome | Colour / Monochrome |
| Resolution TVL | 2MP | 3 MP |
| Sensitivity lux | 0~ 0.005 | 0.05 |
| Digital (DSP) | ✔ | ✔ |
| Indoor/Outdoor | Outdoor | -- |
| Voltage | 24 V AC | 24 V AC |
| Focal length | 4.8 ~ 120mm | 4.5 ~ 162 |
| Back Light Compensation | ✔ | -- |
| Auto Gain Control | ✔ | ✔ |
| White Balance | ✔ | -- |
| Electronic Shutter range | 1/1 ~ 1/10,000 s | -- |
| Signal Mode | PAL, NTSC | PAL, NTSC |
| Dome Type | -- | PTZ |
| Pan Speed o/ sec | -- | Manual: 0.1 ~ 160, Preset: 240 |
| Tilt Speed o/ sec | -- | Manual: 0.1 ~ 120, Preset: 200 |
| Compression | -- | H.264 / MJPEG |
Featured security companies


Related Videos
AAEON Intelligent Lighting Controls for smart city infrastructure
AxxonSoft releases Axxon Next which provides offline video analytics solution
AxxonSoft releases Multicamera Face & LPR search to find recognised faces and number plates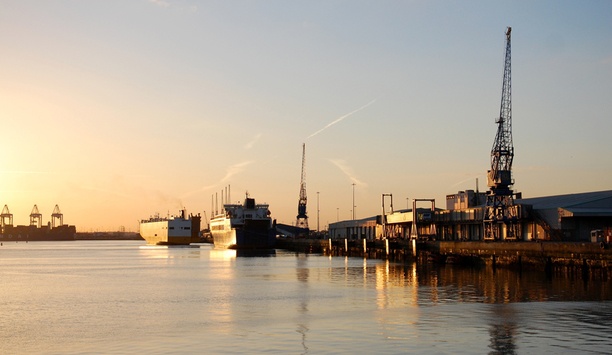 Vicon secures the Port of Southampton with complete surveillance solutions
As the UK's busiest Cruise Port, and home to the second largest container port in the UK, the Port of Southampton believes it is imperative to provide relevant video surveillance across its large property portfolio. Every day, a huge volume of passengers and cargo pass through the Port, including travellers on some of the world's largest cruise ships and the majority of motor vehicles exported from the UK, which arrive at the Port by train and transporter. VIcon expansion throughout port facilities The installation of Vicon cameras and ViconNet video management solutions began with the installation of high-performance Surveyor PTZ domes at the port's fourth cruise terminal, and the subsequent request of the Port's security team for software that could maximise the video quality obtained from these cameras. The success of this initial project has resulted in the expansion of Vicon solutions through much of the port facilities, including over 200 cameras and over 20 hybrid DVRs located across the port, including the cruise terminals, the dock gates, car parks and to monitor marine traffic. The installation also includes software for capturing license plates and drivers' faces at the dock gates and alarm-triggered recording of video to monitor the rail crossings. Sony HD network cameras enhance security at Bank of China's Shanxi branch
SNC-RH124 Network HD Rapid Dome Cameras are installed at the entrances Background: The Shanxi branch is headquartered in Taiyuan, the capital city of Shanxi Province. Opened in 1977, the branch has expanded to include 10 second-level branch offices and five sub-branches, with a total of 305 locations serving 11 Shanxi cities. It currently employs about 9,000 people. Services may be accessed in person at branch locations, or by using self-service facilities, telephonic banking, and online banking. Challenges With its business base expanding, the branch moved its headquarters into a newly constructed building in 2011. To support its growing business, the branch deployed an advanced security system that is superior to conventional analog systems, as it offers better image quality, centralised management and maintenance, and superior scalability. This system uses HD network cameras on a broad scale to achieve high-quality surveillance. Sony's solutions The network at the new office incorporates 500 HD network cameras, 200 SD network cameras, and Sony's analog cameras deployed in elevators and other small spaces. Sony's SNC-CH140 Network HD Fixed Cameras, featuring wide dynamic range, are deployed at counters and in the consumer credit area, overseas services area, and ATM and safety deposit box areas. SNC-RH124 Network HD Rapid Dome Cameras are installed at the entrances, and SNC-DH140 Network HD Mini Dome cameras – featuring wide dynamic range and high sensitivity – are installed in offices and underground parking areas. Low-cost, compact SSC-N11 cameras are installed in elevators. Results Sony's HD network cameras equipped with View-DR technology, featuring wide dynamic range and backlight compensation, deliver clear images in low-light and high-contrast areas. These cameras are equipped with a DEPA™ Advanced intelligent video and audio analytics capability, and include two-way audio, advanced audio detection, and voice alert – they quickly generate an alarm when detecting use of a forged bank card. Criminals may commit various illegal acts at ATM sites: stealing money; making money transfers; and damaging or destroying machines by hitting them, breaking them in half, or even digging them up. Sony's cameras are very helpful in recording the details of these offenses both visually and audibly, in real time. VIVOTEK indoor and outdoor surveillance solution installed at EDEKA Voth supermarket in Germany
Building an impermeable security infrastructure for protecting consumers and employees The EDEKA Group is one of Germany's most successful companies, with success attributed to the seamless collaboration between the three levels of the Group - management, wholesale, and retail. EDEKA Voth in Lemgo is one branch among several EDEKA's retailers. EDEKA HQ is located in Hamburg, where strategies are formulated to create and maintain smooth IT structures throughout the entire organisation. The wholesale level, comprising seven regional wholesale businesses, is to supply top-quality goods to 4,000 subsidiary, self-employed retailers nationwide, and support management in terms of distribution and expansion. The retailers provide not only top-class products, but also friendly and professional customer service. The EDEKA Voth management acknowledges that the security plays a crucial role influencing the stability and sustainability of operations. From this aspect, EDEKA Voth places considerable effort in building an impermeable security infrastructure for protecting consumers and employees. EDEKA Voth has reviewed its security options in 2013. A comprehensive solution is designed for encompassing the entire branch SECOMP, a German-based distributor of VIVOTEK products, is widely known in the industrial, commercial, and institutional sectors for providing quality services in Germany. Therefore, SECOMP was commissioned to revamp the security system in EDEKA Voth. Following careful planning and cooperation with CNS in Lemgo, a comprehensive solution was designed that encompassed both indoor and outdoor surveillance throughout the entire complex. Twenty-four VIVOTEK's cameras were installed throughout the complex, comprising a combination of FD8166, FD8335H, IP7361, and MD7560. FD8166, regarding its ultra-mini size, low-profile design and the excellent quality, was specifically selected for monitoring grocery aisle activity. Twenty FD8166 cameras, one between two aisles, were installed throughout the complex. This model features a 2-megapixel CMOS sensor capable of capturing 1920x1080 resolution video at 15 FPS. Additionally, the camera supports the industrial-standard H.264 compression technology, which drastically reduces file size and conserves network bandwidth. This technology is essential in this context due to the number of cameras installed. The fixed dome network camera FD8335H, featuring WDR Pro, removable IR-cut filter, and built-in IR illuminators, was selected for monitoring back door activity around the clock. Designed with 1-megapixel CMOS sensor, the camera is capable of capturing 720p HD at 30 FPS. Additionally, the IK10- and IP66-rated housing renders this model ideal for outdoor applications. Overall stringency in surveillance has increased significantly since the employment of the solution in November 2013 while maintaining the ease of use and seamless operations The bullet style IP7361 was selected to monitor the warehouse loading area. The IP7361 is equipped with a 2-megapixel CMOS sensor (1600x1200) with a 6 to 9 mm vari-focal, auto-iris lens that enables the camera to deliver extremely detailed images at 6 times the coverage of conventional VGA cameras without sacrificing storage space or network bandwidth. Similar to the FD8335H model, the IP7361 features the IP66-rated housing, removable IR-cut filter, and built-in IR illuminators, making this model perfect for outdoor surveillance. For the entrance of the complex, fixed dome network camera MD7560 was opted. The MD7560 features an advanced 2-megapixel CMOS sensor capable of capturing 1600x1200 resolution video. It also supports a wide-angle lens, making this camera ideal for areas with high volumes of activity, such as store entrances. The IP67-rated tamper- and vandal-proof housing further increases the robustness of the camera, enabling it to withstand the harshest environmental conditions. Achievement: Full satisfaction with the performance and high confidence in future cooperation Overall stringency in surveillance has increased significantly since the employment of the solution in November 2013 while maintaining the ease of use and seamless operations. The customer is fully satisfied with the performance of the solution and expresses confidence in future collaboration. The strategic advantages of reinforcing the security of an organisation from the bottom of the structural pyramid are countless. At a consumer level, the tangible sense of security throughout the shopping experience elevates consumers' loyalty, satisfaction, and repurchase intention, generating positive word-of-mouth. At a management level, a sound security infrastructure frees decision-makers to tackle other aspects of management, formulating decisions with greater value for the company. At an organisational level, consumers' positive word-of-mouth and managers' favourable decisions created in the previous levels reinforce investor confidence in the organisation, ultimately increasing market size. Therefore, the state-of-the-art solutions developed by VIVOTEK not only explicitly satisfy security and surveillance demands, but also implicitly promote organisational progress.
Featured white papers
Nine ways to make your retail security system work harder
Download
Financial institutions require future-ready physical security technologies
Download
Understanding the trade-off between image resolution and field of view
Download