Situated in Sheffield, in the heart of the Don Valley, the Valley Leisure Park complements the adjacent Sheffield Arena and Don Valley stadium, as one of Sheffield's premier leisure facilities. Attracting thousands of visitors each week, the leisure park boasts one of the UK's largest multiplex cinemas with over 20 screens, a large Hollywood Bowl complex, and multiple restaurants, including Old Orleans, Frankie and Benny's, Chiquito, The Boardwalk and a Burger King.
Built in 1998 on the site of a disused steel mill, the park quickly gained a reputation as an exciting and diverse leisure experience. Teenagers and adults alike enjoy spending their evenings and weekends there whilst school holidays see parties of children and families enjoying a film, or a game of tenpin bowling, followed by a bite to eat in one of the complex's many restaurants.
As part of the park's original design specification, a security plan was implemented which included a purpose built security office and a dedicated CCTV system. As the park grew in popularity and expanded its customer base, the site's management group, Donaldson's, felt an upgrade to the system was necessary to take advantage of technological developments in surveillance technology; protecting the safety of its clientele as well as it's long term economic future.
Panasonic Premier Integrator, Reflex Systems of South Yorkshire, has significant expertise in this sector and is a long-term partner at other similar sites owned by Donaldson's, the management group of Sheffield Valley Centertainment. With this long-standing relationship, Reflex was an obvious choice to meet the owner's objective of better site management, achieved via a significantly upgraded high-performance surveillance system.
High-spec surveillance
After a comprehensive audit of the site and after liaising heavily with Mike Jeffries, Operations Manager at Valley Centertainment, David Kynman and Steve Ward, Reflex's Group Sales Director and Projects Director (respectively), specified a Panasonic based solution to meet with Mike Jeffries' specific requirements.
To meet the objectives, Reflex installed Panasonic's WV-CW860 dome cameras throughout the site. The WV-CW860's integrated housing is specifically developed for 'all weather' outdoor use, making this camera unit the ideal choice for exterior surveillance of the park.
"The Panasonic surveillance system has been integral in our gaining a Safer Parking Award from the Associated Police"
Utilising a 22x zoom lens and high-speed panning, the WV-CW860 unit's colour camera takes full advantage of its Super Dynamic II technology, employing a day/night-switching mode allied to an extremely capable 510 TV lines resolution. This high-performance specification allows the park's operators to pinpoint and identify individuals, even in very low-light conditions, allowing effective visual monitoring in outdoor light conditions as low as 0.03 lux.
The system's camera images are transmitted via coax cabling to an on-site control room. Manned 24 hours a day, it is equipped with Panasonic WV-CM1780 17" colour monitors and a WJ-HD316A 16-channel digital recorder. Programmed to record 120 images per second, it allows operators to review crystal clear images of any incidents captured, making the identification of individuals involved an easier task. Video playback and review is controlled intuitively via a corresponding Panasonic WV-CU650CJ/B controller that also manages the system's WJ-SX150A camera switching matrix. The WV-CU650CJ/B controller was chosen for Valley Centertainment due to its busy control room environment. Several operator shifts a day results in many different user preferences. Panasonic's intuitive 'user assignable' controls and programmable preset modes, coupled with the ambidextrous design of the joystick permits any operator to become instantly comfortable with their bespoke control environment.
Mike Jeffries employs Security Industry Authority (SIA) licensed operators in the Valley Centertainment control room. Mike explains the advantages: "Using only SIA qualified staff ensures our control room conforms to best practice standards. Our investment in industry leading Panasonic technology allows for an effective overview of any potential or actual incidents, whilst the corresponding investment in our staff training guarantees a measured and professional response to situations."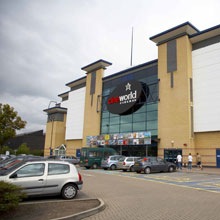 The Panasonic WV-CW860 dome cameras installed were specifically developed for 'all weather' use
The new system comprehensively covers the site's award-winning secure car park area comprising of parking for 1,200 cars, business units, (including their back of house service areas), a dedicated tram stop on Sheffield's SuperTram network, and arterial roadways, pubs and other industrial units surrounding the site.
Effective detection
Access to an effective surveillance system, tailor-made to their needs has proved invaluable to Mike and his Sheffield security team: "A successful public entertainment venue would require a vast amount of human resource without a high-performance CCTV surveillance system like ours", he continues: "When visiting a large scale entertainment venue like this, customers should never have the feeling that either themselves or their property are open to any kind of danger.
"The Panasonic surveillance system has been integral in our gaining a Safer Parking Award from the Associated Police. Since the system was installed there hasn't been a single incident of vehicle theft from our car parks, whilst accidental damage to any vehicles left on the premises can be quickly resolved if any 'parking mishaps' are captured on our high-definition surveillance system."
The versatile system has also been brought into effect to combat insurance fraud, Mike Jeffries continues: "We had a report of a vehicle theft from a member of the public who had informed the police that his vehicle had been taken from our car park at a specific time and date". With a suspicion that this was not actually the case, police officers and Mike's security team investigated archive video footage of the respective time period. "We were able to use our Panasonic archive technology to review the exact time and date in question - to find to our surprise, that the vehicle had not visited our car park and could therefore not have been stolen from our premises!"
"We have also had incidents when our experienced operators have spotted youths, including the driver, consuming alcohol in a vehicle in our car park. Our immediate course of action was to contact the police, imparting to them all vehicle and driver details, on which they were able to swiftly react and remove a drink driver from the streets - averting a potentially serious incident occurring."
The system can also be used to act upon information gathered from the park's resident businesses. Mike elaborates: "We had a report of a young girl's mobile phone being stolen whilst she was playing on a dance arcade machine inside the bowling alley. Staff alerted my team with a comprehensive description of the male they believed was responsible, due to his unusual behaviour at the time of the incident. Utilising the CCTV system we were able to locate the individual and alert the police to his whereabouts, where on interception, the phone was recovered and the individual arrested."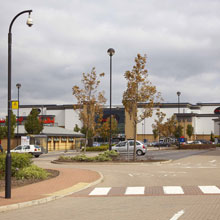 Panasonic's technology offers the ability to track individuals' movements deep into the park's surrounding areas
Utilising the Panasonic technology at their fingertips, Valley Centertainment staff have the ability to track individuals' movements deep into the park's surrounding areas. "We regularly assist the police with investigations into road traffic accidents and altercations outside the local pub, as these events have usually been caught on our cameras," explains Mike: "Staff often find the system is useful as an emergency device in a variety of ways. The team have, in the past, been alerted to a rear door on one of the premises that developed a latch fault, as the staff were locking up for the evening. On alerting the control room operators, we were able to train a camera on the door and monitor the premises remotely until it could be repaired early the next day. This saved substantially on manpower, negating the need for a member of the security team to be physically present, to monitor the door all night.
"We also perform daily tasks assisting with vehicle management on-site. One of the most security sensitive of these is the delivery of cash to businesses and the park's onsite cash machine. Daily deliveries are monitored by the control room for both public safety and the safety of bank personnel." Mike continues: "Armoured cash-in-transit carriers make frequent deliveries to the machines to replenish their stocks. Part of the on-site security team's daily routine is to keep these vehicles and personnel under constant surveillance whilst they are within our grounds. We haven't experienced any specific problems with these deliveries, however, common sense denotes that we don't take any chances."
Invaluable asset
The new CCTV system is not only deployed for security at the park but also as a front line Health and Safety tool too. A typical example of this is a case when control room staff noticed two children fast asleep in a locked vehicle, in direct sunlight on a very hot summer day, "None of the car's windows were open and the temperature we judged to be extremely high." explains Mike: "With intuitive and rapid routes to archive footage through our Panasonic controller, we were able to quickly identify the owner's of the car. Our security staff on the ground were then scrambled, and a search instigated. This resulted in the children's parents being found in one of the Park's restaurants, as pinpointed by the CCTV system. Fortunately, this scenario drew to a successful conclusion, with a potentially dangerous situation being resolved quickly and efficiently with the children removed from the hot vehicle."
Utilising the surveillance 'overview' Panasonic's CCTV system affords the security controllers and managers, Mike can use just five 'on-foot' security guards to effectively cover the extensive leisure facility, even during its busiest periods. Mike concludes: "This system has proved invaluable for the management of Sheffield Valley Centertainment. The high-performance CCTV system can be the eyes and ears of a modern leisure complex like ours. It's like having an extra twenty ever-alert security personnel that never go home! Since the system went live, we haven't had a single instance of a break in, graffiti or vehicle theft - it's just not an issue anymore."
Download PDF version
Download PDF version