Compare HES ES100 with SMARTair i-gate
(2)
| | | |
| --- | --- | --- |
| | ASSA ABLOY HES ES100 | ASSA ABLOY SMARTair i-gate |
| Lock Type | Electric Locks | Electric Locks |
| Electric Release Type | Mortice Release | -- |
| Fail-Open/ Fail-Secure | Fail-Secure | -- |
| Monitoring Status | Monitored | Monitored |
| Material | Stainless steel | -- |
| Door Material | Metal, Wood | -- |
| Door Type | -- | Exterior / Interior |
People also viewed these products
Featured security companies
Related Videos
HID Mobile Access: How to enforce mobile access device security
Milestone demonstrates the use of smart map feature in XProtect Smart Client
Ava Aware Cloud integrates with Nedap access control The Law Society - Alpro judged to be the best
In order to comply with the new Disability and Discrimination Act 2004, the Law Society building at Chancery Lane, London installed a disabled person's lift. To ensure safety and switch control, Alpro hardware supplied TB25 key override solenoid bolts, from their extensive range of access control products. This allowed the door of the lift to be secured and the lift to be summoned when required.Alpro Hardware offer a complete range of access control products and door furniture and together with various industry partners are able to offer, as in this instance both pragmatic and cost effective solutions, whilst complying with current government legislation.Keith Parry, Alpro's Product Manager commented: "Here was a situation that needed both practical ideas and compliance with DDA legislation. By using our extensive access control product range, we have provided a solution that is agreeable to all parties and is aesthetically pleasing." Great Ormond Street Hospital relies on Alpro access control solutions
When Great Ormond Street hospital needed to refurbish the existing entrance doors, Alpro stepped in with a pleasing aesthetic solution which was not only cost effective but was an 'off the shelf solution' ensuring no delays to the contactors were incurred, thus ensuring no disruption to the vital work the hospital carries out on a daily basis.Alpro supplied the ES8000 series V lock which overcomes the problems of alignment with double swing doors.  The unit further eliminates the need and cost of an additional key override, due the fail open motor locking mechanism.  The units can be installed on glass, steel and timber door installations and various accessories are available for the individual application in question.  Keith Parry, Alpro's Divisional Sales Manager, commented: "With this unit, Alpro have once again illustrated their commitment to excellence by offering a cost effective and speedy resolution to an egress/ingress problem.  By working with the principle stakeholders involved, Alpro were once again able to demonstrate its ability to respond to the external environment and solve problems".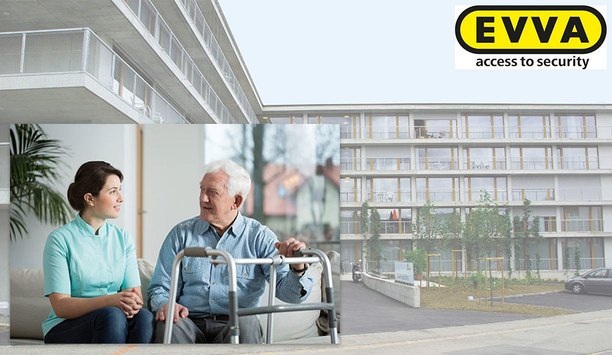 EVVA ICS locking system protects Sanavita Alterszentrum Lindenpark retirement village, Windisch
People feel at home where they feel good and are familiar with the surroundings. The retirement village in the centre of Windisch in a park-like environment, is an ideal place to be for people in their third and fourth stages of life. The facility provides different types of living, support and care, plenty of variety and numerous opportunities to take part in group activities. EVVA inner code system Elderly residents with different residential options including care and support call Sanavita Alterszentrum Lindenpark their home. A pleasant and appealing atmosphere within and around the development is paramount – it goes without saying that security is also in the focus. In terms of locking systems owners opted for a combination of mechanical and electronic locking system: EVVA ICS and Xesar. Xesar: guaranteed healthcare Particularly healthcare facilities are highly sensitive areas that not everyone should have access to. A highly secure, yet flexible locking system is required to ensure access restrictions and simultaneously grant medical staff fast access to individual areas. You can flexibly grant and revoke access authorisations. As a result, exclusively authorised users are granted access. Consequently, the existing locking system at Alterszentrum Lindenpark was replaced by Xesar. Safeguarding medical cabinets The electronic solution now also secures medical cabinets including drawers containing toxic substances as well as refrigerated medical cabinets at the corresponding ward facilities. The Xesar wall reader as the updater unit at the main entrance guarantees fast security within the existing virtual network. Xesar wall readers in combination with electronic motorised cylinders (EMZY) have been installed in all outside doors. The project was managed by EVVA Rotkreuz and local EVVA Partner UTO Sicherheitstechnik AG took care of system installation. Securing residents' properties "Securing the building towards the outside and securing residents' properties was the primary aim", Remo Breuss explains, EVVA's head of sales in Switzerland. "Exclusively authorised persons must have access to medical areas. Xesar can record a precise protocol showing who has access to what and when. The ICS mechanical locking system has also been integrated. "The vast number of different user groups was a particular challenge. The project also required plenty of expertise to comply with the requirements for an escape route concept as per statutory stipulations. The combination of electronic and mechanical locking system was the ideal solution for Alterszentrum Lindenpark." EVVA technology in the facility 502 ICS cylinders 415 Xesar combi keys 21 e-half cylinders 56 e-escutcheons 162 e-handles 14 wall readers 1 updater unit