Compare FL-PL02 with CL-PHS32.5XD
(2)
People also viewed these products
Featured security companies
Related Videos
Matrix's COSEC ACS App with Tap-and-Go and Shake-and-go feature
Platinum CCTV releases PT-AS7213X-T1 thermal IP camera to help identify the initial symptoms of COVID-19 virus
Matrix introduces COSEC Face Recognition contactless access control
EVVA ICS locking system protects Sanavita Alterszentrum Lindenpark retirement village, Windisch
People feel at home where they feel good and are familiar with the surroundings. The retirement village in the centre of Windisch in a park-like environment, is an ideal place to be for people in their third and fourth stages of life. The facility provides different types of living, support and care, plenty of variety and numerous opportunities to take part in group activities. EVVA inner code system Elderly residents with different residential options including care and support call Sanavita Alterszentrum Lindenpark their home. A pleasant and appealing atmosphere within and around the development is paramount – it goes without saying that security is also in the focus. In terms of locking systems owners opted for a combination of mechanical and electronic locking system: EVVA ICS and Xesar. Xesar: guaranteed healthcare Particularly healthcare facilities are highly sensitive areas that not everyone should have access to. A highly secure, yet flexible locking system is required to ensure access restrictions and simultaneously grant medical staff fast access to individual areas. You can flexibly grant and revoke access authorisations. As a result, exclusively authorised users are granted access. Consequently, the existing locking system at Alterszentrum Lindenpark was replaced by Xesar. Safeguarding medical cabinets The electronic solution now also secures medical cabinets including drawers containing toxic substances as well as refrigerated medical cabinets at the corresponding ward facilities. The Xesar wall reader as the updater unit at the main entrance guarantees fast security within the existing virtual network. Xesar wall readers in combination with electronic motorised cylinders (EMZY) have been installed in all outside doors. The project was managed by EVVA Rotkreuz and local EVVA Partner UTO Sicherheitstechnik AG took care of system installation. Securing residents' properties "Securing the building towards the outside and securing residents' properties was the primary aim", Remo Breuss explains, EVVA's head of sales in Switzerland. "Exclusively authorised persons must have access to medical areas. Xesar can record a precise protocol showing who has access to what and when. The ICS mechanical locking system has also been integrated. "The vast number of different user groups was a particular challenge. The project also required plenty of expertise to comply with the requirements for an escape route concept as per statutory stipulations. The combination of electronic and mechanical locking system was the ideal solution for Alterszentrum Lindenpark." EVVA technology in the facility 502 ICS cylinders 415 Xesar combi keys 21 e-half cylinders 56 e-escutcheons 162 e-handles 14 wall readers 1 updater unit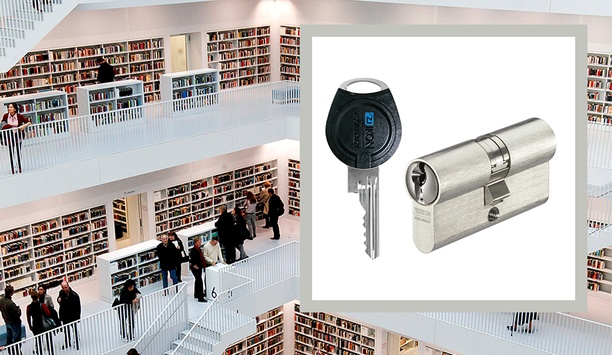 ASSA ABLOY supplies security technology for Stuttgart library
The central library is the first public building to be completed in the new Europaviertel (Europe Quarter) currently under development in Stuttgart. This cube-shaped 20,000-square-metre building is thus state-of-the-art in terms of both architecture and security technology. Library security system The Korean architect Eun Young Yi designed the building envelope to feature a double façade with glass bricks and entrances on all four sides, creating the new central library as an inspirational centre of knowledge and culture. ASSA ABLOY was awarded the contract for fitting the library with a security system. Specifications stated that the building entrances were to be equipped with electronic components that could be centrally managed and could integrate interior doors using mechatronic systems where required. The new central library in Stuttgart is housed over a total of eleven floors. On the inside, architect Young Yi has created bright, wide spaces linked by numerous walkways. The centre of the building features a brightly lit atrium four storeys high with a skylight made of glass bricks, above which there is a funnel-shaped gallery space. The highest security level in the interior has been provided for the management, administration and data processing departments, for which the CLIQ® locking system has been used. Complete control over keys Each battery-powered CLIQ® key features an integrated chip for the key and locking cylinder, thus making them unique. Keys can be programmed individually for each user. "System operators thus have control over their keys. CLIQ® excels thanks to its high flexibility when a key is lost or users require changes. Key access authorisations can be removed individually by reprogramming locking cylinders," explains Andreas Wagener, Managing Director Sales and Marketing at ASSA ABLOY Germany. Access authorisations can also be enabled on a time-limited basis for external service providers such as tradesmen and cleaners. Since opening, 500,000 books, films, sound storage media, newspapers, magazines, sheets of music, graphics and software packages are available to library visitors. The opening week saw performances and readings from the likes of philosopher Wilhelm Schmid and writer Hatice Akyün. There are also two regular guided tours – one based on the architecture and the other on the library itself. Security is hardly noticeable for visitors during tours, but is highly important for those who run the library.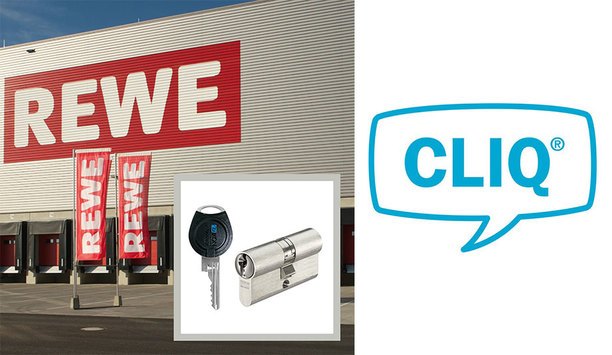 CLIQ® locking system protects REWE's new logistics centre in Germany
German supermarket REWE Group's new full-range national warehouse covers 53,000 square metres and is situated in the north of Berlin. About 350 employees ensure that more than 355 REWE, nahkauf, Karstadt and Coop supermarkets — along with Hit self-service stores — are supplied with around 10,000 different items. The building is protected by a CLIQ® locking system which was planned and installed by the specialist security company Guett-Dern GmbH, based in Cologne. The flexible locking system challenge Supermarkets between Sassnitz and Jüterborg will be supplied optimally with goods by the new logistics centre, in which REWE invested around €60 million. Six days a week approximately 100 trucks transport fruit and vegetables, frozen foods and fresh foods such as milk, as well as the entire range of dry goods. More than €600 million invested in optimising logistics, as part of a logistics offensive for the whole of Germany, made this expansion necessary.The goal is to make processes faster, more effective and more efficient and ecologically sustainable The goal is to make processes faster, more effective and more efficient and ecologically sustainable. The REWE Group was founded in 1927 and has built eleven new warehouses as part of this project, and has modernised three more. The Oranienburg location is viewed as the pilot project for all of REWE Group's logistics centres. REWE Group's specifications in terms of security were defined accordingly: Entrances to the logistics centre's buildings were to be equipped with electronic locks to enable them to be managed centrally and to integrate internal doors according to their requirements. A flexible locking system was to be incorporated to manage all access entitlements and locking hierarchies reliably according to individual responsibilities — meaning it must be tailored precisely to each individual. The CLIQ® solution The choice was made in favour of the mechatronic locking system CLIQ®, which was installed by security specialists and ASSA ABLOY partner Guett-Dern. The CLIQ® system integrates advanced microelectronics into mechanical locking cylinders and their corresponding keys. Locking cylinders and keys can thus communicate with one another without the need for wiring or a network. This means that access and locking are doubly secured: via mechanical locking and electronic identity. The installation of the intelligent mechatronic CLIQ® locking system thus provides the building with an optimal level of protection.The programmable keys and cylinders of the CLIQ® locking system from ASSA ABLOY fulfil REWE's requirements The programmable keys and cylinders of the CLIQ® locking system from ASSA ABLOY not only fulfil REWE's requirements, but also win thanks to their price–performance ratio. "CLIQ® is easy to use and program," says Dirk Müller-Steinhausen, Head of Technology and Sales at Guett-Dern GmbH. "For instance, because system administrators do not have to visit each locking cylinder separately in order to change the batteries." Power is supplied exclusively via a standard battery in the keys and programming keys. Encrypted communication with the cylinder also takes place in this way. Each CLIQ® key has an integrated chip inside, making it unique. Keys can be programmed individually for each user. "This means that we have control of our keys. With CLIQ®, we have great flexibility in the event that a key is lost or if we want to make any changes. "We can revoke the key's access entitlements by reprogramming individually the approximately 400 locking cylinders in use," explains Marc Haverkamp, Project Manager for the REWE Logistics Centre in Oranienburg. At the same time, access authorisations can be enabled temporarily, including for workmen, cleaners and external service providers. To learn more about CLIQ please visit https://campaigns.assaabloyopeningsolutions.eu/cliq
Featured white papers
How analytics engines mitigate risk, ensure compliance and reduce cost
Download
11 considerations for embedded system RFID readers
Download
Thermal cameras: Can they accurately detect body temperatures?
Download