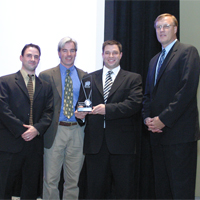 Connecticut Manufacturing Facility receives prestigious honour

HID Global Corporation, a leading manufacturer in the access control industry, today announced that its North Haven, CT manufacturing facility has been awarded the Connecticut Silver Shingo Prize. The award serves as recognition of a company that has solved challenging manufacturing process problems, and in the process, is working toward transforming into a world-class organisation.

Building on the foundation established by 2005's commendation for World Class Leadership and Culture, HID Global's North Haven facility achieved tremendous results for their 2006 Lean implementation. By effectively focusing the activities of the Lean implementation in the right areas, with leadership setting the vision and mission to effectively change the organisation's culture, HID Global was recognized for achieving tremendous business results.

Shingo evaluators noted the North Haven facility's significant reduction in lead times, improvement in on-time delivery, reduced scrap and huge increases in shipments with an incremental increase in labour as contributors to the award-winning performance.

"Customers receiving products from this facility are getting products from a facility that is on its way to "world class". Very few companies have ever achieved this level of Shingo Prize," said Brian Montanari, director of Global Manufacturing, HID Global. "We are on the path to our true goal of 100% customer satisfaction and in meeting our mission of providing our customers with the highest quality product, on time, every time through our pursuit of world class practices."

The Shingo Award, called the "Nobel Prize of manufacturing" by Business Week magazine, recognizes excellence in manufacturing practices, translating into strong customer satisfaction and business results. Established by the Connecticut Shingo Board of Advisors to promote strategic leadership, effective workforce practices and the implementation of Lean principles and techniques, the award criteria touches all facets of an organization's operations. The prize criteria provides companies with a blueprint for attaining world class manufacturing excellence, by focusing on customer satisfaction and profitability, quality, cost, delivery, core operations, leadership and empowerment enablers.
More on HID
Download PDF version
Download PDF version