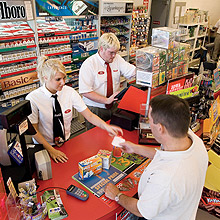 Convenience store chain standardises on March Networks solutions.
Retailers with hundreds or thousands of locations generally strive to standardize on one digital video surveillance system, but growth through acquisitions and disappointing results from early DVR deployments can leave businesses with parallel systems, multiple user interfaces and training challenges.
Such was the case at Kum & Go, a convenience store chain and petroleum retailer with 450 stores in 13 states. Kum & Go executives knew that standardising on one system was the way to go when they gathered around a boardroom table at the company's head office in Des Moines, Iowa, for a demonstration of March NetworksTM technology by SageNet, a systems integrator and March Networks Certified Solution Provider.
"SageNet gave us a presentation that just blew us away," recalls Kym Howe, Kum & Go's Vice President of Information Technology. "It was then that we knew we had our direction and that it was time to move forward."
The Kum & Go executive team began deploying March Networks 3000 Series DVRs in October 2005, focusing initially on new stores and acquisitions. At about the same time, the company also decided to proceed with a pilot deployment of ShrinkTrax, a loss prevention solution from Trax Retail Solutions Inc., acquired by March Networks in June. The acquisition was a pleasant surprise.
"I always wondered how well the March Networks video surveillance and ShrinkTrax solutions would work together, but with the two companies under the same umbrella, I don't have to worry about it anymore," observes Howe.
"I like how ShrinkTrax condenses everything up into a really short, one page report identifying what we have to focus on. I also like that it gives you the ability to drill down to the March Networks video in two or three clicks."
The efficient performance of March Networks DVRs in a networked environment and a track record for engineering excellence and reliability figured prominently in Kum & Go's decision to standardize on March Networks technology. Point-of-sale integration capability and functionality were also important factors.
Network appliance
"What I love most about the March Networks system is that it's a network appliance, not a PC-based system with a monitor hooked up to it," says Howe.
Holdups are a rare occurrence at Kum & Go stores and shrinkage has generally been below the industry average, but a reliable and effective video surveillance system is essential for deterring crime, protecting employees and capturing evidence of criminal activity.
"Police are always asking for video clips to assist in investigating incidents in the community. With the March Networks systems, store staff across the chain will be able to accommodate these requests much more efficiently."
Kum & Go has also been using its DVRs to research theft at its gas pumps. When a cashier reports a drive-off, loss prevention personnel at head office pull up video from the store in question to document the event.
"We learned that 70 per cent of customers who drive-off actually come inside the store," says Howe. "Some of them go to the washroom and leave, some of them make a purchase and others pay for their gasoline, but the money never finds its way into the till.
"It's very time consuming to follow them - some of them hang around for 20 or 30 minutes before leaving - but knowing that so many of them actually come into our stores has helped us come up with ways to combat the problem."
In one case, the investigator watched a driver fuel up his vehicle and drive away without paying. Thinking he looked familiar, the investigator switched to an inside camera and saw the same person, in fact the clerk, enter the store, walk behind the counter to the cash register and punch up his own drive-off.
"Other times, we'll see the clerk pocket the money and hit the drive-off key," says Howe. "We always knew this happened, but we could never prove it."
Mystery shopper
The company also uses its DVRs for a remote mystery shopper program. A Kum & Go employee at head office selects a store at random and accesses video and audio from the location to document the customer experience. The lessons learned alert management to training and merchandising opportunities and assist in improving customer service.
As the deployment continues, Kum & Go plans to acquire the March Networks
Enterprise Management Suite, a powerful set of client software and server tools created to manage and maintain an unlimited number of recorders across hundreds or thousands of locations. It also provides self-diagnostics and alerts staff to hard drive defects and field of view changes due to camera tampering.
Also planned is an upgrade to March Networks R5 software, including the Retail Transaction Investigation suite, which provides advanced Point-of-Sale investigation and case management functionality.
At one Kum & Go store, SageNet is integrating a March Networks DVR with temperature probes to deliver email alerts to designated staff if a cooler or freezer malfunctions or if there's a problem with the store's air conditioning system.
IP cameras, supported by March Networks' 3000 Series DVRs running R5 software are also being tested by Kum & Go to capture high quality images of license plates in drive-off situations.
"With our March Networks video surveillance and ShrinkTrax loss prevention solutions deployed, we're much better equipped to investigate occurrences and control shrinkage," says Howe.
Download PDF version
Download PDF version