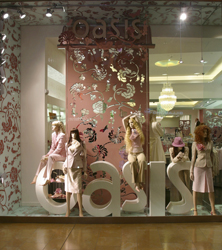 One of the UK's fastest growing fashion retailers has invested in the latest digital CCTV recording technology to protect its stores from crime. Oasis, renowned for its highly fashionable high street clothing has installed digital video recorders manufactured by Videoswitch at 60 of its stores.
Oasis store managers take the lead in respect of reducing shrinkage. Instead of security officers patrolling the stores, the managers capitalise on a combination of well-trained staff and CCTV to detect and deter crime such as shoplifting.
As most of the stores don't have security staff on-site, Oasis wanted a digital CCTV recording system which store managers would find easy to use and according to Mitch Haynes, Head of Security at Mosaic Fashions (Oasis, Coast, Karen Millen, and Whistles), DVRs from Videoswitch offered the perfect solution.
"I am hugely impressed with the Videoswitch DVR," said Mr Haynes. "It's very easy for operators to use. The controls are on the front of the machine and just three key presses allows you to transfer video evidence onto a CD and hand it over to the police." We are also installing them in Coast and Karen Millen within the Mosaic group.
No special software is needed to replay footage from the Videoswitch DVR, which makes life a lot easier for police reviewing footage from a store as part of a criminal investigation. Video footage from the system can be replayed on a standard PC running Window XP or any other recent Windows operating system.
The Videoswitch DVR includes a CD writer, which provides Oasis with a built-in means of getting evidence out of the unit.
Oasis is in the process of rolling out the system to many of its other branches in the UK and Ireland.
Oasis has enjoyed great success attracting what it considers to be its core customer - the fashion conscious, independent, twenty-something woman - into its stores. Thanks to Videoswitch, the retailer is proving equally successful at keeping thieves away.
More on Videoswitch
Download PDF version
Download PDF version