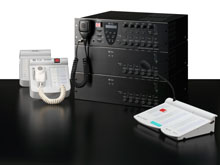 TOA solution is ideal for small to medium-sized applications such as retail, leisure and education
Combining an emergency voice alarm system with digital audio PA, paging and BGM functionality, the new VM-3000 Series from
TOA
brings new levels of flexibility to the deployment of PA/VA in small to medium-sized commercial projects, all at an affordable price.
Suitable for most application and including retail stores, nursing homes, schools, fitness clubs and smaller shopping centres, the VM-3000 offers a range of emergency functions, including built-in voice alarm and continuous speaker line monitoring without interruption of BGM distribution or paging announcements. All audio is digitally processed and controlled, resulting in PA broadcasting, paging and BGM delivery of consistently high sound quality and intelligibility.
The system is controlled by a choice of two system amplifiers, and can be expanded using up to nine VM extension amplifiers, each of which offers six assignable speaker zone outputs to give a maximum of 60 speaker zones, each with its own programmable volume setting. High-quality, electronic voice messages are built in, and the whole system has been designed as a 'one-box' package that is easy to set-up and maintain.
Brett Downing, Sales & Marketing Director, TOA Europe, comments: "We have brought all of our 50 years' experience of emergency broadcast systems to bear in the design of the VM-3000. The system is compact and can be set up directly from its front panel without the need for connection to a PC, while dedicated software is also available for those installers who want to configure, maintain and update the system remotely. And, of course, the VM-3000 comes with legendary TOA sound quality guaranteed."
The VM-3000 Series is available now through TOA Europe's authorised dealer network.
TOA will exhibit VM-3000 Series PA/VA System on stand 3B124 Integrated Systems Europe 2009 which takes place at the Amsterdam RAI, Netherlands, from 3-4 February 2009 as well as on stand 66 at IIPSEC 09 between January 27 - 29 2008 at Stoneleigh Park, Coventry, UK.
Download PDF version