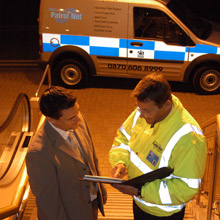 Reliance Patrol Net - the mobile response services division of Reliance Security Services - is replacing its fleet of over 100 vehicles with Ford Transit Connect vans.
The move from cars to higher capacity vans provides a number of increased security features for key storage and the secure transportation of high value or high risk items. It also provides additional scope for the expansion of the Patrol Net service into new markets. The stylish new silver vehicles feature the company's corporate livery and are designed to provide a visible deterrent to would-be vandals or intruders.
One factor in the choice of new vehicle was its impact on the environment. For every vehicle that Reliance adds to its fleet, Inchcape Fleet Solutions, the leasing company, will provide vouchers that can be used to offset the vehicle's carbon emissions through a number of emission reduction projects in the UK and worldwide, such as tree planting.
The range of keyholding, alarm response and mobile patrol services provided to over 5,000 Reliance customers in a variety of sectors - from banking to retail - places great demands on the vehicle fleet. With vehicles operating 24/7, 365 days a year, it is essential that downtime is kept to an absolute minimum. The new vehicles have been chosen for their high standard of engineering, durability and improved servicing and repair arrangements. These developments will enhance operational efficiency for Reliance and service reliability for Reliance customers.
Reliance Patrol Net director Sandra Burrell said: "The handover of the first batch of new Transit Connect vans marks a major milestone in the history of Patrol Net. We are an expanding business and expect to see growth of about 30% over the next 12 months. That expansion, which is due to the security demands of businesses large and small operating across the UK and in all market segments, will also result in fleet growth."
"Customer service is critical to our success and this investment supports our established culture which already ensures full training and Security Industry Authority licensing for all our employees. Our continual investment in the Patrol Net fleet and in our Patrol Net Officers underlines our commitment to delivering exceptional customer satisfaction."
Download PDF version