MAXxess's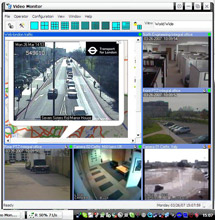 ViewPoint™ allows users to remotely access and control any camera or DVR regardless of who the manufacturer is, without the normal trials and tribulations associated with integration. Pelco, Bosch, Dedicated Micros, Samsung, Syac, Cieffe, DVTel, Axis, Sony are just a few of the manufacturers whose CCTV products are supported by ViewPoint™.
Multiport™ Integration Manager is a universal gateway translator that simplifies the integration of 3rd party systems such as fire and intruder alarms, management systems and databases. It also provides the ability to display internet or intranet resources on the desktop along with the other critical information such as alarm transactions and floor plans.
"ViewPoint™ and MultiPort™ typify our 'Integration made easy' approach to providing modular security management software solutions," said Lee Copland, Managing Director for MAXxess EMEA.
"IFSEC 2007 provides us with a great opportunity to demonstrate the significant upgrades that we have introduced to our range of software solutions during the last twelve months."
IFSEC Stand no: 2090
More on MAXxess
More on IFSEC 2007
Download PDF version